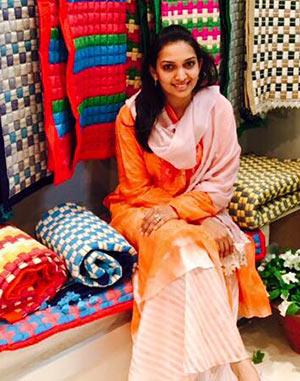 When Nupur Jain came to know about Sujani during a trip to Gujarat, the 150-year-old weaving art had few takers.
She started Sujani Looms in 2014, and is providing a new lease of life to an existing generation of weavers.
This is her story.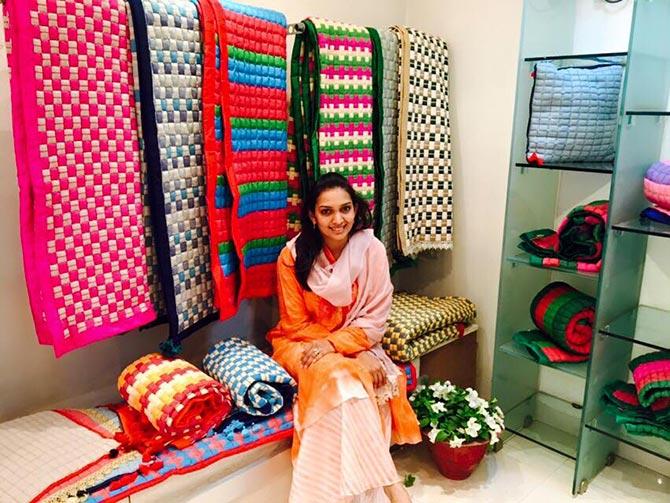 Two weavers sit at either end of the loom.
A shuttle of two colours is put in the warp threads with the aim of turning the warp and the weft.
The quilt starts taking shape during weaving, when spun cotton is added and woven into squares, giving it a padded look.
Unlike other quilts, it is not layered with cotton sheet nor are stitches made with hand or machine.
The weaving is called Sujani and reviving this dying art in Bharuch is 30-year-old Nupur Jain.
Through Sujani Looms, Nupur Jain is trying to ensure that the age-old art gets the recognition it deserves so it will inspire future generations of weavers to imbibe these skills to revive and popularise the craft.
Started in 2014, Sujani Looms is a home décor and lifestyle brand, which creates products by using the Sujani weaves in new forms and product range.
Sujani Looms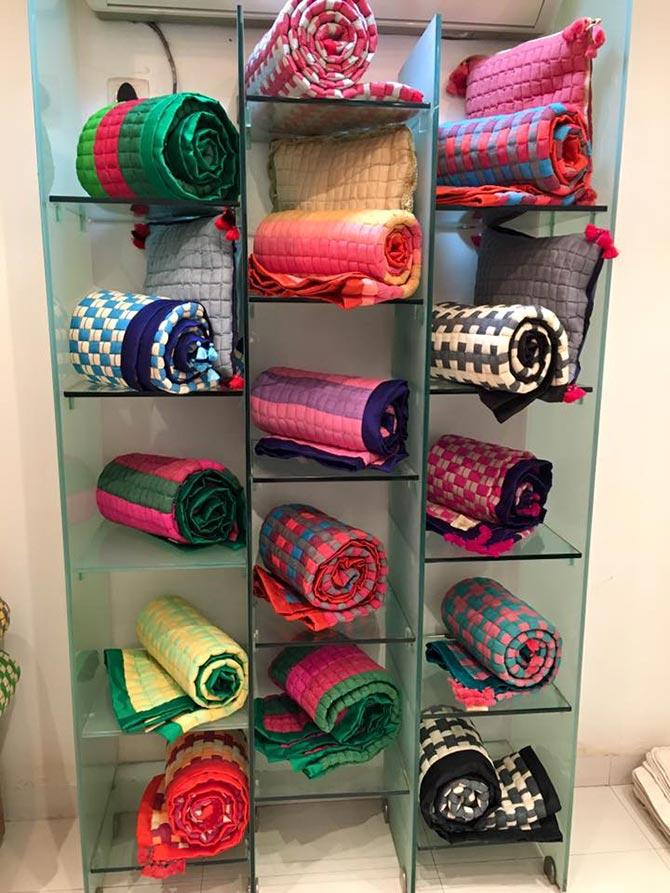 Nupur first came across the Sujani quilt during her stay in Bharuch in Gujarat and was mesmerised by the beauty and intricacy of the work.
"I feel that this is a unique art form which needs to be showcased to the world.
"The distinctive feature that attracted me was that the entire fabric is made on the loom. It does not require any additional stitching.
"After doing my research on this weave I found out that there are only 3 to 4 families left who have the knowledge of weaving, which will not last long, as the newer generations are not fascinated with this work as they rather earn their livelihood elsewhere," Nupur explains.
Nupur moved to Bharuch in June 2014, as her husband was setting up a fertiliser-manufacturing unit in Jhagadia GIDC.
Once she moved there she decided that she wanted to be involved in social work and was on a lookout for things to do. While researching she came across this craft and the journey of Sujani Looms began.
Origin of the art
Sujani originated in 1860 and enjoyed royal patronage and appreciation. Three families are involved in the craft: the Sujniwalas, the Chistiyas and Miya Mustafa's family.
All the families are engaged in different activities; one is completely into production, the other into trading and the third is carrying out both simultaneously.
Nupur shares, "There is immense competition amongst the families, as each one of them claims to be the descendants of the originator of the craft. This craft has been the livelihood of this community for generations. Due to the new modern technology the value of handicrafts has deteriorated and people are now looking for lookalikes and cheaper products.
Carrying forward a legacy
"The knowledge passes on from one generation to the next with the faith that if the artisans take care of the craft, the craft will take care of the artisans. The craft has survived through the transition from first generation to the current fifth one," explains Nupur.
The artist acquires the skill right when he is young and is formally trained by the elders.
"Each Sujani that they craft is conceived visually before actually being crafted. Hence, every Sujani that is woven is an outcome of combined synergy, passion and a preconceived design and that's what bestows soul to the final form. Even today these masterpieces are crafted with the deep passion and sense of fulfillment of completing the creation," Nupur says.
It is this passion and dedication that keeps her going and pushes her to give these families a platform to create a market for their product on national and international scale.
Spreading happiness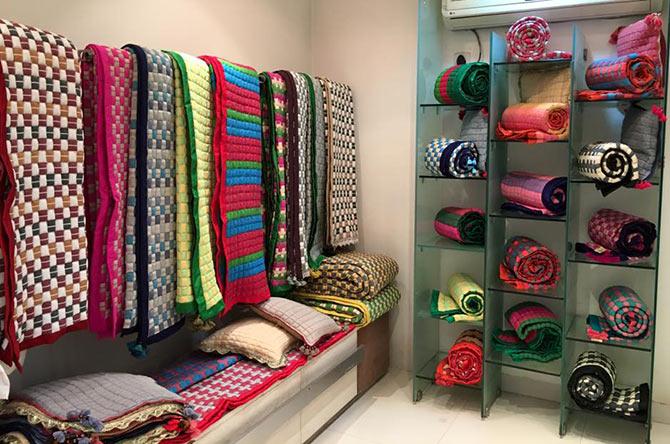 A self-funded, not-for-profit project, Sujani Looms is associated with the Serve Happiness Foundation and all the sales proceeds go to the same foundation, where they are used for projects for rural development and youth empowerment.
One of the projects underway is the making of brown paper bags and setting up a system in Bharuch where the rural community run it.
Led by Nitin Tailor, Serve Happiness Foundation is trying to inspire youth to take to their entrepreneurship programmes and to support small enterprises and also encourage them to start new social enterprises that can create livelihood opportunities and empower the lower sections of the society.
The weavers get paid for the pieces they create.
"We place bulk orders with the weavers which gives them a continuous flow of work and consistent income," says Nupur.
Challenges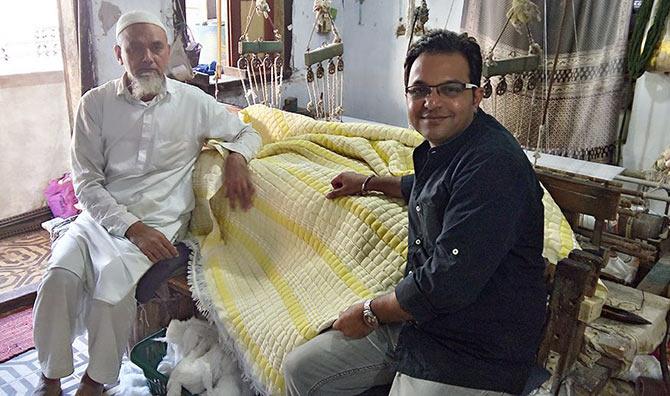 Handicraft industry in India is a very unorganised sector.
There has been no support for the rural sector to develop this cottage industry and this makes things difficult for artisans and weavers.
One of the primary challenges Nupur faces is training new people to create Sujani weaves.
"This is a skill that has been passed on from generation to generation and the new generation from this community does not want to continue to create these pieces, as they are attracted by jobs with companies providing lucrative offers. Since it is a very time-consuming and tedious process, it is shunned by the next generation of weavers," she adds.
Impact and future plans
Nupur's work has been receiving recognition. Sujani Looms was invited by the Indo-Soviet society to give a presentation on this handicraft.
They have also showcased their collection in different cities of India and that has helped increase awareness about this handicraft. They have also sent their piece for exhibition to the Singapore Handicraft Exhibit this year.
This year, Sujani Looms will exhibit around the country and start e-retailing on some of the leading e-commerce websites.