Actor Jacqueline Fernandez is collaborating with Mojostar to launch a line of 'women-first' activewear that 'can be worn just as easily at a bar as it can at a gym.'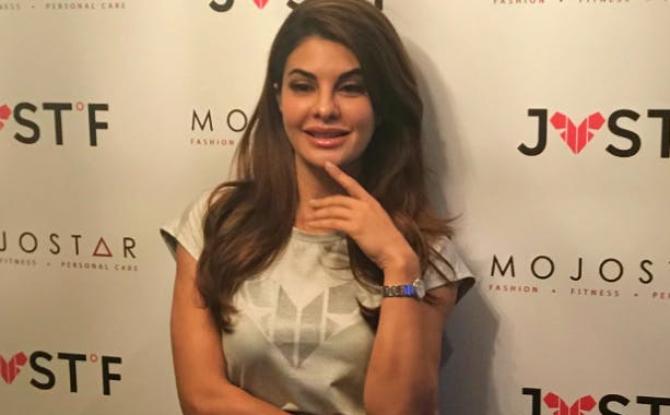 We know Jacqueline Fernandez to be many things.
The stunning Miss Sri Lanka Universe 2006. A successful model. The charming leading lady in Bollywood's goofiest outtakes, to name a few.
But the most interesting facet of the 32-year-old mass communication major is that she has been hustling for nearly two decades.
Jacqueline's first assignment came from across the Indian Ocean, all the way in Bahrain, when she was as young as 14 years old. Shehe scored a gig as a TV presenter.
The now successful actor once worked as a TV reporter in Sri Lanka after completing her graduation. Later she transitioned to modelling before becoming a full-time actress, donning the coveted crown along the way, of course, in 2006.
However, in this journey steeped in the arts, an entrepreneurial temper managed to trickle in anyway.
Her father, one of her earliest influences, ran a business in Bahrain. Her myriad pursuits prevailed, but when she experienced a gap that "impacted her directly," the actress was quick to throw her hat in the ring with Just*F, a "women-first" active-wear brand.
"I found something missing that had a direct impact upon me. I found nothing that was specifically designed for the modern, active, and stylish Indian woman. What was available were generic pink knock-offs of products for men," she tells YourStory.
Making fitness fashionable
Just*F is Jacqueline's take to bridge this chasm.
She describes this line, now just a few weeks away from launch, as active wear that is fashionable and unabashedly feminine -- qualities that she feels she personifies.
In her words, it's a fashion-meets-function brand with clothing that one can wear to the gym or to a bar.
"Our stylish athleisure offerings are designed to better suit the Indian female body in terms of construction and sizing, and are centred on colours, silhouettes, and prints that can make fitness fun, sporty, versatile, and feminine," she says.
But the one key difference between Just*F and its peers is that Just*F is not boyish styles translated into female fashion by adding a pop of colour here, a frivolous frill there, and knocking off a few inches.
"The reason Just*F is different is because most competing offerings are still defined by aggressive male paradigms. Activewear, for them, is mostly for men. Their ranges for women are just smaller versions of the same products for men, without any effort being applied to make them more appealing to women and their needs. Just*F, on the other hand, has been designed for the trendy and confident women of today, keeping their specific requirements and sensibilities in mind," Jacqueline says.
Headquartered in Mumbai, Just*F's product range will be launched July 17, along with the Just*F website.
The start-up will target consumers between 20 and 35 years of age, and will offer activewear clothing priced between Rs 1,000 and Rs 3,000 to begin with.
The brand will ultimately move on to footwear, gym bags, and fitness accessories. Products will initially be available on the startup's site along with other ecommerce platforms.
The brand plans standalone brick-and-mortar stores in the future and will also be available in large format stores.
Like any major life decision, this one also warranted some serious introspection and contemplation. "Starting one's own business is a long-term investment and quite risky. But the journey this far has been exhilarating! I think we are really on to something special here," Jacqueline says.
She believes that partnering with Mojostar, overall and especially for merchandising, has been an all-round sound decision as they not only have in-depth industry expertise and a strong business network, but also help Jacqueline juggle both her worlds in a way that they co-exist, rather than collide.
"Just*F, is a passion project for me. Mojostar as a team is supportive, understands my busy acting schedule, and works around it. I, in turn, make it a point to squeeze in as much time as possible for Just*F.
Even when I'm travelling, I'm in regular touch with the team over emails and video calls, so work on developing the brand never stops," she says.
Activewear space
Just*F is the second brand launch from Mojostar, which is a joint venture between celebrity management firm Kwan Entertainment and Marketing Solutions, and brand licensing and marketing firm Dream Theatre.
In February 2018, it joined hands with Tiger Shroff for Prowl, an active clothing and accessories brand.
The activewear segment, estimated at $6 to 7 billion, has witnessed heightened activity in recent times.
In 2017, Arvind Lifestyle Brands, Aditya Birla Fashion and Retail, Indian Terrain, Monte Carlo, and Numero Uno ventured into the segment.
Jacqueline joins scores of contemporary actresses reaching out to millennial audiences through innovative start-ups, in fashion and otherwise.
Anushka Sharma has tied up with Suditi Industries to launch her brand Nush while Sonam Kapoor and her baby sister, Rhea Kapoor, launched quirky fashion brand Rheason in early 2015.
Shilpa Shetty co-owns Iosis, a home-grown chain of spas and salons.
Twinkle Khanna has been more in the news for her firm rather than her films. Her interior design firm The White Label gives facelifts to scores of celebrity pads.
Sushmita Sen owns and manages a jewellery store in Dubai, operated by her mum.
Karisma Kapoor turned investor by buying a stake in Babyoye, an e-commerce portal for baby products, while Alia backed curated high-end fashion marketplace Stylecracker.
Clearly, entrepreneurship is on a lot of actors' minds.
Jacqueline seems to be in it for the long term.
"The first step is often assumed to be the hardest, but I feel that when starting a new venture, it is just as important to keep the momentum going once the initial phase of excitement has passed. Thinking about how our products can become a part of someone else's life and make them feel a certain way is very powerful," she signs off.
Lead image: Kind courtesy Jacqueline Fernandez/Instagram