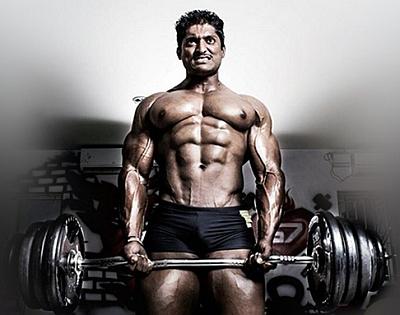 25 year old Balakrishna recently made India proud by defeating 250 contestants from 13 countries and winning the title of Mr Asia 2016.
Here's the story of how this young man turned his passion into success.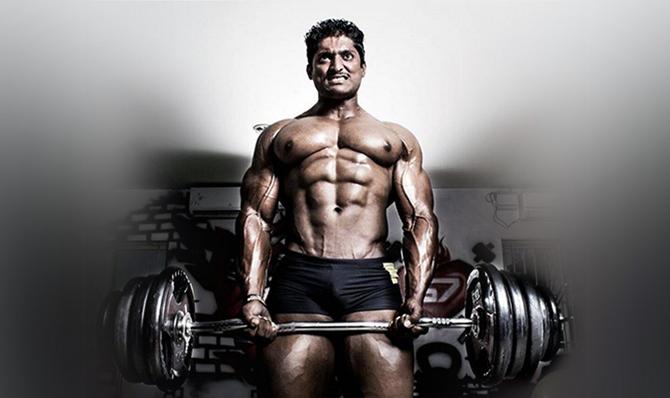 IMAGE: Balakrishna was 17 when he dreamt of becoming a body builder.

All photographs: Kind Courtesy Yourstory.com
Balakrishna, 25, drives a water tanker through the bustling streets of Whitefield, Bengaluru. Ramanjay Water Supply is what he fondly calls it.
As I walk up to him, he smiles and welcomes me to his small, well-equipped gym, where he works as an instructor in the mornings.
One may not really guess who this gentleman is until they are led to a shelf filled with awards and medals.
The shining medals and trophies convey an impressive picture -- 48-time Open State Karnataka Champion, four-time Mr Shresta Karnataka winner, Mr India for over seven years and recipient of the prestigious Bharath Udai title; Balakrishna is not just a common man in the Silicon City.
Recently, he added to his collection by clinching the Mr Asia 2016 title at the Philippines.
The competition, which saw over 150 male and 100 female participants, was an Asia-wide bodybuilding championship.
Chasing his passion
Multiple photo frames at Balakrishna's gym pay tribute to his seven year long journey.
At the young age of 17, he fell in love with Hollywood actor Arnold Schwarzenegger. The star's role in the movie Commando came as an inspiration to him at a very critical stage.
An excited and motivated Balakrishna read through the actor's profile only to find his own purpose. Shadowing Schwarzenegger's regime and journey, he started working towards his goal.
Born and brought up in a lower middle class family, Balakrishna lives at Varthur with his aged mother. His late father was a BMTC bus driver. Soon after his father's demise, his mother took over the task of being the breadwinner for the family and started farming.
Having seen hardships early on in life, Balakrishna always wanted to chase his passion and let his mother have a comfortable life.
"My mother is a huge support for me; she is my backbone. Since my childhood, she has always backed my dreams, no matter how big or small they were. I am what I am today only because of her and I dedicate this new title to her," says Balakrishna with an endearing smile.
Battling for the title at the Philippines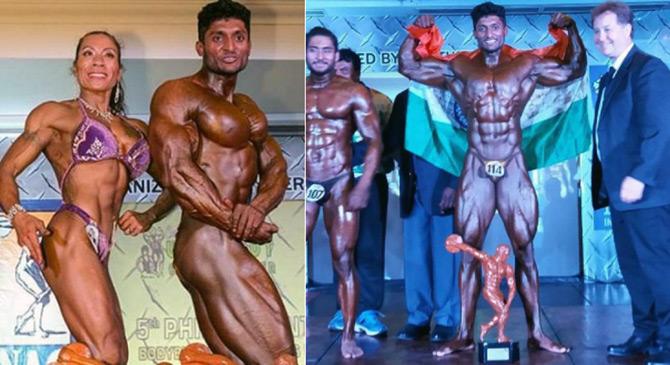 IMAGE: Balakrishna competes at the Mr Asia championship in the Philippines.
The recently held Mr Asia championship, an annual event, was hosted at the Philippines and was marked by the presence of over 13 countries and over 250 participants.
Each of these bodybuilders represented their country in different categories. While, unfortunately, India did not have any female representative at the event, the country did see representation from two male bodybuilders, Balakrishna being one among them.
The two-day competition saw the participants judged on qualities like strength, stamina, figure, confidence and physical body.
Balakrishna's coaches, Munish Kumar from Punjab and Sangram from Pune, have been steady in supporting him during his journey.
"Both my coaches are also former bodybuilders. They are very passionate about the sport and look at my journey as their own. Though both of them are from different cities, they efficiently keep track of my regime. We use Whatsapp and Skype to keep in touch with each other. They also drop by to meet me sometimes," says Balakrishna.
Talking about the exposure foreign players in this field receive from their governments, he says, "Bodybuilding as a career is yet to garner importance in our country. Most of my fellow contestants came from places where the sport has been established and has received enough importance. There is a huge difference between the infrastructure they have and what we have. But I am hopeful about our country supporting upcoming talent in the near future."
Prepping up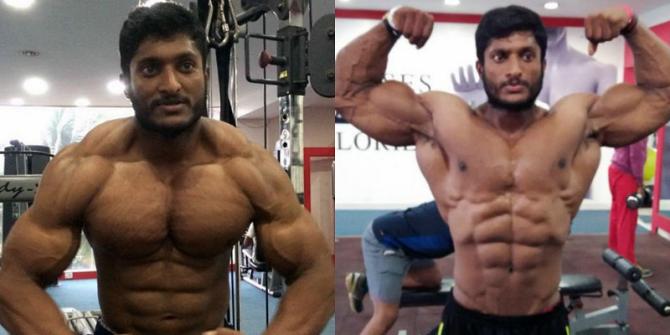 IMAGE: The young body builder balances his schedule to find time to workout and plan his diet.
Two hours of workout in the morning and three hours in the evening are central to Balakrishna's timetable. Between these gym sessions, he works as an instructor and drives his water tanker.
His diet plan is strict, with the inclusion of 750 gm of chicken, 25 egg whites, 200 gm of boiled veggies, 300 gm of rice, one cup fruit salad and two scoops of oat protein.
"My mother makes sure I follow this regime every day. She goes out of her way to bring all of these to my table," he says.
Fuelling his dreams
IMAGE: When he is not at the gym or participating in a contest, Balakrishna is seen driving a water tanker in the streets of Bengaluru.
Balakrishna fell asleep every day with the dream of winning the country this glory. Though his passion and interests were personal, a lot of people have backed him up on his journey.
Hailing from a family with limited means, managing finances and his daily expenditure was difficult. While the Karnataka government and the Sports Federation of India have contributed nothing significant till date, many people in the city have helped fuel his dreams.
From his friends and family to the Karnataka Amateur Bodybuilding Association, Balakrishna's dreams were never his alone.
During his endeavours between 2013 and 2014, most of his expenses were covered by the Whitefield Rising Association. In 2013, Koshy Varghese, a prominent Bengaluru veteran, backed his Mr Universe dream.
What's next?
Balakrishna is now gearing up for the upcoming Mr Universe competition, which will be hosted in November. He also plans to build a huge gym and personally train upcoming bodybuilders and cater to their needs to bring fame to the country.
For the last seven years, what has kept him going is his passion and the zeal to leave behind a legacy. So far, Balakrishna has turned his every dream into a living truth with his sheer perseverance and undying positive mindset.
Over the course of my one hour talk with him, my respect for this 25 year old sportsman has grown manyfold.
As I make my way out after hearing his inspiring tale, I can see the gentleman walk up to his water tanker to execute another day's shift. All I can tell myself is, "A few things never change, do they?"