"My father was different, and that is what I found beautiful."
"In India, when we talk about identity, it narrows down to religion, this is not the truth of our country. We must resist every attempt to disassociate religion from our identity."
From her distinct choice of films to the issues she takes ownership of, Shabana Azmi is constantly setting new benchmarks and sending a message to the people of the world.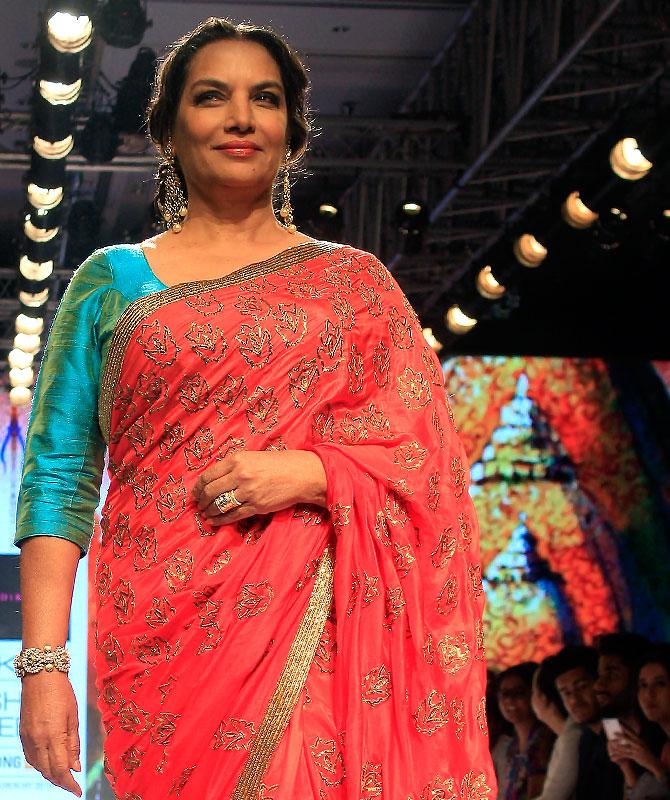 How many of you are here because I am Farhan Akhtar's mother?", asked Shabana Azmi sending the auditorium packed with techies, at the Microsoft India's Confluence 2016, into fits of laughter.
I have always been in awe of people who know what they are saying and doing at all times, and make it look effortless.
Shabana Azmi is one of those people.
From growing up in a Communist environment to her unconventional yet stellar acting career, to espousing beauty in diversity, to a cause she's dedicated her life to, she spoke her heart out in her 40-minute address.
Growing up
Born to one of India's most celebrated Urdu poets Kaifi Azmi Sahab, Shabana's Azmi's childhood was beautifully unusual.
"While I was growing up, all I wanted was a beautiful blonde doll with blue eyes, and all my father got me was a black doll" she recalls.
For a convent school-going Shabana, her kurta clad father with his unconventional ways was difficult to relate to. But, as she grew up, and was introduced to great poets like William Wordsworth, she learnt more about who her father was and what he did.
"It was then that I took pride in him and realised that my father was different, and that is what I found beautiful," she says speaking of how respecting diversity was ingrained in her even as a child.
Born and raised in a communist environment, gender equality was not an alien concept for young Shabana.
"We lived in a cramped house and our living room was called the Red Hall. My father was a communist and we grew up around ideas of equality," she says, adding how it felt strange to deal with rampant gender inequality in the outside world.
Playing with Fire
As one of India's most successful actresses, she has carved her niche by essaying strong woman characters.
How did she manage to make the off-beat mainstream?
How did she manage to hold her own when all a woman was expected to do was to play second-fiddle to the 'hero'?
"When I did Fire, I knew there would be controversy and expressed my concern to my husband who told me that if I knew what I was doing it for, I should go ahead".
The four-time National Award winning actress is known to get under the skin of every character she plays. How does she do it?
"Acting has to come from truth, from your core. Aapki mitti geeli honi chahiye. We are scared of people when we don't know them. From a prostitute to a house help, I always associated with the people I was going to play. I never wanted to use a person to win an award. Hence, I got involved in social work," she says.
This is the era of raunchy item numbers and everything that sells; so, what does she think of the current crop of actors and directors?
"I have a problem with item numbers, if they are not a part of the plot. It's not an expression of sensuality. Why is it that a vulgar song is appreciated by everyone? Why are four-year-olds dancing to item songs? Don't blame the film industry. We both have the same responsibility," Shabana says.
However, she is hopeful and thinks the new crop of actors and directors are doing a great job and are striving to bring about change.
The actress first worked in Hollywood in John Schlesinger's Madame Sousatzka in the year 1988, a time when she was doing twelve films at a time and her Hollywood directors just couldn't wrap their heads around it.
"Rajesh Khanna and I did a scene without knowing what the next scene was going to be" she says with a laugh, drawing a comparison to Hollywood, where both an actor and a director would make one movie in twelve months.
While Hollywood has the skill and attention to detail, we Indians have the knack of jugaad. We can fix things in a jiffy. Hence, Hollywood and Bollywood have things to learn from each other says the actor.
Diversity is beautiful
In a time when our identities are often discussed, debated, and fought over, Shabana feels we should take pride in our composite culture.
No two people are the same and it is this difference that we need to celebrate in the right spirit, believes the actor.
"In India, when we talk about identity, it narrows down to religion, this is not the truth of our country. We must resist every attempt to disassociate religion from our identity", she says.
Shabana the social activist
While the roles she essayed on screen broke many taboos, she was yet to get involved in social activism.
Shabana admits she was so engrossed in movies that she divorced herself from everything else. But the turning point came after Arth, a movie where the directors wanted to change the climax because they thought a woman saying no to an apologetic husband will not work in India.
The movie not only worked, but Shabana was thronged by women who wanted her to solve their marital conflicts!
Today, she volunteers with Navara Haq, an organisation that has rehabilitated 40,000 people free of charge in Mumbai. It's the largest single slum rehabilitation project in all of Asia.
"People don't know what causes slums, all they know is that slums make things dirty. If you demolish slums, they will go elsewhere.
Cities need to understand that the slum dwellers service the city." she says speaking of her initiative.
She leaves with a few parting gems:
"Actors are neurotic. You have to be crazy to be an actor."
"Masculinity is not about abs, it's about compassion."
"Different is beautiful."
Lead image: Uday Kuckian/Rediff.com