"I did not take any coaching. I never felt the need for it."
"I am not a genius who can study and remember everything. There are so many books and so much to study. I focused on important chapters and studied strategically."
She plays the keyboard. Learns French. And tops the country!
All India CBSE Class 12 exams topper Raksha Gopal shares her study secrets with Rediff.com's Divya Nair.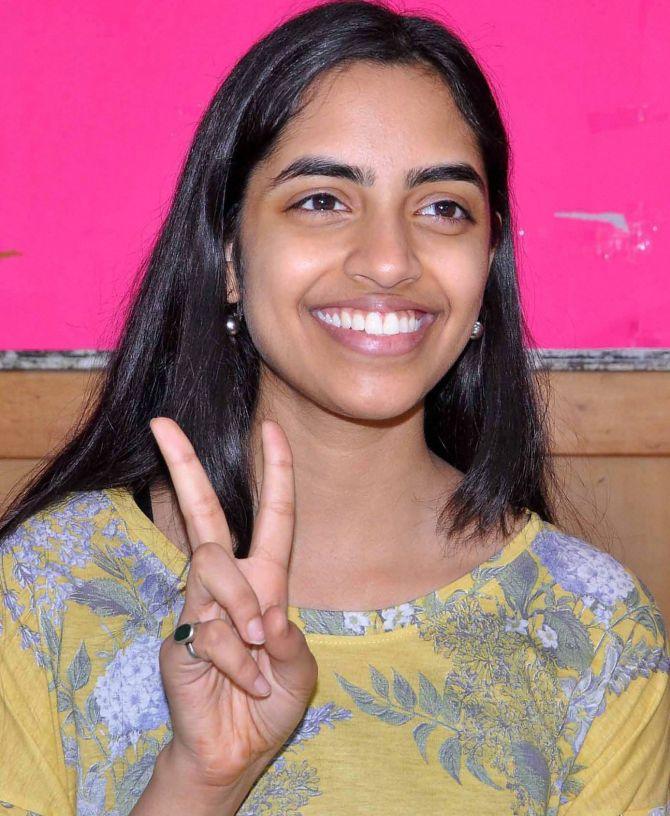 IMAGE: Raksha Gopal scored 99.6 per cent in her CBSE Class 12 exams. Its results were announced May 28.
She scored 100 in three subjects.
Photograph: PTI Photo

It's not every day you get a call from the Indian minister of human resources development.
On May 28, Noida's Raksha Gopal, who was anxiously awaiting news of her Class 12 board results, dismissed "a couple of calls from an unknown number" before she finally answered her phone.
"When he introduced himself as Prakash Javadekar and told me that I had topped the country, I thought it was a prank call," says Raksha Gopal, a student of Amity International, Noida, who scored 99.6 per cent, to top the Central Board of Secondary Education's Class 12 results.
Raksha scored a perfect 100 in English, political science and economics.
The 17 year old, who did not opt for private coaching, juggled studying for her board exams with music and French. She plays the electronic keyboard and has completed five levels of the Trinity College Of Music, London exams. She is doing French at Alliance Francaise, Delhi.
She lives in Noida with her father Gopal Srinivasan, a finance officer with Gujarat State Petroleum Corporation, mother Ranjini, a homemaker and elder sister Prerna, who is in her final year of biochemistry from Delhi University.
In a telephone interview from her Noida home, Raksha Gopal tells Rediff.com's Divya Nair how she did it and why she believes that the youth of India should get involved in politics.
What was the environment at your home before the results were announced?
I was really anxious, tense. There were butterflies in my stomach.
Honestly, I wasn't expecting to top.
My mother was home with me and my father was out playing golf, so it was really quiet at home.
The unusual call from Mr Prakash Javdekar was unbelievable. He said he was happy that someone from the humanities background had topped the results.
When I told him, I'd like to pursue political science and he said, "Welcome to politics."
Then he spoke to my mother and also congratulated the school.
How did your mother react?
I had never seen my mother so excited. She called and informed all our relatives over the phone.
Were you always academically bright?
I wasn't an exceptional student, but I had topped my class in X and XI. I was expecting 95 per cent this time.
How did you prepare? What was your schedule like?
I did not take any coaching. I never felt the need for it.
My teachers at Amity were very helpful. From April 2016, I ensured that I'd focus on studying regularly. After school, I'd practiced the lessons.
It's not about how much. Or how long you study. Consistency, I feel, is important. You have to study and practice from Day One.
I am not a genius who can study and remember everything. There are so many books and so much to study. I focused on important chapters and studied strategically. Rote learning, also, I feel, doesn't help.
How did you find time to study music and French alongside?
I am not someone who can study all day. I like to take breaks. In fact, I attended piano classes till January this year and had my last French class one day before my board examination.
According to you, where do students generally go wrong in their preparation for board examinations?
From what I see around, I feel that most students start their preparation late.
Even if they start early, some give up towards the end, either due to overconfidence or lack of interest.
Like I mentioned before, it is important that you practice every day.
There have been times during the examination when I felt at loss. It might sound crazy, but there was a gap of 10 days between two exams and I was worried I may take it lightly and forget something important.
This I am sure happens to most students.
How important is the role of your parents' in this journey?
My parents have always supported me and put just enough pressure on me. They have not pushed me into anything I wasn't able to achieve, so I am glad I have that encouragement from them.
It is very important that parents provide the right study environment at home.
Why political science?
Whenever I read the newspapers, I go online and check more about (an article's) background. I have always been interested in political debates and like to have a healthy discussion around current issues.
Why Delhi University?
I feel Delhi University will be the best place to pursue my interests in politics. I have also discussed my ideas with some seniors at DU, and am quite convinced that if I get through, it will be the best institution to explore, learn and improve my knowledge.
Would you like to appear for the Union Public Service Commission exam?
Yes. That is on my mind. I would definitely like to try for it.
What are the issues about India that affect you the most?
Here in Delhi, I am very affected by the environment, pollution in particular. It affects us every day.
I would like to read more about it and if I had the chance, maybe do something about it.
Your thoughts on Arvind Kejriwal, the chief minister.
When he came to power, all of us had high hopes on him. Maybe I am too young to comment, but I feel there is so much more he can do than what he is.
Which politician do you admire? Why?
I really like our Prime Minister Narendra Modi. When he talks, I want to listen to him. He has this very strong, inspiring aura about him.
According to you, how can young Indians contribute to politics?
I feel there is a lot of unnecessary violence created by certain youth wing groups in India. The youth are the driving force and future of our nation.
If we can channelise that negative energy into something positive and useful, it would work a lot for our country.
Your greatest life learning would be…
I am yet to see and experience life. But in the last few hours since the results were announced, I have come to realise that it is not important to chase success or fame. It is more important to do your best and give it your 100 per cent.
Your future plans?
Right now, I hope I get into a good college and complete my degree. I am sure there are a lot of career options in political science, both in India and abroad. I'd like to explore them.