'I think attending a coaching class is not a great idea. The professors there brainwash students to follow different techniques and methods from various books and authors. The student gets confused and ends up stressed.'
'For CBSE, textbooks are all you need to refer to, to clear the exams.'
Tushar Rishi, 19, conquered knee cancer and other odds to score 95 per cent in CBSE Class 12 results. He tells Divya Nair his story.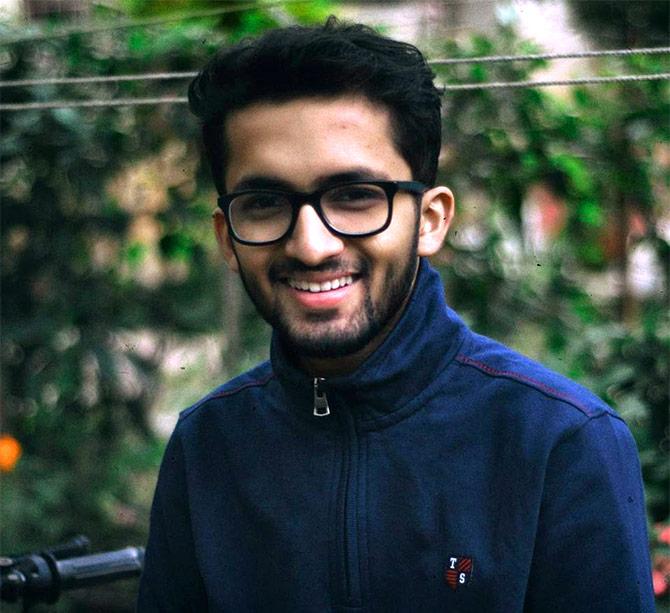 IMAGE: Ranchi topper Tushar Rishi fought knee cancer and then battled with his books to emerge successful.
All photographs: Kind courtesy Tushar Rishi

Tushar Rishi was in Class 10 when he was diagnosed with bone cancer in January 2014.
The pain was unbearable. The treatment would require time. So Tushar dropped out of Class 10 from Delhi Public School, Ranchi, to heal himself.
He moved to Delhi with his mother for treatment at the All India Institute of Medical Sciences there.
After a few sessions of chemotherapy, Tushar underwent a knee replacement surgery which put him out of action for another six months.
"I was frustrated and depressed that I could not walk or run like before. With help from physiotherapy, I was back on my feet but I still walked with a limp."
In January 2015, Tushar was back to the grind, focusing on his impending Class 10 board exams. He not only passed his grade, but scored a perfect 10 CGPA.
But Tushar had a new challenge to face in Class 11. "I wanted to take up arts, but my mother wanted me to pursue science which I had no liking for. She said I could switch my stream later and I gave in."
Despite his dislike for the stream and the nagging fear that his cancer might reappear, he scored 95 per cent in his CBSE Class 12 exams, he discovered, when the results were announced May 28!
Tushar lives in Ranchi with his father SB Agrawal who works in the agriculture department of Jharkhand State Government, mother Ritu Agrawal and younger brother Utkarsh Anand who is in Class 10.
He describes to Rediff.com's Divya Nair how he raced against time in his preparation for his Class 12 board exams to emerge immensely successful.
When did you start studying for your Class 12 exams? Did you opt for coaching?
Frankly, I wasn't interested in science. After some time, even my parents had realised that. My mother told me to just focus on the examination without putting any pressure.
I was spending five hours a day in school learning something I wasn't enjoying so much.
There was no way I would have taken additional coaching and spent more time studying the same subjects.
You ended up scoring 95 per cent. Were you expecting this?
Till January 2017, I was very disinterested. Besides, I was busy travelling and promoting my book The Patient Patient in Delhi and Kolkata.
Every three months, I had to also visit the hospital for followups, to check whether the cancer had reappeared.
In fact, I scored very low in my preliminary examination. I cannot even reveal the scores. That's when it hit me. I realised that if I did not score well, I may not get the desired course and college I want.
Studying hard was the only option I had.
How did your parents react?
On results day, everyone at home was pretty normal. My mother and I weren't expecting anything beyond 90 per cent. My father was like…pass ho jaye bas (I just hope you pass the exam).
And when I got 95 per cent, they couldn't believe it. They were obviously happy. But no one was expecting it.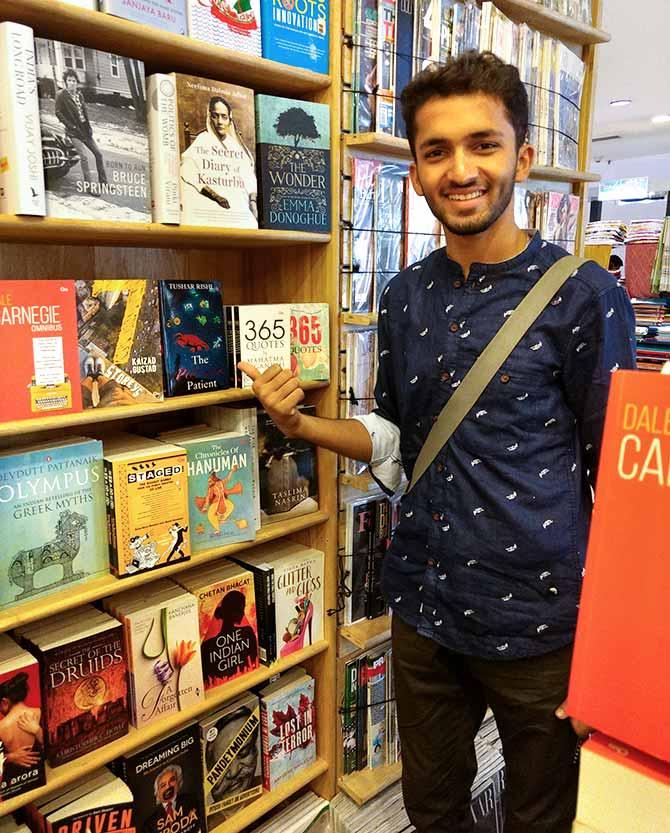 IMAGE: Tushar proudly points his book The Patient Patient published by Westland Books at Om Bookstore, New Delhi. The book is priced Rs 250 and has sold approximately 4,000 copies.

How did you go about studying?
Like I mentioned, I wasn't consistent. I started pretty late, but between January and February I was pretty serious.
I would spend about six hours -- including four hours of night study -- every day. My primary aim was to complete the syllabus on time.
There was no fixed strategy, but I believe I utilised my time better towards the end.
What was the most difficult part of the exam?
I found physics and chemistry difficult, but I took help from a senior. I believe in self study. If I did not understand something, I'd look for it online.
I referred to books by other authors so I could understand the concept better. I also checked some informational videos.
Once the concepts were clear, studying them was easier.
According to you, where do students go wrong while preparing for board exams?
I think attending a coaching class is not a great idea. The professors there brainwash students to follow different techniques and methods from different books and authors. The student gets confused and ends up stressed.
For CBSE, textbooks are all you need to refer to, to clear the exams.
Perhaps if you are preparing for a competitive exam like the IIT-JEE (Joint Entrance Examination) you may need extra reference material or coaching.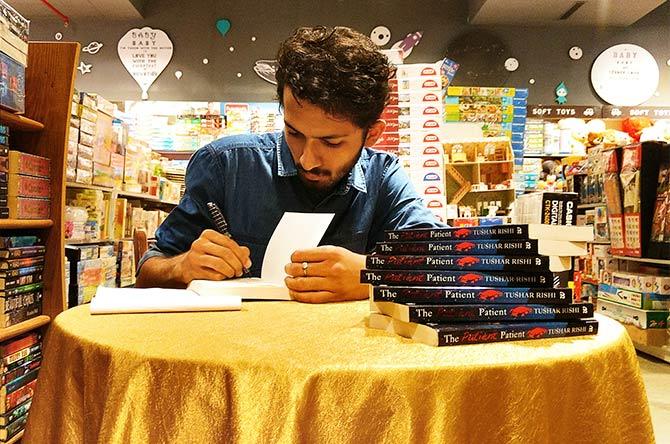 IMAGE: Tushar signs copies of his book at a release function held at Starmark Book Store in Kolkata in October 2016.

What inspired you to write a book on your fight against illness?
The period between January 2014 to 2015 was very stressful for me. I spent a lot of time reading. That's when I got the idea of writing down my experiences.
If you have ever been to the All India Institute of Medical Sciences or any government hospital, you'll have an experience to share.
At the AIIMS, if you enter the hospital at 10 am, your turn will come only at 2 pm. The wait is painful and requires a lot of patience. That became the title of my book: The Patient Patient.
How easy was it to get published?
After I finished putting the book together, I sent e-mails to a couple of publishers. Only Westland Publications replied.
I sent them my manuscript. They reviewed the book and agreed to publish it. The book was released last year (2016).
I think I was lucky, because I know a lot of friends who are struggling to find takers.
How do you unwind?
I watch movies, play table tennis, shoot balls in basketball because I cannot run.
I also read. I find books very relaxing.
What kinds of novels?
I admire JK Rowling. I was 10 when I was introduced to Harry Potter and the world of reading.
Last year, I read Salman Rushdie. When I picked up Midnight's Children, I found the first few pages to be very demotivating. It took some time to understand his style of writing, which is very poetic.
I have read Haruki Murakami's Norwegian Wood, Kafka on the Shore. I also like John Green and Malcolm Gladwell.
What's next for you?
I'd like to pursue literature or political science. I'll be lucky if I make it to St Stephen's (College, Delhi). Ramjas and Hindu College are also on my list.
Your message to our readers?
I have learned that you have to work hard, no matter what. The result is not in your control.
Pick your goal in life and do your work well. Things will eventually fall in place.