'I am not what I was at the beginning of this year and I will not be what I am today at the end of 2021.'
'Because life is not a destination, it is a journey!'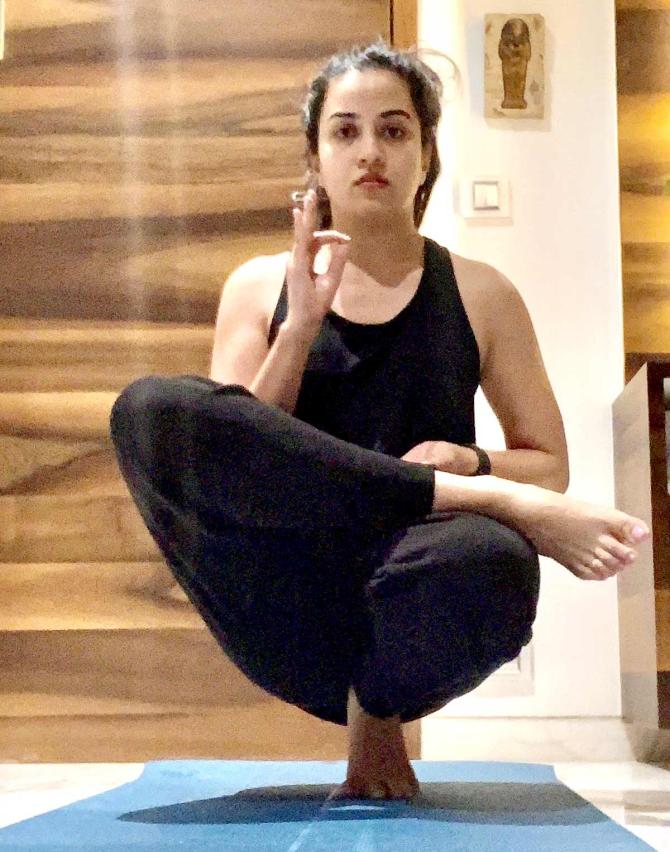 Yogini, podcaster and entrepreneur Shikha Pandey reflects on how a pandemic taught us to reflect within ourselves and find true happiness.
The year 2020 has been such an unprecedented year for the entire world!
This year will definitely go down in the books of history as the year of the pandemic and how the world came to a pause and how the human race fought for survival to come out stronger than ever.
As we come to an end of the year, it is a good time to reflect upon the days and months gone by.
The plans made at the beginning of the year, the curveball that life threw at us and what did we finally make of the year.
Reflection by itself means to look at things objectively, as they are, without getting tangled in emotions. It comes from a place of self compassion where we don't blame ourselves for what did not go our way.
Reflection is about gaining knowledge from our experiences so that when we face a similar situation again, we are able to respond to it rather than react to it.
So as I sit back to reflect upon 2020, here are my biggest learnings from this truly life changing year.
#1. Nothing lasts forever and hence adaptability
And this applies to both happy and challenging times. I remember making a big bucket list for 2020. And then things changed.
I did feel off balance initially as nothing made sense. There was uncertainty and fear everywhere but in the middle of all that, the survival instincts kicked in.
I and millions like me adapted to the situation.
We moved to the world of online -- schools, fitness, work, meetings, grocery shopping, birthday celebrations, family gatherings.
This would be the fastest way of increasing internet penetration and usage especially in the India!
But this will also change and life will also change but what will keep us moving forward and growing is how fast we are able to adapt to the external.
#2. Gratitude is medicinal
We had ample opportunities to whine about -- we could not step out, we could not meet friends and family, we could not watch movies in theatres, we had to wear a mask (come on!) and the list is endless.
But I realised that what kept me afloat and filled my heart with warmth even in these times was the feeling of gratitude.
Gratitude for the people in my life, for the place I call home and feel safe in, the experiences I have had, my yoga practice and the time I had in hand to rediscover myself.
The sense of gratitude can light up the darkest of the days because only when we are grateful, our hearts are filled with joy.
And gratitude is a habit that can be cultivated and practised and that is what makes it so accessible. It is the quickest way to give yourself a boost of happiness.
#3. Compassion is not subjective
If you want to live peacefully for as long as you do, having compassion towards everyone is key.
It cannot only be towards those who are less privileged than you.
It has to be towards even those who don't wish well for you or are seeking to hurt you. And even towards those you are not fond of.
This comes from understanding that somewhere the other person is hurting and hence inflicting their pain on you.
If others evoke negative emotions in you, they make your heart negative and closed , which could other wise be more receptive and positive.
The philosophy of yoga has beautiful Parikarmas to guide us on the path of maintaining equanimity in our feelings towards others by practising: Maitri (friendliness towards happy and joyous), Karuna (compassion towards the unhappy and miserable), Mudita (godwill towards virtuous) and Upeksha (being compassionately disconnected from the non virtuous).
#4. Growth requires letting go
Especially letting go of what no longer serves us, our purpose and pulls us down.
Also letting go the need to control all that happens around us including the people around.
It's when we hold on, we don't move forward.
If we are stuck with the same thoughts, same habits, same patterns, same people and same surroundings, how do we expect anything to change for us?
Unless we are ready to declutter and release, we cannot make sense of things around us and will also run out of space to add the new.
#5. Thoughtfulness of speech
Because what we say to someone can sometimes last with them forever. This one really is as simple as that.
Words spoken in anger or while being driven by extreme emotions can cause damage.
Words are meant to communicate and not to cause hurt or wrong expectations.
In the age of social media when it has become so easy to leave nasty comments and remarks on posts without having a sense of accountability or responsibility, it becomes even more imperative to choose our words carefully.
Raise your voice for the right cause and even then choose words that will bring about change rather than fuel hate.
#6. Kindness over judgement
We are constantly judging those around us and in our social media feed. And most of the times without knowing or wanting to know more than what meets our biased eyes.
Only if choose to not put people under the scanner and let everyone follow their heart and paths, the world would be a more tolerant and peaceful place.
We can all be our unique selves and yet be a pack. And the first step to acceptance is kindness. Like Plato said -- Be kind for everyone you meet is fighting a hard battle.
#7. Unclench the jaw
Something I learnt in my yoga practice which is so relevant on and beyond the mat.
The moment you unclench your jaw you release the stress to breathe better to feel lighter. Go ahead and try this for yourself.
I am not what I was at the beginning of this year and I will not be what I am today at the end of 2021. Because life is not a destination, it is a journey!
Do take out time to reflect on your 2020 as you welcome 2021 with all its challenges and opportunities.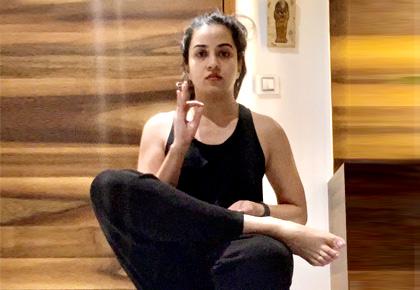 Shikha Pandey is internationally certified in yoga from The Yoga Institute and the founder purnayog.com.