Show up for the call on time or even 10-15 minutes earlier.
Keep a notebook, pen, resume, and other required documents, advises Niralee Shah.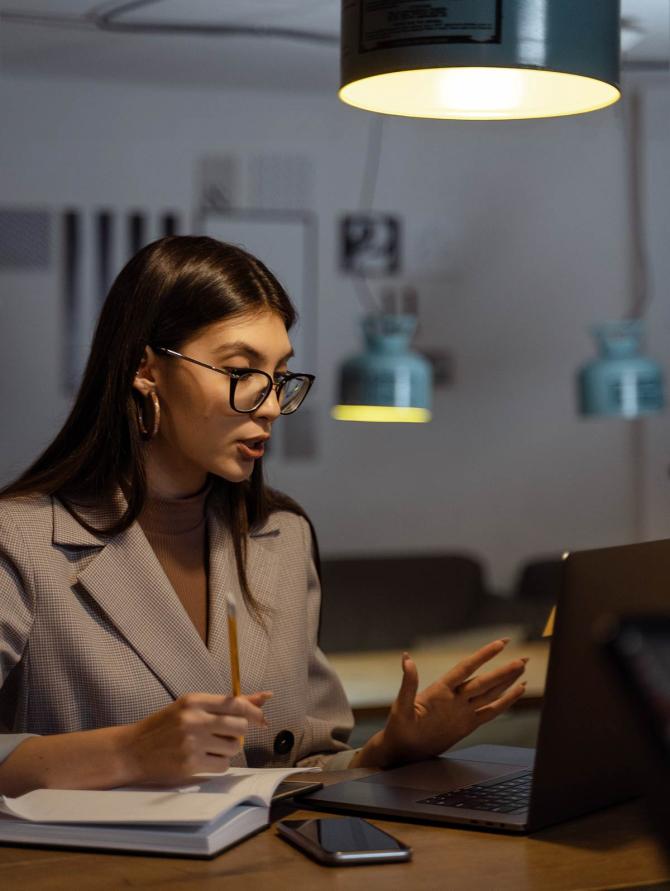 Companies globally are now operating remotely to safeguard their businesses and employees from the COVID-19 pandemic.
The recruitment procedure has either halted for the time being or have gone online.
If you are well prepared and take the right steps to ensure your online job interview goes well, it can be less stressful than an in-person interview and will get you the results you want.
Niraalee Shah, CEO India, The British School of Etiquette India, tells you how to feel comfortable in front of the screen.
1. Master digital etiquette and get familiar with technology
This is the first and foremost thing you need to do while preparing for an Online Interview -- to get familiar with the required technology and equipment for online interviews.
It will make you feel comfortable with the tech resources during the online interview and learn the skills and tools of digital etiquette.
You need to ensure that your computer system, Internet connection, and sound system are working properly and compatible with the software that will be used for the online interview.
Meanwhile, you are also recommended to create a distraction-free environment for the interview with appropriate lighting.
2. Be prepared and practice beforehand
You need to practice for your online interviewing skills to perform better in the actual interview.
You can use various online resources that will help you to practice interview questions over an online interview environment and make you more confident during the actual interview.
Apart from the required technical skills, you need to learn about the company insights as well such as its vision, mission, products, reviews, etc. to make a positive impact on the interviewer.
3. Be punctual
Please show up for the call on time or even 10-15 minutes earlier as it may take you some time to log on or test your audio system.
Early arrival will help you for being comfortable and allow you to focus on the interview.
You must ensure that you have downloaded the required application or software ahead of time and you are ready to go at the scheduled interview time.
4. Dress professionally
When you dress professionally and look presentable, this immediately creates a positive image of you. This shows you respect the person in front of the screen.
Dressing professionally will make you feel confident and at ease. You can do some research as well on general dress codes for online interviews.
You are required to do well with your body language such as posture, hand movement, etc.
Make proper eye contact with the interviewer as it will let him/her know that you are focusing on the interview.
5. Keep your CV and other documents on your desk
Suppose, during an online interview, the interviewer asks you something from your resume or tell you to write down something and you neither have your resume nor pen/paper aside you.
Indeed, it would be a huge letdown and you may lose your chances of the further interview process as well.
Keep a notebook, pen, resume, and other required documents in your sightline during the online interview to avoid interruptions or inconvenience. You can keep your handy notes along with you as well for reference purposes.
6. Listen carefully and speak clearly
In an online interview, you're required to listen to the interviewer carefully and attentively.
If you are unable to get what the interviewer is saying in one go, you can ask for clarification or can request to repeat it.
You are strongly recommended to not interrupt the interviewer when he is talking, instead, let him complete first and then ask or say accordingly.
Your communication skills represent a major part of your entire personality.
Speak very clearly and concisely and avoid mumbling or very long pause to make a positive impact.
7. Follow up after interview
Don't forget the follow-up process after the online interview.
You should thank the interviewer for giving you the opportunity and time. This will help you to build a professional bond with the interviewer that will be beneficial for you for the further interview process.
Although you are required to have patience still you can follow-up at times through e-mail or calls to express your interest and concern towards the job.
However, if the interviewer provides you the date for the next round or further process, try to avoid reaching out to him before the scheduled date.
Apart from these strategies, you need to feel confident and comfortable in front of the interviewer and give your best in the interview!!
You may also prepare for these online interview questions related to the pandemic:
How have you adapted to working from home?
What have you found to be your greatest challenge during the pandemic?
How have you handled stress associated with the pandemic?
What have you learned about yourself?
Once the interview is over, remember to send a follow-up thank-you email to the hiring manager.
Don't let COVID-19 destroy your dream, work hard, and you will get the chance to work in the company of your dreams.
All the best!