Aditya Mohan Jadhav, a professor at the T A Pai Management Institute, Manipal, lists the dynamic skills that will help you survive these tough times.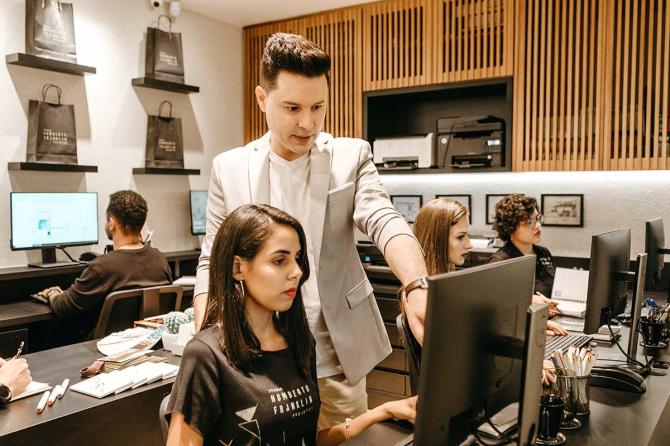 The once-in-a-century pandemic has not only changed the way companies operate, but also increased the expectations from employees.
While the core skill set in demand remains the same, the form of these skillsets have adapted to the new normal.
Irrespective of the organisation or sector you are working for, there are three hygiene factors that are essential for success in your career.
The first is your motivation for the job.
You will never be able to make a great career if you do not love your job. You will continuously second guess yourself in such a case.
The second is conceptual clarity.
If your conceptual knowledge and understanding is not clear, the application suffers.
Gradually, this will raise questions on your ability and also reflect poorly in your career.
The third is communication.
Communication is not about showcasing fluency in the language but it's your ability to convey your ideas comprehensively yet lucidly to the other party.
Communication is for the receiver, and if the receiver frequently reverts for clarifications, then the communication is not effective.
In today's digital world, where face-to-face engagement is taking a backseat, effective communication is a must.
Please ensure that you Do NOT compromise on these basic factors.
Apart from the above, based on my experience as in-charge of corporate engagement, here are seven additional skills you will need to survive in the corporate world.
1. Solution orientation
The first and most important skill in any career is being 'solution-oriented'.
Today clients engage for sustainable solutions. Often, the clients' issues are symptoms of an underlying latent problem that clients fail to identify.
As a valuable employee, it is necessary to identify the underlying problem and resolve it.
While most job roles require service orientation, wherein you just deliver what the client wants, organisations are looking for employees who can identify issues and solve them intelligently.
2. Macro approach coupled with attention to detail
The complexities of the world are such that external factors easily impact the efficacy of the solution.
One should develop the ability to appreciate the macro-view and examine these external factors for their impact.
Attention to detail, on the other hand ensures that the most minor aspect of the issue is considered while designing a sustainable solution.
Both these skills are necessary, and ignoring one for another will fail you.
3. Analytical skills
Data is the new currency of the corporate world.
Data coupled with situational complexities can be overwhelming.
Analytical skill helps examine the issue systematically and objectively.
It helps examine the individual and the collective impact of various factors to arrive at a sustainable solution.
Analytical skills have converged into data analytics in today's changing world, and this skill is taking the front seat.
4. Empathy
Empathy is the ability to appreciate the other party's stand and ensures that there are very few misunderstandings with the client.
Empathy ensures that in any given situation, the most suitable solution gets designed.
5. Digital skills
Whether we like it or not, the world has shifted to a digital mode, and digitisation and automation are here to stay.
The objective of digitisation is to increase efficiency.
Too much focus on digitisation can hamper delivery, whereas avoiding the same can disrupt the implementation of the solution.
One needs to understand the utility of digital tool in each situation.
6. Negotiation
The interconnected nature of the workplace requires one to regularly negotiate via a formal structure or in an informal setting.
The rigidity can hurt. Subservience hurts as well.
Good negotiation skills ensure a solution satisfying all parties.
7. Resilience
Things are bad. Situations will always seem bad.
We are facing the pandemic and have reasons to believe that things may never get worse than this.
Please check with your parents who would have graduated in 1980s or 1990s, and they will share their horror stories of high unemployment and high inflation from their journeys.
Ask those who graduated during the dot-com bubble or the sub-prime crises, and they will share theirs.
Remember, every crisis throws up opportunities, and one should be resilient enough to focus on the opportunities rather than let the crisis overpower you.
Resilience is about self-confidence, adaptability and continuous learning.
Have confidence in your education and upbringing.
Be adaptable to accept new roles and responsibilities. And you will succeed if you combine your adaptability with your ability to learn new things.
With these seven skills, you will certainly have a great career in the new dynamic world.
These skills are not difficult to develop.
Develop the habit of reading the business newspaper and analysis of business news.
Proactively participate in social causes and committees to develop solution orientation and empathy. And most important, take up industry live-projects unveiled on various industry platforms to embrace uncertainty.
Professor Aditya Mohan Jadhav is area chair -- accounting, economics and finance at the T A Pai Management Institute (TAPMI), Manipal.