Men, please pamper your partners -- or moms or sisters or daughters or mothers in law -- with these simple breakfast recipes on International Women's Day!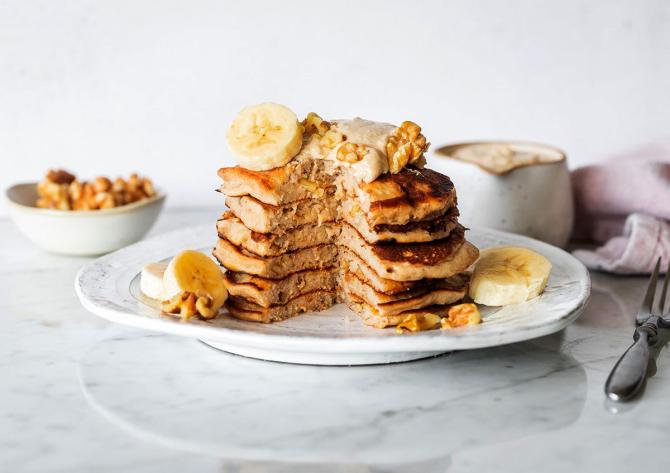 Fluffy Banana Walnut Pancakes
Ingredients
For the maple walnut cream
½ cup walnuts
¼ cup water
1 tbsp maple syrup
¼ tsp cinnamon powder
For the pancakes
1 medium-size ripe banana
¾ cup milk
2 tbsp melted butter + 1 tbsp for buttering the pan
1/3 cup egg whites
1 cup maida or all-purpose flour
2 tbsp sugar, powdered
1½ tsp baking powder
½ tsp cinnamon powder
¼ tsp salt
1/3 cup walnuts, finely chopped
Walnuts and a sliced banana for garnish, optional
Method
For the maple walnut cream
Blend the walnuts, cinnamon, maple syrup and water till light and fluffy in a blender. Keep aside.
For the pancakes
In a large bowl, mash the banana with a fork.
Add the milk and 2 tbsp butter. Mix well.
Stir in the flour, sugar, salt and baking powder. Be careful not to overmix.
In a separate bowl, whip the egg whites lightly till foamy.
Add the whites to the flour-milk-banana mixture.
Add cinnamon powder, chopped walnuts and mix well.
The pancake batter is now ready.
Heat a tava or frying pan or griddle, preferably non-stick, till medium hot and lightly butter it.
Using a ladle, pour enough batter into the pan/tava/griddle to make a 3-inch diameter pancake.
Once it turns golden brown, flip and cook the other side till golden brown too.
Repeat for the remaining pancakes.
Place the pancakes, one on top of the other, on a plate and pour the maple walnut cream on top (please see the picture above).
Garnish with walnuts and sliced bananas.
---
Salted Honey and Walnut Milk Latte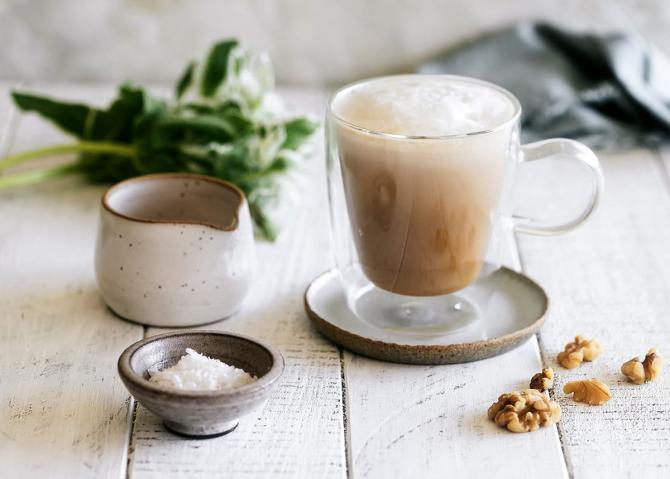 Ingredients
1 shot glass of freshly brewed espresso (various exotic brands are easily available in grocery stores and online)
1 tbsp honey + 1 tbsp extra for garnish
Pinch of sea salt + extra for garnish
¾ cup walnut milk (available in some grocery stores and online; can also be made at home by grinding soaked walnuts with water in a blender and straining it)
Walnuts for garnish
A latte mug (espressos are usually served in smaller coffee mugs, called demitasse cups, with a handle, and have a capacity of 75-100 ml)
Method
Combine the espresso, honey, and sea salt in a latte mug and stir.
Warm the walnut milk gently and froth it using a whisk or a frother and pour, from a slight height into the mug, so the milk mixes with the espresso mixture already in the mug.
Garnish with walnuts, honey and additional sea salt.
---
Asparagus, Goat Cheese and Walnut Tart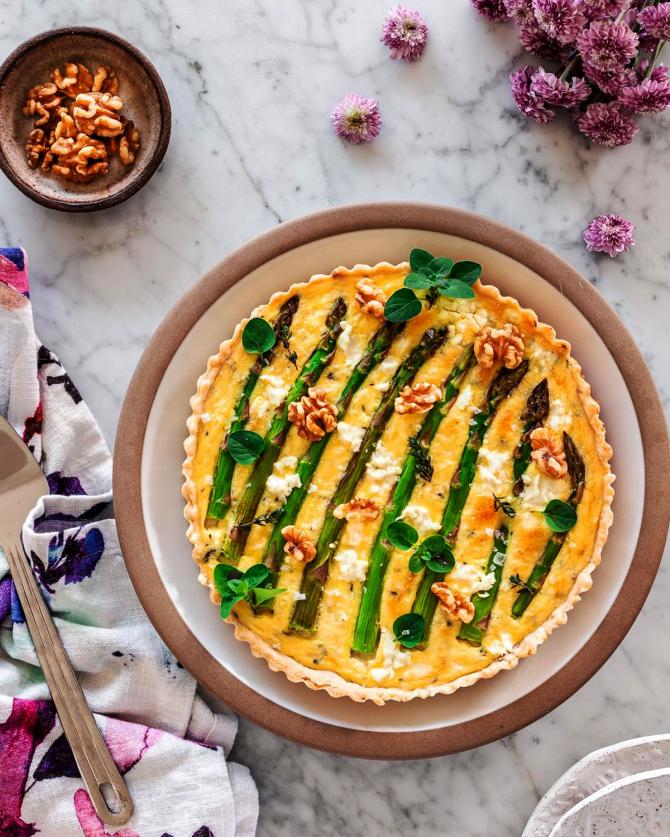 Ingredients
For the crust
1¼ cup all-purpose flour + extra for rolling
½ cup cold unsalted butter, cut into ½-inch cubes (can be substituted with regular butter; if using salted butter don't add the salt in the recipe)
½ tsp salt
3-4 tbsp ice water
2 tbsp chopped walnuts
Butter for greasing the baking pan


For the filling
½ cup goat cheese, at room temperature, available in grocery shops stocking special cheees (can be substituted with cream cheese or feta, a tangy, salty Greek cheese, readily available in grocery stores and long-life versions can be purchased online)
½ cup grated parmesan cheese
2 tbsp fresh thyme, stems removed and chopped + extra for garnish
Finely grated zest of one lemon
¼ cup heavy cream
2 eggs, lightly beaten
10 thin asparagus spears, trim the ends (can be substituted with canned green aspargus)
1/3 cup coarsely chopped walnuts + extra for garnish
Method
Pulse the flour, butter and salt in a food processor until it has a coarse texture.
Add the ice water and pulse until the dough begins to hold together when gently pressed between your fingers.
Empty the flour mixture from the food processor into a large mixing bowl or onto a flat clean, ledge surface or wooden board and roll in the chopped walnuts
Knead lightly to make dough.
Wrap the dough in cling film and refrigerate for an hour.
Preheat the oven to 180°C.
Roll the dough into a 10-inch circle on a lightly floured board.
Grease a 9-inch tart pan with a removable bottom.
Place the dough circle inside the tart pan and press it down and press it to the sides so it fits snugly into the tart pan.
Lightly pierce tiny holes into the bottom and sides with a fork (allows steam to release when it bakes).
Cover the unbaked crust with parchment paper or foil and place pie weights on top of the paper/foil or sprinkle dry beans on top of it. This is to ensure that the crust bakes uniformly.
Bake for 10 minutes at 180°C.
Take out the weights and foil or parchment paper and bake for another 10-12 minutes or until crust is cooked through. Let cool slightly.
In a medium bowl, whisk together the goat and parmesan cheese, thyme and lemon zest.
Add the cream and eggs and mix until smooth.
Pour this mixture into the prepared crust and arrange asparagus on top (please see the picture above), trimming as needed. Sprinkle with walnuts.
Bake for 20-25 minutes at 180°C or until the filling is set and lightly browned.
Let cool for 5 minutes before cutting it into wedges.
Garnish with additional walnuts and thyme, if desired.
Recipes contributed by California Nuts.