'Don't be scared of the people who are trying to make a fool of you, those people who trying to pull you down...it is their insecurities that make them behave the way they do.'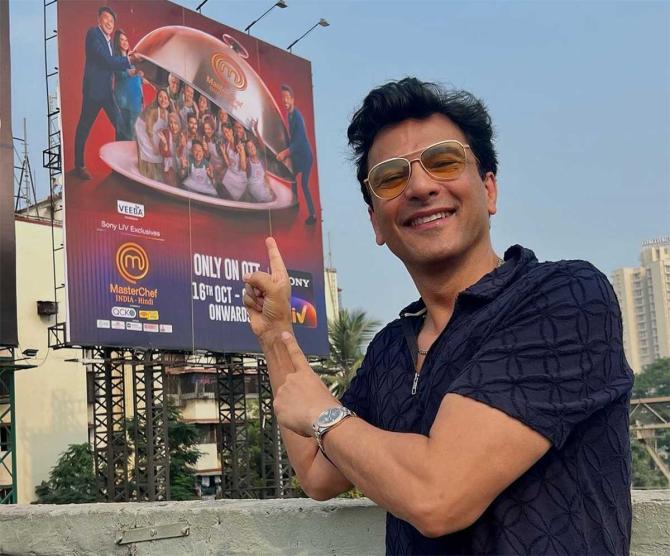 Vikas Khanna chef, restaurateur, cookbook writer, film-maker and humanitarian turned 51 this week.
He has been one of the judges on MasterChef India from the start.
"I know I have been given these opportunities with an expiry date. There are more things to be done," the Michelin star awardee tells Subhash K Jha.
As you turn a year older what are your thoughts on your life so far?
As I get older I feel there are so many things to be done. At the same time I get worn-out more easily.
So I hope I can create a balance in my life.
Issi umar mein sabse zyada opportunities hoti hain. Lekin kabhi kabhi aap thak jaate ho.
At the same time I am very proud of what I've achieved.
What advice would you give to achievers who are past their youth?
If I had to give myself advice when I was younger, I would say, 'Don't be scared of the people who are trying to make a fool of you, those people who trying to pull you down...it is their insecurities that make them behave the way they do.'
As you get older you need to realise that there are people who are out there just to demoralise you, and you need to cut them out of your life.
For an artiste especially one who functions on a global platform, the biggest asset is his energy.
Time is getting shorter as I get older. I need to use my energy for the right things.
You are not only a superchef, you are super so many things...how do you manage to wear so many hats?
I think cooking has given me a platform from whatever I learnt from India and its aromatic kitchens.
I think no Indian chef got the same opportunities before me.
I keep reminding myself that these opportunities are God's way of telling me to tell my stories about how I crossed all hurdles to reach where I am.
How I fought for inclusivity and how later generations of NRI professional did the same, is a narrative that needs to be put out there.
Do you see your role as a chef to be an opportunity to have your say on issues that trouble you such as hunger and education?
I feel cooking is a medium for me to raise my voice about secularism and democracy of India on a global platform.
I am able to make my voice heard about issues that go beyond me because I never take any stress, never take anything personally.
I constantly keep moving forward. As I told you, I want to use my time and energy for the right things.
I manage to push my 24 hours to 48 hours every day.
God has been gracious and I need to give back what He has given me.
As an Indian global achiever, how do you feel when you are acknowledged as a world ambassador?
Every time I am referred to as a cultural ambassador of India, I respond with: I am not.
I am just part of that international chain of Indians who came before me...the chefs, writers, food producers, television presenters ...
I am just a small part of the bridge that these people built between Indian culture and the West, a plank of wood. But this plank of wood is also important.
It is giving an opportunity to new chefs, giving them a voice, applauding for them, standing behind them.
As I grow older I feel a little less insecure about my own place in the universe.
For me the most important thing is to mentor new talent and applaud them. The future of Indian cuisine is in safe hands.
From your illustrious life which according to you are the big turning points?
I think the biggest turning point for me has to be meeting Chef Gordon Ramsay in 2006.
When he told me I am worthy of being a Michelin chef my confidence grew. This meeting gave such an opportunity on an international platform, opportunities we had never heard of before.
A chain of fortunate events followed. With time and experience my confidence grew.
When I started my sister would tell me I need to learn how to speak English to reach a global audience. I was fluent in Hindi and Punjabi, not English.
You have played a pivotal hand in globalising Indian cuisine...what is your secret recipe for making Indian food so famous?
I have only been a molecule in the global acceptance of Indian food.
I think my biggest challenge was, how to project Indian food in novel ways to the international world.
Also constantly searching for new ways of promoting new chefs and finding new investment in the restaurant business and to build a bridge through cuisine between India and the US, these were my biggest challenges and my great adventures in life.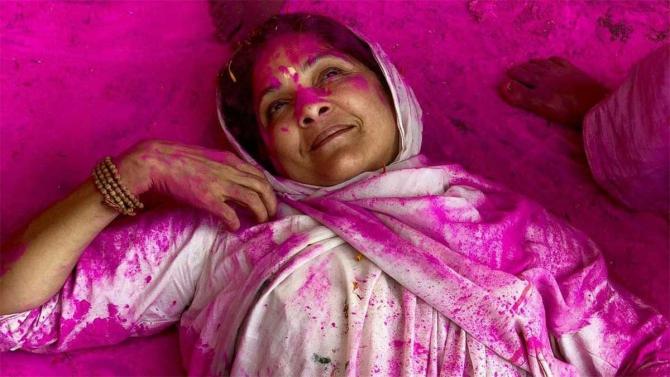 Among many things, you are also a film-maker. Tell me about your next project.
My journey started in my grandma's kitchen then went to the stainless steel kitchens and then my own kitchens. Then film-making, books, food distribution drives...everything was connected and necessary.
But film-making,I've to admit, has become very important to me. My first film The Last Colour was about a widow in Brindaban played by the wonderful Neena Gupta.
I am so happy that it got applauded at the United Nation and in the White House. It went to so many festivals.
It also gave me a chance to address the Congress in the US about adversities faced by widows in India.
Bahot farq pada ...I was so proud to become a mandate for widows.
My second film is about a failed chef in New York who comes to India to restart. The legendary Shabana Azmi plays the chef.
This film will hopefully make a difference to the way Indian cuisine is perceived in the world.
What next?
I am constantly changing and evolving. That's the name of the game.
I know I have been given these opportunities with an expiry date. There are more things to be done.
My third PhD on climate change is something I am really proud of. Hopefully the research will help farmers.
Also my flagship restaurant comes up next year in New York.
Feature Presentation: Ashish Narsale/Rediff.com