'Goddess Laxmi doesn't come just by praying to her.'
'You have to make yourself attractive to Laxmi for her to come to you.'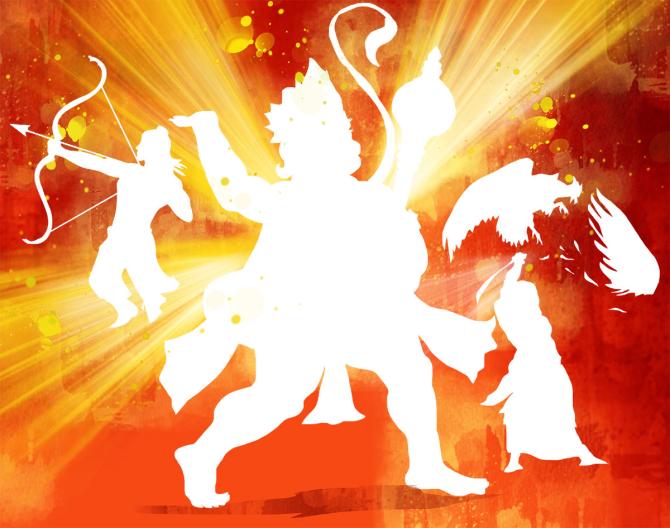 How are our ancient texts relevant for success today?
"Our epics teach us everything about life and how to live ethically and fruitfully, " educationist turned author Shubira Prasad, left, tells Divya Nair/Rediff.com.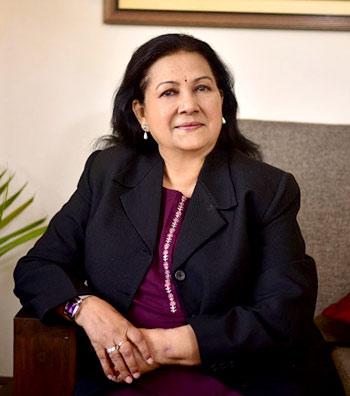 After early retirement from her academic career in 2006, Shubira wrote two books -- The Azure Paradise, a romance novel which has not yet been published, and Kshama based on contemporary literature.
In 2020 her writing took another path and Demons of Jaitraya, the first of a trilogy, was published by Vitasta Publishing. It explores the battle between humans and demons.
Angels of Kailash features modern-day protagonists Aishani and Adheesh -- Aishani is another name for goddess Ma Durga and Adheesh meaning king and god, indirectly Shiva or Mahadev -- fighting off demons and reclaiming what belonged to humans.
Born in Mughalsarai, Uttar Pradesh, Shubira Prasad is a writer and astrologer and taught literature at the university level. She also ran a placement agency, she says, with clients like General Electric, Dun & Bradstreet and so on.
A psychology graduate, with a post-graduate degree in English literature, Shubira has a keen interest in the supernatural and, of course, the Indian epics.
She has been contributing to newspapers and magazines for over twenty years and lives in Indirapuram, Ghaziabad, with her husband and two sons.
You started writing after you retired. Was it challenging, tiring or exciting?
I did not retire in the traditional way. I took premature retirement. I wanted a change.
I dabbled in a few businesses and then zeroed in on my passion for writing. It was exciting, challenging and tiring too. I did not mind that then and I do not mind that now. As they say, 'Change of occupation is rest'.
Your books are on themes inspired from the epics.
In your view, how can one inspire youngsters to become interested in the epics? What can they expect from your books?
At the cost of repeating myself and others who write in this genre, our epics teach us everything about life and how to live ethically and fruitfully.
They are written in an exceptionally interesting and engrossing manner, catering to the taste of every individual.
Hindu religion has survived the onslaught of other religions for aeons. It is only when India came to be dominated by 'invaders' from outside that the original Indians lost their identity and forgot their roots.
Just a little push and a mild tap is required to bring our youth back to their roots.
The material is there; they just have to give it a try. Like it is often stated, 'You can take a horse to the water, but you cannot make it drink'. But once the thirsty horse tastes the water it will not stop.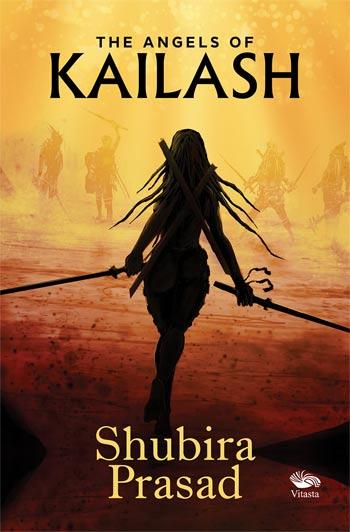 Your books deal with concepts like angels and demons. Personally, do you believe in them? Do you believe in rebirth?
I absolutely believe in rebirth, karma and fulfilment of one's destiny.
How is one born a king and another a beggar? There has to be an explanation. The role of rebirth and destiny and karma comes in here.
The word 'angels' has been used metaphorically. It can be substituted for heroic human beings. Demons are demons anywhere and everywhere.
As an astrologer and someone who is interested in the supernatural and the mystical, what have been your most interesting learnings about life and people in general?
I was never a sceptic about the supernatural. But as my readings on the supernatural increased and as my reading of horoscopes increased too, I realised that rebirths, destiny, karma play a very major role in shaping an individual's personality.
Apart from that, the stars too affect a person's life and behaviour.
All of the above are intertwined. It requires will power and concentration to arrive at the crux of a matter.
With mythology, unlike in history, there is also a lot of scope for misinterpretation.
As an educator and author, how do you ensure to stay objective and focus on the story or the message without being controversial?
Unlike history, which has been recorded, whether rightly or wrongly, the evidence is still there.
Mythology has almost no evidence, just a few rare ones like the Ram Setu or the drowned city Dwarka. Still there is no substantial proof.
The beauty of writing an unproven mythological fantasy is that one can always call it a fantasy, a figment of one's imagination.
Staying objective -- which is a concern for an educator -- is a huge responsibility.
Once you fight for the right cause, when you fight evil for the goodness of mankind, your students and readers understand very well and there is no controversy.
My objectives are simple: Good versus evil; where evil has to be destroyed.
Who are the most inspiring characters in the epics and what can we learn from them?
Almost all characters are inspiring, barring a few.
The Satyug (or the age of truth and sincerity in Hinduism) is almost based on the maxim, 'Pran jaaye par vachan na jaaye (You must fulfill your promise regardless of the circumstances)'.
Bhagwan Ram, his brothers, his wife Sita, his greatest follower and helper Hanuman, each of them is worth following.
In the Mahabharat, we have god himself in his avatar of Krishna, whose guidance is more practical and down to earth than in the times of the Ramayan.
Then there is Karna, who even after knowing that he is the eldest Pandav, stays with Duryodhan, because it was Duryodhan who had stood by him and gave him respect.
We follow Mahadev, Ram and Krishna. Apart from them, there are many from whom we can take inspiration.
Please share a few lessons from the epics that are important for life success.
Our ancient texts are full of anecdotes that are relevant for success, even to this day.
A couple of lessons from the ancient times would be:
Goddess Laxmi doesn't come just by praying to her.
You have to make yourself attractive to Laxmi for her to come to you.
Good thoughts, good deeds and good words please Mahalaxmi more than anything else.
This is easier said than done. But Mahalaxmi will not come any other way.
We have to make positive changes in ourselves in the form of health, skills, productivity etc before we expect to be successful.
We have to differentiate between our humane and asuric (anti-god) qualities.
In the present context, humane qualities are giving first and receiving later. The asur qualities are forcibly taking something and not giving back anything in return.
Wealth or money has to be circulated to create more wealth.
'Neki kar, dariya mein daal (Be discreet about your kindness)'.
It means that goodness will travel with the water (dariya), touching people and healing them and giving them happiness and ultimately coming back to us tenfold.
If good things are kept in a waterlogged pond, they just stagnate.
Who do you think is the ideal couple in the epics? And what relationship lessons can we learn from them?
I feel the best couple is Mahadev and Parvati.
Sati, Mahadev's first wife, was reborn as Parvati in her present birth as daughter of the mighty Himalayas.
Mahadev was distraught when his first wife immolated herself. He was beside himself with grief and he carried her body with him everywhere.
The balance of the Earth had begun deteriorating. That was when Bhagwan Vishnu cut Sati's body into pieces, and they fell in different parts of the Earth.
Mahadev recovered, but became a recluse. When Parvati was born and when she grew up, she remembered her past birth. She went to Mahadev. But he did not pay attention to her because he was meditating, and he did not recognise her.
Parvati prayed to Mahadev for years. Ultimately, Mahadev recognised her and accepted her as his wife.
There were many instances when Mahadev and Parvati were separated and every time they were ultimately united because their strong love pulled them towards each other.
There were also times when Mahadev advised Parvati against taking any precipitative action, but when Parvati went ahead with her decisions, Mahadev stood solidly behind her.
You have studied astrology. Kindly share your forecast and life mantras for readers to succeed in 2022.
Though it may sound a cliché, but 2022 is going to be a much more wonderful year compared to the last two years. This will be a Year of Hope and most of them will be realised too.
The pandemic will not go away, but will definitely taper down. Aviation, entertainment industry, hospitality, hotels, music, dance and related industries will go up.
Brihaspati will change from its debilitated rashi Capricorn to Aquarius. Students will do well. Acquiring jobs will be easier.
The Indian economy will go up -- India will be on the verge of becoming a superpower. There could be a resurgence of terrorism and extremism, but it will be controlled.
There will be stronger peace initiatives, and many will be successful. There will be a growth of luxurious items. Correspondingly, health will improve.
Spirituality too will rise in this Year of Hope.
Life mantras:
Seize any and every opportunity that comes your way.
Do not become lax; grab the opportunity. Do not wait for a better one.
Better ones will also come, as long as you work for the present one.