Or it could lose you one, says Samali Basu Guha.
Illustration: Rediff.com/Uttam Ghosh.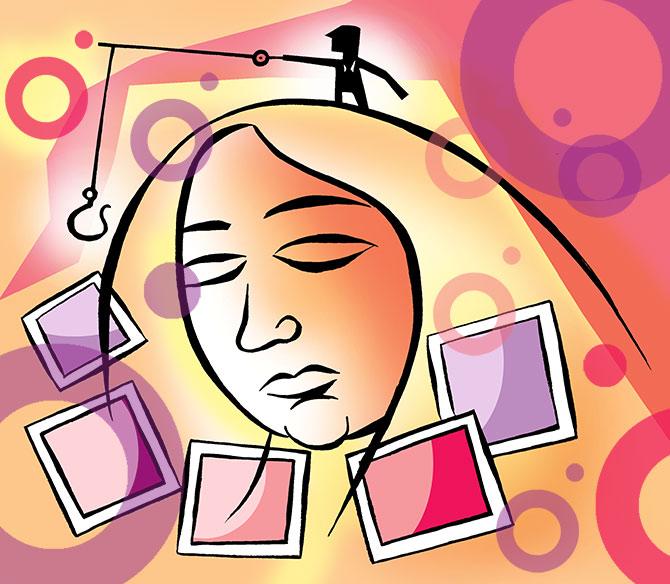 Rapti Gupta, 26, has always been very active on Instagram.
To her, Instagram was always that cool thing which would even let her shop for quirky stuff. Little did she expect that the social networking app would help her land a job as well.
Having followed a number of companies on the site, Gupta decided to check out fintech start-up, Instamojo.
Gupta found they had a position available for a content marketer and she immediately applied.
She was called for an interview the very next day and now heads the company's Instagram account.
In the swiftly growing digital medium age, several companies are leveraging Instagram to get hold of freshers they can employ in creative roles.
These include firms such as Floating Canvas Company, Epsilon and Instamojo.
Floating Canvas Company, which provides art on rent, looks at recruiting design interns, junior visualisers and artist managers through Instagram.
"We put up posts stating our requirements. Interested candidates reach out to us via the comments section or through the e-mail ID shared in the post," says co-founder Aagam Mehta.
Mehta believes that Instagram, a visual-heavy medium with significant participation from artists, designers, photographers and art enthusiasts, works well for a company like theirs.
Instagram's wide reach offers companies innovative ways in which to tap interesting candidates.
Besides direct recruitment notices, start-ups use puzzles, chats, competition videos and photos that depict the work culture and environment (for example, how a particular team is working on a product or a picture of a fun outing) to post about job openings.
"We launched our hiring hackathon on Instagram to hire analytics professionals," says Mohan Jayaram, director, talent acquisition, Epsilon.
"By showcasing our associates who work on big data skills, we attracted talent through the ad by speaking about the exciting projects we work on."
The US-based digital marketing company also uses Facebook and Twitter to find niche candidates.
"Traditional mediums don't allow segmentation and targeting of the talent pool. Social media channels help us reach the millennial workforce, which is well-versed with emerging trends in technology," adds Jayaram.
Instamojo uses Instagram extensively to showcase their work culture.
'With the older generation ready for retirement, millennials are stepping into professional roles and changing the culture as well as the hiring process of companies. This generation is tech-savvy and, since they are active social media users, the platform works well to reach out to job seekers,' the company said in an emailed response.
"Instagram is primarily used in roles that require creativity," says Kiran Kumar, founding member and chief of solutions, PeopleStrong, a HR technology solutions company.
"Key sectors would be e-commerce, retail, fashion, travel and food (quick service restaurants, or QSR). Apart from these, a lot of 'gig' or project-based hiring for creative jobs (designers, photographers, etc) also happens through this channel."
It isn't simply about the job description. The cost factor is also an incentive.
"The cost of hiring is far less than that through traditional channels, paper/magazine advertisements or billboards," says Jayaram.
"For start-ups, it's always worth a shot," adds Mehta.
So is the good old two-page resume becoming a thing of the past?
"As artificial intelligence-based matchmaking engines gain popularity, adoption of social media as a source of hiring will be much higher," says Kumar.
"Such channels can reduce not only direct costs, but impact businesses as well, by screening better quality candidates and reducing the time to hire."
"It shows a side of people not reflected in the usual resumes, like how a particular candidate looks and acts in real life," says Rituparna Chakraborty, executive vice-president of staffing firm TeamLease Services.
"Going forward, it would be one of the most important channels for hiring."
The new world of opportunities, though, comes with inevitable riders.
High on this list is the need for caution when posting on such platforms, since the visibility that social media offers can just as easily work to one's disadvantage.
"Social media is often used by start-ups to check things like a candidate's interests, hobbies and his/her stand on various issues," says an industry insider.
The moral of the story: consider carefully before you post.