'Within and outside their homes, all married women in this region must cover not only their heads, but in some cases, faces too,' discovers Geetanjali Krishna.
Illustration: Uttam Ghosh/Rediff.com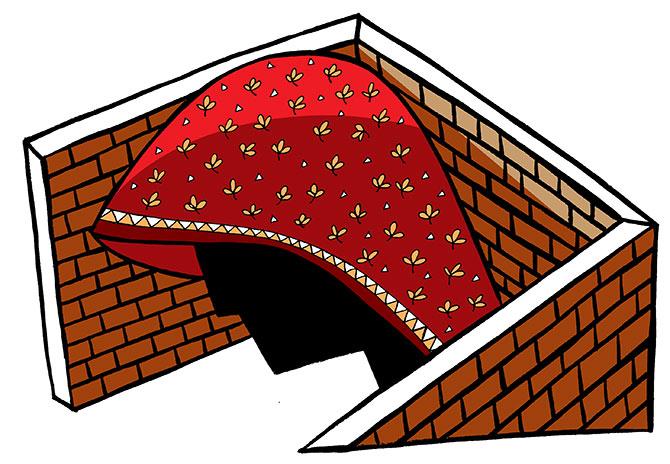 While in Dewas, Indore, and the Dhar district of rural Madhya Pradesh, all the young women I met were chafing under the tyranny of the ghunghat (veil).
Tradition dictates that within and outside their homes, all married women in this region must cover not only their heads, but in some cases, faces too.
There is an elaborate, often bewildering set of rules dictating the length of the ghunghat. For example, new brides and women under 30 are expected to cover their faces up to the neck; women in their thirties cover up to the forehead and older women get away with the ghunghat simply covering their heads.
Another set of complicated kinship rules define the people in front of whom a woman must remain veiled.
As part of a team conducting a documentation exercise for an international NGO, we had to quickly figure out optimal conditions in which women would shed their veils for us -- and that was quite a task.
"I can show my face only to men younger than me," said 24-year-old Pooja Itodiya, the ASHA worker in Aalri village, Dewas district.
So we shooed off all the guys who looked like they were over 24 before she would settle down for a chat.
She's chosen to work with children and women as she doesn't need to cover her face and head in front of them. Hours later, we were introduced to the heavily veiled Sapna Diwana, age 26.
Thinking we now understood how this worked, we asked all the young men hovering around to scram, but she still didn't remove her ghunghat.
It turned out that there was an older woman present in the room who was, in kinship terms, the same category as her mother-in-law.
Later on, as we sipped tea, she told us that in their family, young daughters-in-law couldn't even face the family's matriarchs while eating. "I end up eating facing the wall," she said ruefully.
The amazing thing is that young women are expected to not only do housework, but also work outside their homes while veiled.
In Ghatgara village, Dhar district, my heart went out to 27-year-old Sarika Mandloi, who has to ferry 15-litre buckets of water in full ghunghat even when the wind played truant with her sari.
It was restrictive, they all agreed. "In my twenties, when I had to cover my entire face, it was as if my world was restricted to inside the ghunghat," said Kanchan Jadav, who's 35 and now has more leeway with it.
Savita Parihar, a bright young community mobiliser working with a local NGO, simply decided to break with tradition and hasn't looked back. "If only other families would support their daughters-in-law the way mine has," she told me.
Maya Mausariya, the sarpanch of Ghatgara village, didn't sport a ghunghat either. "My family supported my choice, but the neighbours had a field day gossiping about me," she said.
I wondered why more young women didn't rebel against this regressive practice. Both these spunky ladies said that ditching the ghunghat was possible only with family support.
As long as the community insisted young women follow hackneyed traditions, Mausariya said, it won't be easy. "But I can tell you this," she said. "Things will definitely be different when my 12-year-old daughter and 15-year-old son come of age..."