For Keya Sarkar it HAD TO BE a Maruti because that was the only company with a service centre in Santiniketan. Until even that ceased to exist.
Illustration: Dominic Xavier/Rediff.com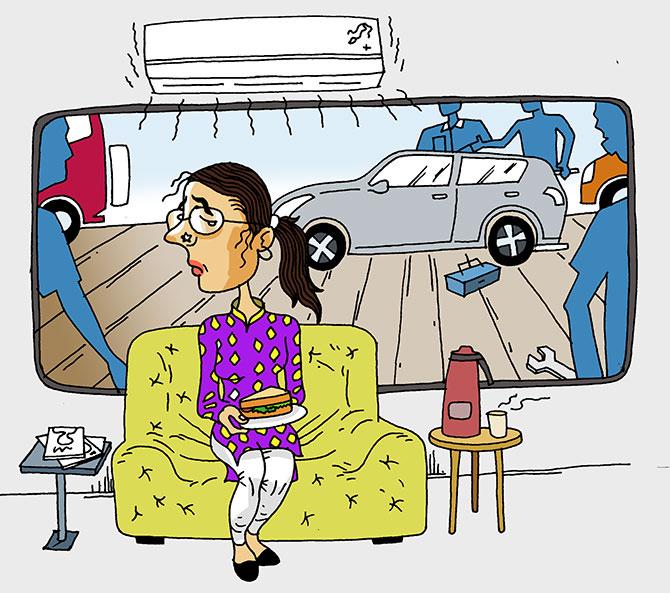 A couple of years ago we went back to the car dealer, who had sold us our earlier car. He was surprised when we asked him for the same car in the same colour.
But our decision had been made.
It had to be a Maruti because that was the only company with a service centre in Santiniketan, and since we were happy with the Swift we had, there didn't seem to be any reason to change that.
In a small town where every neighbour, vegetable vendor, store owner, laundry men know you, there did not seem to be any point in changing the colour and advertising a personal decision to change a vehicle. A grey Swift is what we had and a grey Swift is what we bought!
But the best laid plans often go awry and that is what happened.
Soon after we bought the car, the service centre in Santiniketan stopped being a "recognised agent". So, for all the initial free services we had to take the car either to Burdwan or Kolkata.
We tried to take this change of plans in our stride and took to enjoying the rides to Burdwan or Kolkata -- mostly Burdwan. But waiting at the service centre while your car gets serviced is not fun.
The first hour or two kind of go by listening to the drivers' conversations and the war of words over who got an out-of-turn hose wash. But soon the irritation of sitting in a closed space with several cars and harassed drivers begins to get to you. So when it is lunchtime, the food packed early in the morning becomes a high point of the day.
This is especially so in Burdwan, because once your car is handed over, there is no other transport available in the area. There are no restaurants close by of a standard that could make you forget your servicing woes.
But among the drivers and the mechanics, even sandwiches and coffee from a flask seemed such luxury that you had to find a quiet corner to devour those.
As a result, we gave servicing dates a miss and only made appropriate noises when the company called to remind us and imply we were falling awfully short of looking after our car.
So, it was with great joy that we greeted a newspaper insert, which announced the opening of a new service centre in Bolpur (the town adjoining Santiniketan). Our picnic days were over and we could actually avail of a pick-up-and-drop service the next time we had to send the car for servicing.
That's what we did and were thrilled to get the car back in the evening all spitted and polished!
But on closer examination we realised that the inside had just been dusted and not washed. The service centre personnel admitted that they had just "blown" off the dust. They had no answer to the obvious question of what happens to the dust that just settles in another place.
Deciding not to harass the poor guy who had come to drop off the car, we decided to go back to the service station ourselves and talk to the supervisor about our disappointment.
He agreed that the job could have been done better, but immediately started to sell us an annual service, which would extend our warranty and also assist us in case of breakdowns anywhere in the district.
For Rs 8,000 we almost thought he had a deal. Till he pointed to the mobile service Maruti van, which would be dispatched for emergencies. Both its rear wheels were flat.