Rahul Bhattacharya recounts the anxiety of being in the labour room and the joy that follows.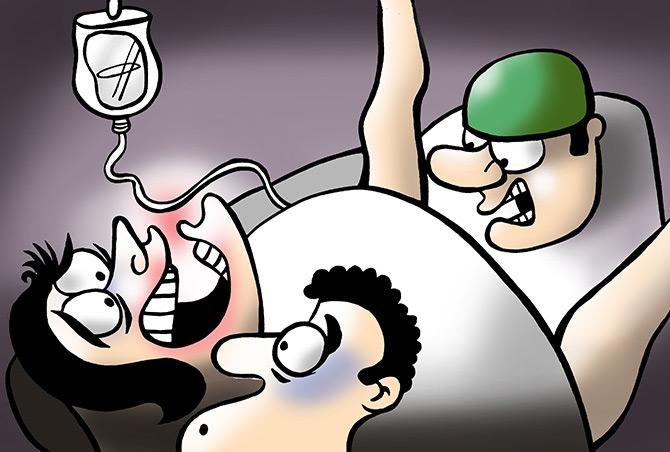 This year we had a Holi party.
On the menu was chhole, which I cooked after Shruti pressure-cooked it with tea leaves; chicken in a cashew paste and kadhai paneer, both of which Shruti made; and kachoris, samosas and two types of gujia (kesari and coconut) from the outstanding chain Bikanervala.
Our friends brought kulchas, further kachoris and ras malai.
We were eleven in all.
There was beer, Manipuri yu, Goan feni and in the late afternoon someone introduced Re 1 Bhola's bhang golis.
The patjhad of basant was upon us, and in its Delhi sunlight the long wind-up calls of the bada basanta.
In the park, the peepul tree was skeletal and the silk cotton was scarlet.
Our party began at 11 am and ended after 6 pm with an unforeseen chappal dance to the song Double Dutch.
The bhang kicked in afterwards, and things slowed down to a great extent. At night a playlist of '80s pop called Happy Days fell like treacle while I was bathing, Shruti washing my hair.
The next day was our wedding anniversary and the following night, Shruti noticed in the bathroom that the mucous plug had come off.
It resembled semen, more viscous, specked with blood. She told me this meant anything, tomorrow or two weeks.
Two weeks on was the due date. But lately she had felt the head move around near her cervix.
She could also feel a bone, like a spur, on the upper right part of her belly, which could have been an ankle, or an elbow, or a heel, she was not sure.
She was sad that night because it was the day one of her authors, Vinod Mehta, had died.
At 1.30 am, Shruti woke me up to say that she felt she would go into labour today and must finish edits on the final story of a collection.
For two hours she edited twenty pages for an author who was pregnant, found an envelope in our house which is a black hole for things like envelopes, packed it, and SMSed her mother, asking her to pick it up on her way to work and speed-post it. Then she woke me again.
It was 3.45 and she thought the contractions had begun.
I am supposed to have told her: "I've set the alarm for 7. You don't need me, right?"
I have no memory of this so a denial would be improper. But I was up at 7.
I put on Louis Armstrong's I love jazz! on the stereo, made tea and began packing my bag.
Shruti was in some discomfort. Unsure of whether to use the technical word labour, she told Dr B by SMS that she was feeling "waves of pain".
The water in the house ran out and returned only an hour later after multiple trips to the landlord downstairs.
In the space of this hour the emotional tenor of the morning substantially changed.
Shruti was in increasing pain and desperately upset that she could not have the one thing she knew would comfort her and prepare her, a warm shower.
She could not even flush the toilet or brush her teeth.
Her contractions grew more frequent and, still on SMS, she told Dr B.
He asked if she would like to go to the hospital or the scanning centre for an ultrasound. She was undecided.
I left her to decide, and went downstairs to hand over the envelope with the edited manuscript.
When I returned, she had decided.
We set out for the hospital at nine o'clock.
In the car I played the Jewel Thief CD.
Five minutes later on the Outer Ring Road Shruti began to groan strongly.
My hand was on her right hand and that seemed to help because when I removed it to shift gears she angrily instructed me to place it back.
The traffic was not heavy.
When we reached the hospital we had gone past Raat akeli hai' and perhaps Aasman ke neeche.
I parked the car in the first slot I saw. The attendant, a fellow with greasy hair and small facial features except for chubby cheeks, said this was a valet-parking slot and I might as well drive to the entrance and let them bring it back.
His insistence came from the fact that I would not be getting value for my money, and although he remained unhappy that I was foregoing this benefit, he conceded that since my wife was about to deliver a child we should move on.
Shruti clung on to me as we walked through the wide marbled lobby towards the elevator.
On the third floor a Sister offered her a wheelchair and wheeled her towards the CTG room of the maternity ward.
Shruti was in the beginnings of agony. She made noises of the kind I had never heard her make, moaning and occasionally shouting.
The nurse checked the foetal heart-rate, so did the junior doctor when she arrived.
The nurse agreed to check us into a room while I went downstairs to Admissions.
The deposit was Rs 1 lakh, and room rent Rs 14,000 a night for a single.
When I went back up Shruti was in the bathroom and in awful pain.
She was sitting on the pot, and sometimes leaning against the wall and banging her hands on it from pain. The contractions were between three and five minutes apart. I tried to ring Dr B.
There is no other word to use for the pain but pain. The pain became astonishing to watch and unimaginable to endure.
Shruti had once asked Dr B, "What if I don't recognise labour when it begins?"
He said it would be a pain a thousand times more intense than she had ever known.
Dr B was a fine man and an outstanding doctor who often expressed his affection for patients by insulting them.
He was a large Punjabi with a lovely face and issued his provocations in a light, calm voice.
He arrived at 11 am with Shruti in immense turmoil.
He was disgusted that the nurses or the junior doctor had not recognised her preference to stay in the bathroom as a sign of distress.
"Tell her to come out of the loo, yaar," he told me, and then asked me to step out of the room.
Soon I heard Shruti yelp hugely.
He had told her he needed to feel the placenta and that this was going to hurt, gone in with his hand and jerked something, like the seal on a gas cylinder, and broken her water, releasing a spray of brown.
When he came out of the room he told me they would go into the delivery room now, earlier than anticipated because there were signs of foetal distress.
He asked whether I would like to be in the labour room. I said yes. He said the nurses would give me scrubs.
There must have been ten people in the delivery room. Dr B, Dr S the neonatologist, a paediatric resident, and an array of nurses, each of whom was shouted at repeatedly by Dr B and made to look utterly incompetent, much to the dismay of the poor patient with her legs spread up high as on a planter's chair.
Dr B's phone rang often, a late-model iPhone that nobody knew how to put on silent. He asked a surprised Dr S to answer it.
The caller was one Maulshree, whom Dr B, the conversation seemed to indicate, had set up with a gastroenterologist on the second floor.
As Dr S conveyed this to Maulshree, he berated Maulshree, Dr S and women in general for never knowing how to end a conversation.
One nurse, it turned out, did not know how to load up a syringe and its contents exploded in Dr B's face.
That syringe was the local anaesthesia for an episiotomy.
Another nurse, the nurse and the patient learnt the hard way, was unacquainted with her assigned task of aiding the baby's passage out with fundal pressure.
Instead, she applied a kind of pumping motion on the belly.
Dr B's admonition took the form of, "Saare hospital mein yeh ek hi nurse mili? (Couldn't we find another nurse in the entire hospital?)"
She was replaced by the overqualified Dr S, whose bangles tinkled glamourously over Shruti's abdomen.
Nurses continued to do the wrong thing, such as touching the cloth on which Dr B's instruments waited, which was his area alone.
It had never occurred to me to visualise a delivery room and I suppose I could not have.
I was positioned on a stool, next to Shruti's beautiful face, with the window at my back.
She says it rained, and how could I know with my back to the window; I maintain it was the sunniest day of spring, perhaps the entire year until then.
Dr B told me never to: a. look at what he was doing; b. instruct Shruti (as if!).
I was to feed her sips of water between contractions.
The thing nobody tells you about a natural delivery is how brute-force a process it is.
There is a great amount of grunting, pushing and pulling.
Dr B commanded his people as though supervising a team of hamals.
I had never heard Shruti scream and shout that much, never seen anyone in that much agony.
Dr B yelled at her and taunted her as a trainer might a fighter.
He called her the most uncooperative patient he had ever seen.
When she said, "I can't, I can't," he came down on her with tremendous force, "What do you bloody mean I can't" -- and added, with puzzling mathematics, "tees karod bachhe Delhi mein kaise paida hue hain? (How were thirty crore babies born in Delhi?)"
When she clutched a different part of the railing than instructed he reprimanded her.
She said it was easier to hold. He said, "We're not trying to make it easy for you." This began to make sense.
The mechanism of natural delivery is to wait for "the pain to come" and push like hell while it lasts.
The pain came every few minutes and lasted between five and twenty seconds.
During the pain Shruti would yell, and this enraged Dr B because she was meant to purse her lips, tuck her chin into her chest and direct all her inner turmoil into her cervix.
She was not to "ride out the pain"; she was to "ride the pain".
There would have been over a dozen rounds of contractions.
After six or eight, the crown appeared. Dr B announced, "I can see the crown! Shukkar hai, bachcha gora toh hai. Kai baar miya-bibi ka yaheen pe divorce ho jata hai, which is fine, par hamari payment ruk jati hai (Thank goodness the baby is fair. Sometimes there's a divorce right here in the delivery room, which is fine, but the payment gets stuck)".
This scandalised everyone. Dr B, in order to clarify that the issue was spousal suspicion not colour, said that the altercation might break out if both parents were dark and the child fair.
Shruti registered all these jokes. It must feel absurd to lie there with your raised legs spread in huge pain with a person trying to squeeze out of you and still take in everything around, doctors and nurses chatting as though in a staff room.
Whenever I said I love you to her she acknowledged it with a nod and a smile. She resisted sips of water but eventually began taking them.
We would have been in the delivery room for 45 minutes when Dr B shouted the child out of Shruti.
"And it's a beautiful baby girl!" On cue the girl cried.
"How do you like the sound effects?"
She came out with a massive grey umbilical cord that kept unspooling. She was red as a tomato.
The umbilical cord was cut; she was spirited away to be cleaned in an ante-chamber.
I watched Shruti's belly deflate like a pillow cover once the pillow has been removed from it, collapsing into something comfortable and soft and creased.
Dr B took out afterbirth almost as large as the child.
Our girl's face was squashed with the trauma of ejection. She had plenty of hair. Her nails were long.
Who could have expected? She cried as they cleaned her.
Then the resident took photos of us three, spent Shruti, shower-capped me, our three- or four-minute-old baby no longer crying.
Dr B would now stitch up the incision in Shruti's perineum and as I left the delivery room, I heard him say, as though to a misbehaving student, that it was up to her, this could take twenty minutes or two hours and she must not buck or twist her spine as she had done during delivery.
The baby was taken into neonatal intensive care. Her cheeks were flushed, she was breathing hard.
Her respiratory rate was high and oxygen levels low, and she would be monitored for 24 hours.
She had something called Transient Tachypnea of the Newborn. This was because she had passed meconium in the womb and a few particles had gone into her lungs.
She was put on oxygen, her ribcage thumped up and down with sweet effort and there was the occasional grunt.
For a while she was on her tummy, spread in her frog-on-a-trunk position I would come to know so intimately on my chest, pulsing with human life and love. Her statistics were on the trolley. She was born at eight minutes past noon. She was 3.48 kg, a big baby, from a petite mother.
At 11.30 the next morning a nurse came in with a trolley and the words, "your baby".
Our baby stayed with us that day.
When Dr B came to see Shruti, he told her the next few weeks would feel like jet lag, she must nap when the baby napped.
Depression was common and to be expected, "but call me if you want to kill yourself, your baby or your partner".
We were discharged in the evening. By this time our baby had acquired her name, Piya, and as we walked out the building with our bags, Shruti said she felt she had come out with the biggest loot in the world.
The car had grown dusty in its slot. We drove home.
Illustration: Uttam Ghosh/Rediff.com
Rahul Bhattacharya is the author of Pundits from Pakistan and The Sly Company of People Who Care.