It is critical to think seriously about how to provide opportunities for children to not only learn, but also imagine, dream, ponder and create, notes Chintan Girish Modi.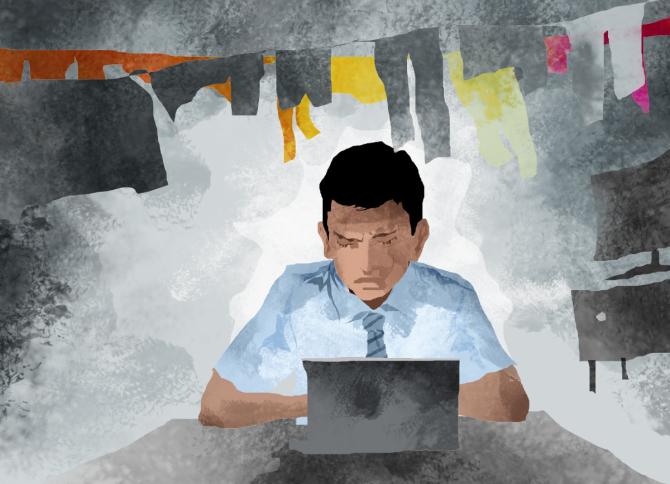 What is the emotional impact of prolonged school closures during a pandemic?
How do children process the ordeal of being cut off from their peers and playmates?
Can an endless stream of online classes, assignments and tests ever replicate the experience of school at home?
These are important questions to reflect on because children have been pulled out of their everyday worlds overnight, and there is no indication of when they might be able to go back to their classrooms, playgrounds, libraries, science laboratories, and other places central to their childhood.
As adults try to strike a balance between taking care of their family and fulfilling their professional obligations, it is critical to think seriously about how to provide opportunities for children to not only learn but also imagine, dream, ponder and create.
Reading for pleasure is one such activity because schools themselves rarely let children enjoy things for their own sake.
They wring the joy out of the most delightful experiences by making sure that children have to write an essay, answer a quiz, or participate in a discussion about what they have read. A number of excellent books for children have been published in India recently.
Ammu and the Sparrows (2020), written by Vinitha and illustrated by Jayesh Sivan, is a book about a child waiting desperately for his parents.
He spends his days with his loving grandmother, and in the company of birds who visit the terrace in search of food.
Without even mentioning the words 'divorce' or 'separation', this book published by Pratham Books conveys the child's sadness and his attempts to rationalise their absence.
When his grandmother finds him grieving, she says, 'The court has not decided yet... They love you. You do know that? They need some time.'
Another book that hits a sombre yet hopeful note is Vishaka George's House of Uncommons (2020), published by Karadi Tales in partnership with the People's Archive of Rural India.
It is set in 'an institution for HIV positive children whose parents passed away because of the virus, and whose extended family members didn't have the resources to care for them.'
What they have in common is not only the stigma foisted upon them by a cruel society but also a desire to lead purposeful lives, support each other, and break myths related to HIV transmission.
Though schools are notorious for bullying, they can also help children get some respite from the harsh realities they live with at home and find strength in friendships.
Paro Anand's book Nomad's Land (2020), published by Talking Cub, revolves around two girls -- Shanna and Pema -- who belong to families that have been forced to migrate to escape persecution.
One is a Kashmiri Pandit, and the other comes from a nomadic tribe. While the adults are caught up in the memory of a painful past, these children want to heal those wounds and move forward.
The urgency to break away from overbearing elders, and carve out an independent identity, is also seen in Menaka Raman's book Loki Takes Guard (2020), published by Talking Cub.
The 11-year-old protagonist is a talented cricket player but the local team is unwilling to admit her after she attains puberty because all her team-mates are boys.
Apart from challenging gender norms, this book also critiques caste discrimination, stereotyping of Muslims in popular media, prejudices about women who choose to get divorced, and taboos surrounding menstruation.
Since parents often feel tongue-tied when it comes to the topic of sexuality, they might want to use Yamini Vijayan's book Your Body Is Yours (2020), illustrated by Aindri C and published by Pratham Books.
It encourages children to appreciate their body and the changes they observe, and also uses actual names of body parts instead of euphemisms.
The aim here is to build self-esteem and an awareness of boundaries so that children can say 'No" to touch that is either uncomfortable or hurtful. This book also makes an effort to include children with disabilities.
It takes great skill and sensitivity to create characters who are not reduced to their disability.
Lavanya Karthik has accomplished this feat in the book When Adil Speaks, Words Dance (2020), which she has written and illustrated for Puffin Books.
Adil wears hearing aids in both ears but that is not the focus of the book. He loves to run, swim and climb trees. Other children want to befriend him.
Sign language is presented not as something he must learn to fit in but as something others must educate themselves about in order to start a conversation.
Adults who wish to offer a nurturing atmosphere without being obsessive about learning outcomes have a wealth of material to choose from.
Indian publishers specialising in children's literature are pulling out all the stops to produce books that are thoughtful, sensitive and entertaining.
Many of these books deal with questions that adults have a hard time answering either because they are swamped with work or because they do not know how to go about it.
Sometimes, it might be better to allow fiction to speak the truths that we struggle to articulate.
Feature Presentation: Rajesh Alva/Rediff.com