It's easier to see a heart surgeon than a designer whose appearances on social pages far outnumber their presence before clients, notes Kishore Singh.
Illustration: Uttam Ghosh/Rediff.com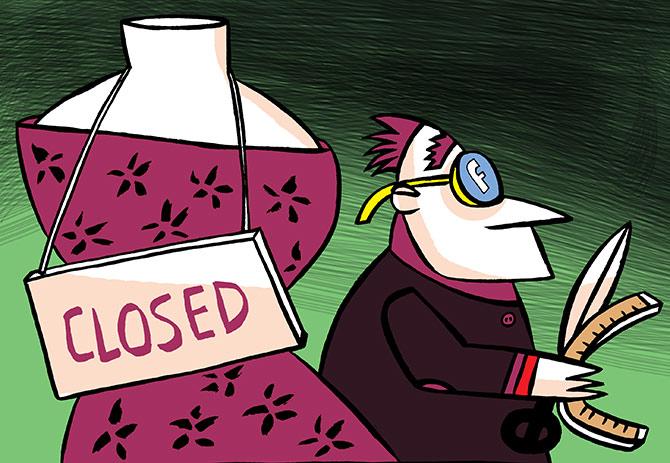 I am a recent expert on lehngas.
Not of my choosing, I hasten to add -- I was co-opted into the shebang when things appeared to collapse between expectations and experience.
Tears were shed; tempers frayed.
When I pitched in, it was by way of support for the campaign to find the best wedding outfit ever, and to have it commissioned within the time we had at our disposal (a few months).
What I hadn't counted on was being dragged to appointments at designers's sanctums for trials, to Chandni Chowk for comparisons, to approve (or not) the way a skirt swayed.
Was it too subtle for the price? Too blingy for the occasion? What colour of fabric, what of the embroidery?
Here's what I learned.
The trousseau team sizes up your intent on sight -- casual browsers, nervous novices, panicky last-minuters.
You don't just go cruising for wedding outfits, you have to seek appointments with the bridal team, and if you want the designer present, you have to beg, or pull strings, find somebody who knows somebody who knows the designer and will do you the favour -- but you owe a walloping huge one in return.
It's easier to see a heart surgeon than a designer whose appearances on social pages far outnumber their presence before clients.
Woe be it if you're late for your appointment because the slots are quickly taken by other brides in the queue.
It didn't matter that I could not always be present.
The enterprising bride -- soon to be our daughter-in-law -- would WhatsApp pictures as she made time for fit-outs and trials between her meetings.
These demanded an urgent response, too bad if you had to excuse yourself from pressing matters in the office.
Was this motif better?
Did the colour demand a contrast lining?
Did I prefer georgette to chiffon, organdie to net?
Scant work or heavy?
The lehnga took precedence over work.
Did you know that the average weight of a wedding lehnga is 20 kilos?
That weight needs be dispersed evenly across a circumference of several metres so the bride is not in danger of keeling over and collapsing on one side, or toppling over inelegantly because the top and bottom ratios were not engineered with the precision of a NASA space rocket.
Add a dupatta weighed down with zardozi and the weight of gold around neck, ears and wrists, and you have the feistiest of women morphing into comely brides under the heft of what they're wearing.
It finally came to pass that the bride found her outfit and all was well with the world till the groom -- our son -- took to a sulk.
Why were we not invested in his outfit?
Did we not care how he would look on his wedding?
Was he supposed to pick something off the shelf on this most important day of his life?
Could we make the effort to find him something to match his bride's dress?
And so it began all over again.
My wife's pick of brocade was shot down by the first designer we went to.
We're now hunting for something that's customised, hand-embroidered, not entirely subdued, nor too flashy, that he will wear for one time and forever consign to the back of his cupboard.
Did I tell you I'm also now an expert on sherwanis?