If my children have doubts about matrimony, the reason might well lie in the family, says Kishore Singh.
Illustration: Uttam Ghosh/Rediff.com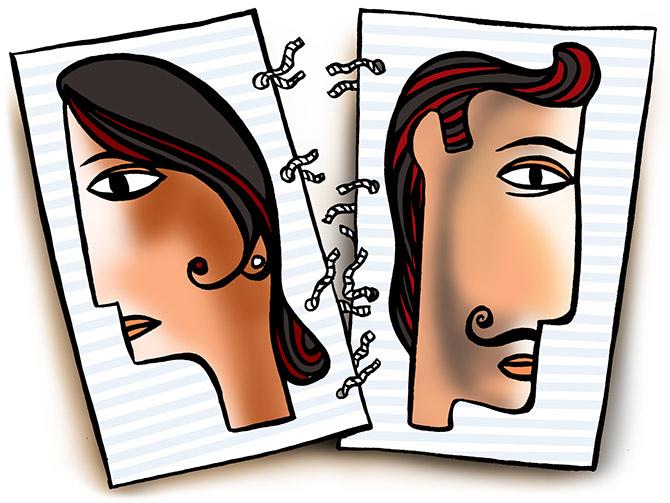 Just when you thought the only problem you are likely to face vis-à-vis your parents is their old age care and health, my parents dropped a bomb on us.
"We are separating,' said my mother. They'd had a misunderstanding and my mother's patience was running thin.
We couldn't get my father's version of things, since he doesn't hear well -- or at all -- over the phone, and so had to accept my mother's account of the strain in their relationship.
He wasn't eating, she said, so she was starving too. He'd moved out of their bedroom and was sleeping in the lounge (though this turned out to be because he didn't know how to operate the cooling system in the bedroom), so my mother, in protest, checked into one of the guest bedrooms.
I asked a cousin who lives in Bikaner to intervene. My father obstinately stayed the course, refusing to break his fast -- though, in truth, he was constipated and not at all hungry, but even then not entirely averse to fruit.
Maybe my mother was just hungrier; at any rate, she did agree to eat some. But the two continued to fret and avoided each other, and my cousin said she was fed up of their juvenile moping.
She also added that seeing they were my parents, could I haul my sorry ass over instead of washing my hands off by texting her instructions.
Even though it wasn't convenient, my sister from Jaipur and I arrived around the same time to find they were ready to make up.
He had, he agreed, lost his temper and said things he regretted.
She had, she granted, had a tantrum or two, but it kept them going, this jousting, and we were silly to worry.
That evening, we advised worried families -- ours -- that with both of them toasting each other with a drink in hand, it didn't seem likely they were splitting any time soon.
The rude expletives everyone exchanged cannot be placed on record.
It should have been this mood of reconciliation that was catching. Instead, my wife said some silly things over the phone, and I said some silly things too.
And the result is that my wife has said I can stay in Bikaner and not return to New Delhi at all.
(And our children added it sounds like a good idea, can their mother go to one of her siblings, that way they can have the house to themselves?)
My brother-in-law, who has never said an angry thing to my sister, advised her not to spend the rest of her life hanging out with 'losers.'
My elder brother called to say he knew marriage was a mistake, he should never have married, yada, yada, yada...
When my brother starts talking, it's difficult to get him to stop: he's still on the speaker phone as I write this.
As for my younger brother, he's been in so many relationships, the staff keep a chart of photographs of the ladies he's brought home so we know whom to greet like a potential member of the family.
The more critical thing, though, is to put in place a course of action the next time my nonagenarian father and octogenarian mother decide to have a difference of opinion.
We could let them be, but they are both obstinate and, at their age, not a little bit silly and likely to do themselves harm.
If my children have doubts about matrimony, the reason might well lie in the family.
MORE :) COLUMNS IN THE RELATED LINKS BELOW...