Advertisement

  

Advertisement

Watching too much television can kill you
January 13, 2010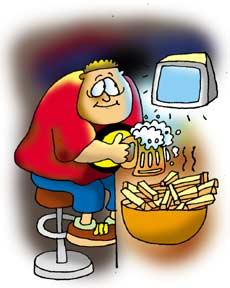 If you're parked in front of the telly for hours at a stretch and it's becoming a habit, you better watch out! Illustration: Uttam Ghosh
A new Australian study has found that couch potatoes have a shorter lifespan.
According to the findings, every hour of watching television in a day adds a 10 percent risk of dying from cardiovascular disease, an 11 percent risk of dying from all causes of death and a 9 percent risk of dying from cancer.
Pretty scary, huh? Whoever thought that a single episode of Lift Kara De or Lost could be taking years off your life?
The Australian Diabetes, Obesity and Lifestyle Study was published January 12 in Circulation, a journal of the American Heart Association. Researchers studied 8,800 men and women above the age of 25 as part of the proceedings. Participants were required to keep a record of the number of hours they watched TV each week and were accordingly divided into three groups: those who watched television for less than two hours daily, those who watched it for between two to four hours and those who watched it for more than four hours.
In addition to the above, participants were also subjected to oral glucose tolerance tests to determine their blood sugar levels and had their cholesterol levels recorded at the commencement of the study. Those with a history of cardiovascular disease were not part of it.
Six years later, this study established that of the 8,800 participants, 87 had died of cardiovascular disease and 125 of cancer. What's surprising is that these deaths were not necessarily restricted to overweight and obese participants -- they also occured among those whose weight was appropriate and who exercised regularly.
In fact, the clinching factor was the number of hours the participants spent watching TV. Those who watched for more than four hours a day were at a whopping 80 percent greater risk of death from cardiovascular disease and 46 percent higher risk of all causes of death.
In other words, lazing around for long hours can prove fatal. And the risk remained the same even when the study accounted for smoking, high blood pressure, high cholesterol, an unhealthy diet and leisure-time exercise among participants.
According to the Los Angeles Times, Dr David Dunstan, lead author of the study and head of the Physical Activity Laboratory at the Baker IDI Heart and Diabetes Institute in Victoria, Australia [Images] was quoted as saying, "What we showed was that irrespective of a person's exercise level, sitting for four or more hours watching television was linked to a significant increase in risk of death, compared to watching lower amounts of TV. The message here is that in addition to promoting regular exercise, we also need to promote avoiding long periods of sitting, such as spending long hours in front of the computer screen."

"When we're in that sitting posture, we're not using our muscles, and we know from extensive evidence that muscle contractions are important for the body's regulatory processes, such as the ability to break down glucose and use it as energy."