Advertisement

  

Advertisement

'Google and Apple are our only competitors'
Yourstory.in February 25, 2010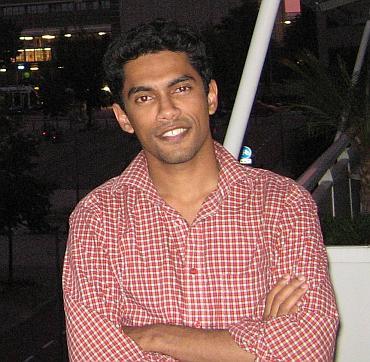 Everyone talks about how the next Google or Facebook will emerge out of India [Images]. When it comes to making it, most fall short of the mark.
Sreelaj John, 25, is not among the latter that fall but among those who are in contention to be world players. His venture iDuple has been turning heads and making waves.
He told us more about it saying, "The word, iDuple, means 'I sell dreams'. It was suggested by a friend and the idea was simple. iDuple should be able to build products that are world-class, stuff that now only Apple or Google can build. From day one, we were very clear about our competition, Google and Apple. Not because they work in the same domain, but because of their passion for excellence."
In his quest to be ranked among the best he has also found a great ally in Sun Startup Essentials Programme, which offers funding assistance, deep discounts on power-efficient servers and storage products, massively scalable web hosting services, and free training, technical advice and co-marketing opportunities.
Sreelaj told us of their association saying, "iDuple has been an active member of Sun Startup Essentials for a very long time. Sun Startup Essentials has always encouraged startups and embraced open source, while big companies tend to treat them as threats. Partnership with Sun, in various domains would make real sense for a startup, because it gives visibility to potential customers."
"The people at Sun were very willing to help. We have worked with a couple of SSE facilitators, and all of them were very well connected and eager to introduce us to potential partners/customers."
Business idea
The fact that iDuple is aiming for the stars means that the idea behind it is a worthy one. Sreelaj explained what they are selling and developing saying, "Our product, www.iDuple.com is a 'webtop' or a computer living in the Internet. You could store your entire digital life in that. The world is moving very fast towards browser-based OS (operating system), and net-tops. Once you have an account with a webtop, you can check your mails, subscribe to blogs, chat with your friends, store and share your data, everything inside one single platform!"
What sets them apart
Sreelaj best summed up what they have that will take them to the top saying, "iDuple.com, was a dream project for the entire team. It has an amazing user interface, and a great reusable architecture, real time technologies. It's truly a world-class product. There are not many small companies that could dream of such a huge one."
His entrepreneurial journey
Sreelaj had always been interested in business and generating revenue. His entrepreneurial talents were already beginning to show through even in his early years. He says "I was always a salesman, even from college days. I used to take part-time jobs just to earn some extra pocket money. Technology fascinated me and I would travel miles to attend a conference. Doing a regular job can only give you so much. At one point you realise that you are destined to do more, better stuff. Somehow it was a very easy decision for me."
"I used to take up freelancing/consultancy assignment, part-time while I was working in Europe. I had decent money to start off, hire a few employees and an office from the beginning. But I was extremely sceptical about my talent as an entrepreneur. And because of that, I was very orthodox in terms of handling money and was doing everything myself in the beginning. The one good thing about being an entrepreneur is, one day you will learn to have enough confidence to start spending money and place your own bets."
His positive attitude has ensured that every mistake has been taken in the right vein; he says, "The funny thing about mistakes is, once you realise that it is a mistake, you would change it. And it is not a mistake anymore. There are certain things that I wouldn't want to repeat. Again, the only way to be wise enough to know that is by doing it wrong at least once."
He summed up his entrepreneurial journey saying, "It is addictive, with me and with all the entrepreneurs I know. We definitely can talk about the experiences, the sense of achievement, the glamour or the challenges, or a combination of all these. Once you have tasted it, it is really hard to go back to an ordinary life."
iDuple has recently been featured in the Hindustan Times as a 'Fundable company' after their presentation in IIT Mumbai [Images]. The endorsement has been a positive note for iDuple and Sreelaj who is on the lookout for investors. He says, "External funding is definitely on my mind. Also we are negotiating partnerships with huge enterprises. Once we have it, we could spend all our energy on innovation."
Courtesy: www.Yourstory.in