Advertisement

  

Advertisement

Visiting Dubai? Educate yourself first
April 06, 2010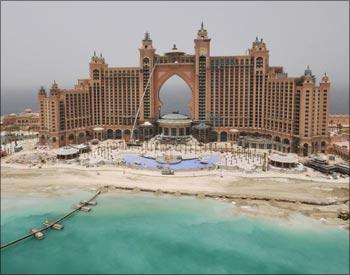 If you're planning a visit to the City of Gold, bear in mind that seemingly inconsequential actions can result in serious consequences. It's best to educate yourself about the laws of the land first. Photograph: Jumana El Heloueh/Reuters
In November last year, a British couple were arrested for a public display of affection in Dubai [Images]. And two days ago, they lost an appeal against a one month jail sentence in a higher court, which upheld the city's conservative decency laws and also fined them 1,000 dhirams each for the illegal consumption of liquor.
Whatever your take on the matter, it's wise when in Rome, to do as the Romans do -- especially when the alternative is getting arrested abroad. Dubai is a flourishing tourist destination, with its world-class infrastructure, sprawling malls and many entertainment attractions. But while it attracts holiday-makers in swarms -- an estimated 5,00,000 Indians visit each year -- you should educate yourself about the laws of the land before ending up on the wrong side of them.
So keeping that in mind, here are a few dos and don'ts if you're planning a vacation in the City of Gold:
Appropriate dressing: While Dubai is not as conservative as some other Middle Eastern destinations when it comes to dress codes, revealing outfits on women are frowned upon. On the beach, swimwear and even bikinis are permitted, but you can be arrested for indecency should you venture to wear them anyplace else. Topless sunbathing is strictly against the law and so are thong bikinis.
Even outside of swimwear, it is recommended that women avoid wearing miniskirts and revealing outfits; in fact, some shopping malls carry signs requesting women to keep their shoulders covered and banning miniskirts. While non-Muslim women may roam the streets freely without covering their heads, a visit to a religious site requires them to do so.
Photography: Bear in mind that locals dressed traditionally may object to your taking photographs of them without permission, particularly women. Extend the courtesy of asking them beforehand to avoid confrontation.
Consumption of alcohol: Alcohol is only available in licensed restaurants, bars, nightclubs and other private venues. Its consumption is prohibited in homes, unless the resident in question has a liquor license. You cannot consume liquor in public places, nor can you carry it in your car, unless you have the aforementioned license. As for drinking and driving, the laws are extremely stringent, so if you're going to be consuming alcohol at all, make sure you're not getting behind the wheel of a vehicle.
Dancing: Dancing is only permitted in homes, hotels or nightclubs -- it is considered an act of indecency to be dancing in public otherwise.
Public displays of affection: No kissing, hugging, or groping -- you can be arrested. Even holding of hands in public by foreigners is tolerated, but frowned upon. In fact, sexual relationships outside of marriage are illegal in Dubai and homosexuality is a criminal offense, so you really need to watch your step.
Drug use: The city has a zero-tolerance policy for drug use and trafficking -- it can even result in the death penalty. Bringing medicinal drugs into the country, even ones you have a prescription for, can also lead to jail time if they are banned. So be sure to contact the UAE Consulate/ Embassy beforehand to obtain a full list of the prohibited drugs before packing your medical kit.
Respect for the law: Dubai's official religion is Islam and in keeping with its tenets, there are strict laws to follow. For instance, consumption of food in public from sunrise to sunset during the holy month of Ramadan [Images] is forbidden -- tourists are requested to consume meals in the confines of their homes or accomodations. Another rule states that swearing in public can get you fined or jailed. It is wise to respect these laws and refrain from critising them.
Have you been to Dubai? Do you have any advice for would-be tourists on how to conduct themselves when they visit? Share your experiences, opinions and advice in this regard with us -- write in to getahead@rediff.co.in (subject line: 'Visiting Dubai') and we'll publish the most interesting entries right here.