January 15, 2009


Have you heard that studying in Denmark is becoming the latest craze among young people?

 

Are you also the one but do not where to start from? If yes, do not forget to read this four-part series on what it takes to study in Denmark

 

Yesterday, in the first part of the series I talked about the education pattern in Denmark in general and various aspects of a student life like accommodation, managing money, opening a bank account etc.

 

Part 1: Why you must study in Denmark

 

In the second part of this series I will cover higher education and courses offered in English in Denmark.

 

Higher education in Denmark is mainly regulated and financed by the state. Moreover, all public educational institutions are approved and evaluated on a regular basis to keep a check on the quality of teaching. The educational institutions have a high degree of autonomy but at the same time they must follow the national regulations. This system is a way of setting national standards for higher education and ensuring high quality at all institutions.

 

Semesters

 

Most Danish education institutions plan their teaching on a semester basis, taking account of the Danish public holidays.

 

Semester I: August/September -- December/January

Semester II: January/February -- June

 

Application procedures

 

Application procedures and deadlines vary according to the various degree programmes:

 

Undergraduate studies: The application deadline is 15th March if you want to start your studies in August or September and September 1 for admission in January or February. Application forms are available from the institutions about two months before the deadline.

 

Postgraduate studies: Different deadlines apply for the various programmes, so one should always contact the institution concerned for further information.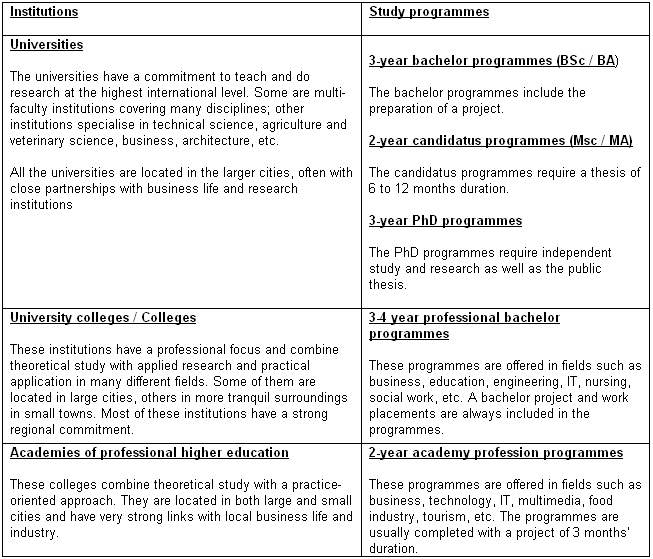 Tuition fees
Higher education is free for all EU/EEA students as well as for students participating in exchange programmes. As of August 2006, all other students will have to pay tuition fees. Annual tuition fees for full-time degree students range from Euros 6,000 to 16,000.
Scholarships and grants
The Danish Ministry of Education has launched a new scholarship programme for students from non-EU/EEA countries studying specified subjects at Academies of Professional Higher Education and University Colleges.
There are a limited number of scholarships or tuition fee waivers available for high performing international students:
Institutional and governmental scholarships for highly qualified students
Industrial scholarships for PhD studies that are taking place in collaboration with a Danish enterprise
Erasmus Mundus scholarships for master programmes
Living expenses
Average monthly living expenses are estimated to be between Euros 650-800.
Study programmes taught in English
This part perhaps is the most important for international students. Following are some programmes which are taught in English in Denmark which they students can pursue:
Advanced and Applied Chemistry /Agricultural Development /Agro-Environmental Management /Applied ICT /Applied Mechanics /Architectural Design /Architectural Engineering /Bioinformatics /Biology-Biotechnology/Biosystems Engineering/Chemistry and Environmental Engineering / Building and Construction / Business Administration and Service Management / Business performance management/Cognitive Semiotics / Computer Engineering (Software) / Computer Science and Engineering / Corporate Communication / Development and International Relations / Film Studies / Innovation and Business /International Business and Politics / International Studies / International Tourism and Leisure Management and many more.
For a comprehensive list of universities, institutions offering different courses, one can visit http://studyindenmark.dk/institutions
Tomorrow: Economy, job opportunities & green card scheme in Denmark. Do not miss it!
Part 1: Why you must study in Denmark
The writer is CEO of PAC Asia Services Pvt. Ltd, one of the leading study abroad consultants of the country.