September 12, 2008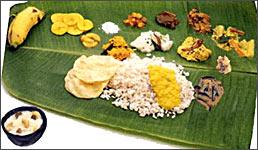 Onam, the harvest festival of Kerala [Images] is a celebration of the homecoming of the legendary King Mahabali and is marked by traditional festivities that include the Snake Boat Race and exotic Kaikottikali dance performed amid much fanfare.
Today, as we wish our readers a very Happy Onam, we also share a few traditional delicacies sure to make the day a special one!
Kootu Curry
Ingredients
80 gm yam
40 gm cucumber
25 gm snake gourd
25 gm tapioca
25 gm pumkin
25 gm green gram 
1 coconut (grated)
5 gm cumin seeds
3-4 green chillies 
1/4 tsp turmeric powder
1 tsp pepper powder
1 tsp mustad seeds (crushed)
5 or 6 curry leaves
1 tbsp coconut oil
Salt to taste
Method
Cut all the vegetables in to small square pieces. Boil them together with green gram, pepper powder, salt and turmeric powder.
Grind the grated coconut, green chillies and cumin seeds together.
Add the grated coconut mixture to the boiled vegetables, saute well and cook for two minutes.
Add the crushed mustard seeds, curry leaves and coconut oil and the Kootucurry is ready to serve.
Beans and Carrot Thoren
Ingredients
150 gm carrots
150 gm French beans
2 tsp onions (finely chopped)
1 tsp mustard seeds
2 red chillies
1/2 cup coconut (grated)
3-4 curry leaves  
Coconut oil
Salt to taste
Method
Take coconut oil in a pan and add mustard seeds. When mustard seeds crackle, add red chillies and curry leaves. 
Add finely chopped onion and saute till light brown in color.
To this, add finely chopped carrot and beans with salt.
Add grated coconut and cook the vegetables closing the pan with a lid.
Lady's Finger / Bitter Gourd Khichadi 
Ingredients
300 gm lady's finger/ bitter gourd
1 cup thick curds
2-3 green chillies
1 dry red chilly
1 tsp mustard
1 cup grated coconut
3-4 curry leaves
Oil
Salt to taste
Method
Cut the lady's finger / bitter gourd into thin round pieces. Fry the pieces in oil till crisp and remove from fire.
Grind grated coconut and green chilies till a coarse paste is formed.
In a pan, heat some oil and add mustard. When the mustard begins to crackles, add the red chilly and curry leaves.
Add the curds and on a low flame, pour the coconut mixture.
After two minutes of stirring, add the fried lady's finger and salt (as per your taste).
When it starts to boil, remove from fire and serve hot.
Pullinji 
Ingredients
50 gm ginger 
2 green chillies
2 dried red chillies
1/2 tsp mustard seeds  
Tamarind (lemon size quantity)        
1/4 tsp turmeric powder    
1/2 tsp red chilly powder  
1/2 tsp asafoetida powder
50 gm jaggery (grated)  
2-3 curry leaves 
1 pinch fenugreek powder 
500 ml water
Coconut oil
Salt to taste
Method
Clean, peel and finely chop ginger and green chillies. Fry in oil for a few minutes and remove from the fire.
Soak tamarind in 500 ml water, squeeze well and pour the tamarind water into the fried ginger and green chillies.
Pour oil in a pan, add mustard seeds and dried red chillies.
Add the tamarind, ginger mixture to the pan with jaggery, asafoetida powder, turmeric powder, chilly powder and salt.
Cook till a thick mixture is formed. When done add fenugreek powder and remove from fire.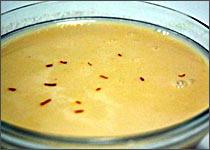 Palada Pradhaman
Ingredients
200 gm ada (rice flakes)
8 cup milk 
6 cup water 
1 tin condensed milk
2 tbsp butter
1/4 cup cashew nuts (fried in ghee)
1/4 tsp cardamom powder
3/4 cup sugar
Method
Add ada to three cups of boiling water. When cooked, wash ada in cold water and drain.
In a pan, add butter and fry ada for a few mintues. Take care to see the ada does not break.
Now, add milk, condensed milk and sugar. Cook on a low flame, stirring till milk thickens.
Once done, remove from flame to add fried cashew nuts and cardamom powder. Serve hot.
ALSO SEE