September 01, 2008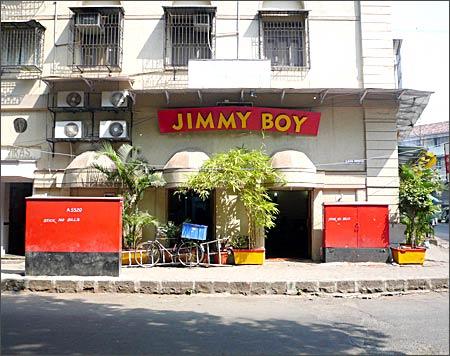 Get Ahead reader Jitendra Gursingh reviewed Mumbai [Images] restaurant Jimmy Boy recently. Here's what he had to say about it:
Jimmy Boy is a popular South Mumbai family restaurant, frequented especially by the Parsi community. It is located close to the Bombay Stock Exchange [Images] and serves up Parsi and North Indian cuisine. The owner welcomed us (me and my friends) warmly, as he did other guests. He seems a popular person and went around to every table, speaking to everybody. As per his visiting card, he also runs a bakery and another eatery by the name of Sunshine Foods in Mahim.
Ambience
The ambience is that of an old-style eatery. It's a small place, with large windows and a high ceiling which make you feel as if you're seated out in the open. There is an air-conditioned section at the upper level. All in all, Jimmy Boy has a very homely ambience. It's not scrupulously clean, but then unless you are finicky, you won't really find the hygeine a reason to complain.
Food
I tried Parsi food for the first time. In fact, I suppose this restaurant must be one of a rare few which serve Parsi food, as I have not come across any before. Believe me, if you are a non-vegetarian or are fond of egg preparations, this place is heaven. For starters, we had Salli Par Eedu and Chicken Farcha -- I have to say, salli par eedu is one of the tastiest items I have tried in recent times. A circular bed of salli (small, crisp straws of potato, fried and salted) is topped off with a half-fried egg. Both are then cooked together and garnished with chopped onions, tomatoes and green chillies. When served hot, you'll find it so tasty you'll wipe the plate clean! Chicken Farcha is also delightful -- two legs of chicken are coated wholly with egg and fried with very mild spices. Parsi food is not too pungent.

For the main course, we ordered Chicken Dhansak and Chicken Jardaloo. Dhansak is basically brown rice, served with a type of chana dal and four chicken kebobs (they were more like cutlets, but tasty nevertheless!). I do not care for dal and rice, which is why I opted for the Chicken Jardaloo -- a sweet and sour red gravy with boneless chicken chunks and dried apricot. It is served with chapattis.
Other Get Ahead features:
Why 'vacation sex' spices up your love life
Book: 'Women, be sexy and obey men'!
How to utilise your mortgage loan
Indian fashion in New Jersey
What are the world's healthiest foods?
How to beat job interview stress
Poll: India's hottest single women!
Service
The service at Jimmy Boy is not exemplary as such, but the staff is friendly. Our waiter was shocked when we ordered for seven Salli Par Eedu dishes and told us they would take a little time. They arrived within 10 minutes, though, which is pretty quick.
Value for money
The Salli Par Eedu cost Rs 55 per portion, the Chicken Farcha Rs 120 for a portion of two chicken pieces. When you consider that we were sitting in the non-air conditioned section of the restaurant, which is not very clean, it's a tad too much. The Dhansak at Rs 250, however, is very worth it for the quantity served.
Speciality
The Salli Par Eedu, without a doubt!
Verdict
A nice restaurant to visit with friends or family. Mainly for non-vegetarians and eggetarians. You many not go here frequently, but its a good place to visit if you need some change and want to try something different.
Address
Jimmy Boy,
Vikas Building, 11 Bank Street,
Near Horniman Circle, opposite SBI [Get Quote],
Fort, Mumbai -- 400 023
Phone: +91 (022) 2266 2503 / 2270 0880
Email: jimmyboy_77@yahoo.com
Photograph: Jitendra Gursingh
Rate it in terms of food, ambience, service, accessibility, whether you will go back and whatever other factors come to mind.
Send in your reviews in 700-1,000 words.
Don't forget to add the restaurant's address, phone number, and a photograph (if possible). Do send in your full name, age, the city you are from, your profession and your contact number.