September 01, 2008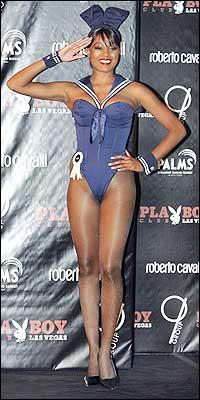 Confused over what he wants?

Fret not, ladies. Just wear sexy clothes even while cooking or

doing other household chores and make it a point to obey men, suggests a new book.

The self-help guide, titled The Re-education Of The Female, by first-time author Dante Moore has already become a hit in the United States where copies are selling just like hot cakes, the media reported.

"Here's a little secret. Men never really ask for anything. They command. And believe me, what you won't do, ten broads around the corner will," reads one piece of advice from the author.

Other Get Ahead features:
On books, sex & relationships: Meenakshi Madhavan
How to prepare for senior management roles
Make a career in the gaming industry
What are the world's healthiest foods?
How to beat job interview stress
NEW! Comics - Panchatantra invaded
Poll: India's hottest single women!

According to Moore, the book is the perfect starting point for women to evaluate themselves with a little more detail, before pointing fingers and tossing blame at the endless reasons surrounding why they can't find a "good man".

Moore, a 33-year-old computer engineer, writes: "The fatter you get, the more you decrease your potential single man pool. Let me give you an example. When you go to the grocery store to shop, do you pick out the nastiest-looking, most rotten, smelliest fruit or meat you can find? Oh you don't? Why not? It's the same with men when they see baby-elephant-sized, out-of-shape women."

Though he says he has never found true love, Moore insists all he wants to do is help women as he loves them and grew up in a house with his mother, two sisters, two aunts and two female cousins.

Photograph: Ethan Miller/Getty Images




© Copyright 2008 PTI. All rights reserved. Republication or redistribution of PTI content, including by framing or similar means, is expressly prohibited without the prior written consent.