Advertisement
June 27, 2008


Their company was cash positive on the fifth day of their operations. Very soon it earned Rs 1.5 crore by training over 15,000 students in robotics and embedded systems.

This year it will close with revenue of Rs 5 crore, and hold your breath, by 2013 they aim to achieve a target of Rs 100 crore. That's one billion rupees. Today they call their company ThinkLABS.

Other Get Ahead features
Study Abroad: 10 tips to packing smart
Yoga: Challenging yourself with the lotus pose
The Dummy's Guide to Social Networking Etiquette
Can Nokia N78 3G replace the N73/N82?
How to deal with stock market volatility
Images: Doll up in this sexy lingerie

"Think ThinkLABS," says IIT Bombay grad Abhishek Biswal, 25, "when you think of robotics and embedded systems training". He along with another IIT Bombay grad Gagan Goyal, 26, set up the company in January 2006.

Impressed by their business model and its scalability, seedfund, in October 2007 invested a good one million dollar into the venture. The seedfund board includes names like Mahesh Murthy, Pravin Gandhi, Bharti Jacob, Paula Mariwala and Anand Lunia, all serial venture capitalists.

Apart from these venture capitalists ThinkLABS is also mentored by industry professionals like Professor Amarnath, Milan Gandhi, A S Rao and Fred Rose of Honeywell [Get Quote].

"I have no regrets that I left a Rs 200,000 per month job at Bechtel in the Gulf and joined Gagan to build this business," says Abhishek at a conference room at their office at IIT Bombay. ThinkLABS is one of the scores of companies incubated by IIT Bombay's Society for Innovation and Entrepreneurship, SINE.

His team member Gagan too left a "well-paid" job at HPCL [Get Quote] to start the company. "He quit first and started this robotic training initiative," says Abhishek. "I joined a year later".

They charge anywhere between Rs 4,000 to Rs 50,000 for a gamut of courses that are spread over two-day workshops in colleges, 10-day to one month skill builder courses and two-five month courses that offers specialized training in embedded systems.

Interestingly, they don't have academic grounding in robotics or embedded systems. While Abhishek has done his civil engineering, Gagan is a mechanical engineer from IIT Bombay.

In a freewheeling interview with Prasanna D Zore, Abhishek discusses the growth of their company, how they plan to scale their operations and how the market values their course.

ThinkLABS in a nutshell...

We are an education company that trains people in the field of embedded systems and robotics. We offer different products and services catering to a range -- high school kids to career-oriented training for individuals looking for jobs in embedded systems. These include training sessions and products that people could take home, to free-planning resources that are available on our Web site. 

How does the market place value your courses?

They would value us highly. All our courses are built very synergistically with the present market requirements.

We have taken a lot of feedback from various MNCs and bigshots like Honeywell, Texas Instruments, TCS [Get Quote] who hire embedded system professionals. We have mentored a lot of courses in close co-ordination with them. We spent a large part of our resources in designing courses that are in sync with the industry needs.

What gave you courage to venture out in an unrelated field?

It was definitely a huge effort. We started with very basic courses and we kept getting feedback from the industry on how to add new market-oriented courses. We hired professionals and experts from the field who have a lot of experience and research grounding in embedded software, training and robotics.

How did seedfund get in?

Ours was probably a company that already had revenue of more than Rs 1.5 crore. We thought instead of working on our own and making revenues of Rs 10 crore after 10 years why not scale up our business in real quick time.

Apart from having a set business model the fact that there is no significant player in the embedded system training helped us.

Also seedfund thinks that our business model is quickly scalable. Finally it was a mixed bag of their faith in us, our business model and our domain knowledge in the embedded system training.

Aptech, NIIT [Get Quote], Educomp showed interest in our efforts but all of them wanted us to do it for them. But we wanted to be entrepreneur/ owners and not consultants. We wanted to strike it on our own steam. We were in validation phase so we wanted their opinion if the model would work. All of them said that the business model had lot of potential.

Challenges you faced as a start up

The biggest challenge was getting good people and retaining them. Nobody wants to come and work for a firm that does not pay well or have a big name. If you ask my employees they will tell you that they are getting paid less than their market worth.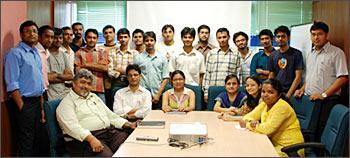 But we always make sure we provide an environment where people like what they do. It is a natural filter because it naturally churns out people who are not interested. We don't call ourselves 'employees'; we call ourselves a 'team'. Today we have brilliant people who have stuck with us for a long time.
The other major challenge was finance. I remember a time when I and Gagan didn't take our own salaries because we couldn't afford to pay ourselves.
Despite such difficulties we always paid our employees. Of course, we didn't pay them market salaries but they believed in what they did and did it with a lot of passion. None of our employees left us -- and there are not more than a couple -- for monetary reasons; they left to pursue higher studies abroad.
In fact, if I tell my team that they won't be getting a month's salary they wouldn't bat an eyelid. I remember this one time when our money hadn't come in from those who owed us. I called my team on the 6th of that month and told them we wouldn't be able to pay them for another 25 days. I asked them how much money they would require to pay their monthly dues so that I could make them cheques from my personal account. I don't remember anybody from my team coming forward. 
How much money did you and Gagan invest in the business?
Actually we started our business with just a couple of thousand rupees. The first workshop that we did we made around Rs 80,000. We had a positive cash flow from day five of our operations. Looking back I can safely say that we did not pool more than Rs 100,000 as share capital to start out business.
What would be your revenue in 2013?
We could definitely aim to reach a target of Rs 100 crore revenues in the next five years. An initial public offering is definitely on the lines; we could also get into mergers and acquisitions mode if the business rationale so demands then. We have got a couple of feelers from in and around India and outside. Most of them are training companies. We have got two suitors till now but it will be premature to disclose their names at this stage.
What's your advice to would-be entrepreneurs?
Hard work and a good, scalable business model are definitely the ingredients of success. If you think your business model is not going to work scrap it immediately; don't experiment too much with business models.
You should have a clear, visible revenue model; you should know what you are trying to sell; you should also know the focus areas of your start ups; pursue your dreams aggressively. Team compatibility is also very important and you should also have a very clear exit policy for those investors putting their money and efforts into your start ups. Let us not deny that venture capitalists are into your business to make money.
Your mentors...
We have different mentors across verticals. If you look at embedded systems we have Fred Rose who is the technology and strategy director at Honeywell; we have Professor Amarnath considered father of robotics in India; Milan Gandhi who is a serial entrepreneur; A S Rao, scientific adviser to the department of science and technology, government of India; then Paula Mariwala guides us on how fast we can scale our business model; then we always have people like Anand, Pravin Gandhi to tell us how to do our business.
You cannot have anybody better than Mahesh Murthy telling you how to communicate and reach out to people. I think we have an excellent bevy of mentors.
Your advice to IIT students...
It's important to build your personalities, participate in various campus activities. You never know what you will end up doing. It's always good to know what is happening around. Business is a good thing, its hard work but if you think you have a great idea go ahead, don't be worried about consequences. You have to be a very avid risk taker. Were we still doing service we would surely have had huge market salaries today.  
It's not about how much money you take home but how much value you add to a business. The whole experience of building a company itself is profitable.