Advertisement
June 19, 2008


If the physical proximity of global financial powerhouses is any indicator, Nikunj Pachisia, 21, couldn't have located himself better for a career in business and finance.

Less than a mile away from where he lives are the headquarters of the World Bank, the International Monetary Fund and the US Federal Reserve.

"It's the financial capital of the world," says this third-year BBA (Bachelor of Business Administration) student of George Washington University, Washington DC, US.

Rounding off his list of eminent neighbours is the US president in the White House two blocks away. If any of these institutions show him a little bit of neighbourly goodwill, this young man from Kolkata should be well on his way to the career he aspires for.

For Chandini Steve, 17, the motivation for seeking admission to a BSc course in Tourism Management at University College, Birmingham, UK, was somewhat different. An avid trekker, she wanted to turn her hobby into what she would do for a living -- specialise in adventure tourism.

Unfortunately, there was no course in India that would let her do that. Some soul-searching and Internet surfing later, she found what she was looking for.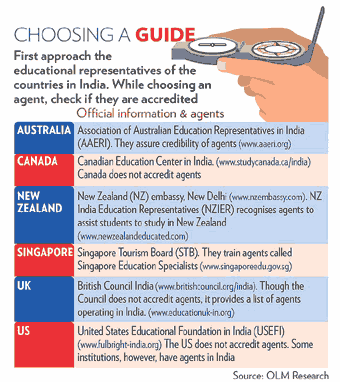 Now she is ready to join the course in September this year. That will certainly put her on a good trajectory to live her ambition. It will also cut out the delay that going through undergraduate studies in an unrelated field in India would have caused.

Pachisia and Steve are just two of the increasing number of Indians going to college abroad. Indians have been going to foreign institutions for post-graduate and doctoral courses since time immemorial. But the current trend is towards leaving even earlier.
Foreign education counsellors say they are getting an increasing number of queries on graduation courses abroad. Stoking this trend is the swelling of ranks of India's mass affluent urbanites.

As scholarships, grants and fellowships are hard to come by at this level of education, parents with a world-view are not shying away from financing their children's education so that the children are able to take on an increasingly competitive world on an even footing.

Where foreign courses score
The foreign alternative has a number of attributes that makes it more attractive than domestic college education.
More options: Minakshi Basak, assistant manager (development) at Global Reach, a Kolkata-based foreign education consultancy, says, "Studying abroad opens up several options not available in India." For instance, for someone with a family business, an undergraduate degree in entrepreneurship may be better than a BBA. Or, as in Steve's case, a particular specialisation may even be difficult to find in India."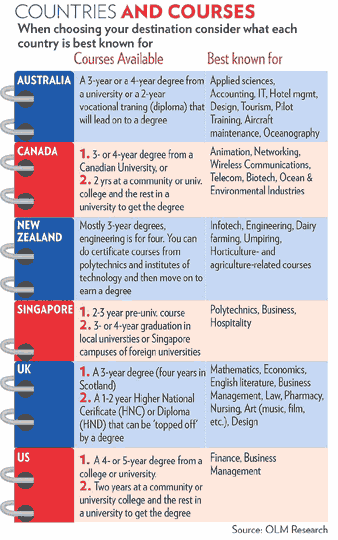 Flexibility: Says Basak: "You can customise your course to suit your requirements." Pachisia and his batchmates have the option of choosing their course, their class timings and even their professors. "There is lots of flexibility in what you want to learn and how you want to learn it," he says.

Practical experience: By the end of his advanced diploma course in Hotel Management and Commercial Cookery in Australia, Umandeep Singh Gambhir, 20, would have worked for six months. He can then work for a year before he finishes his undergraduate studies.
This means that by the time he would be applying for a job, he would already have 18 months of invaluable work experience under his belt. Anirban Sircar, chief executive of Kolkata's APS Consultancy Services, a foreign education consultancy, says: "Education is hands-on overseas. It stays with you."

Staying on: "Eighty-five per cent of students go to study abroad with the intention of staying on," says Ravi Lochan Singh, managing director, Global Reach.
Suraj Sukrit Prakash, 17, who plans to do his engineering in New Zealand [Images], says: "It is a small country and growing very fast. I want to be a part of the country's growth. I want to stay back and work for a few years."

While foreign undergraduation opens up a wide range of career opportunities, the process of applying, getting admission and, finally, going abroad is long and needs meticulous planning. Here is a step-wise guide to making it work.

We have restricted our study to six countries -- the US, Canada [Images], the UK, Singapore, Australia and New Zealand -- which are emerging as the preferred destinations.
Part II: Step-by-step guide to studying abroad
Powered by