July 23, 2008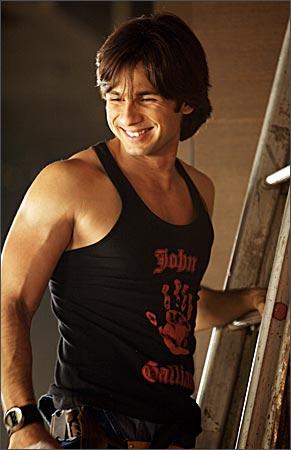 Jab We Met announced to the world that Shahid Kapur [Images] had finally arrived.
After a string of not-so-great romantic comedies, it was this film that made Bollywood and the world finally sit up and take notice of this 27-year-old, clean-cut star, not just for his chocolate boy good looks, but for his acting talent.
The runaway success of the film made him one of the most talked about actors in Bollywood, and now lends a new level of excitement to Aziz Mirza's upcoming, highly anticipated, Kismat Konnection.
Read these features?
Funky college bags for trendsetters
The one-stop shop for scholarships
All you need to know about SAT
Top food myths busted
Italian cooking: Simple grilled fish

In a casual tete-a-tete with Ishan Chhabra, the soft-spoken Shahid shares the secret to having a toned, Greek god-like body.
What advice would you offer fans on how to achieve the ideal Bollywood shape?
First off, I am a firm believer that six hours of sleep is ideal. Sleep is by far the most important factor in how your body looks. Secondly, the particular foods that you put into your body are also very important. I am a vegetarian.
Oh a vegetarian, I see! Then where does all the protein come in that feeds your muscles?
I tend to drink a lot of protein shakes. Also I keep a very low-carbohydrate diet that consists generally of proteins and veggies. Pretty much all the foods that taste like crap are the ones that you have to live off of (laughs).
Tell us about your gym routine?
I generally try to go five to six times a week. I do less cardio exercises because I have the ability to control what I eat. I  spend an hour and a half at weights. This is what helps mold lean muscles and it also gives the sharp look.
Thanks for the great insider Bollywood advice!
No problem man! Anytime!