July 14, 2008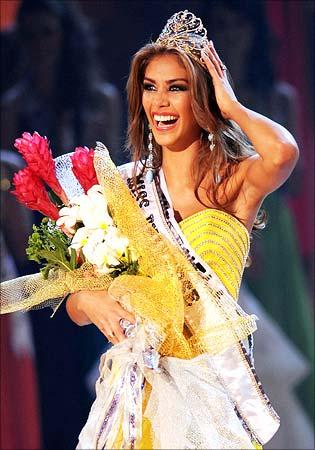 The new Miss Universe was crowned in the Vietnamese city of Nha Trang earlier today. Miss Venezuela, Dayana Mendoza vied with beauties from 79 other countries to take home the title.
Miss Universe 2007, Riyo Mori (Miss Japan [Images]) presented the crown to the 22-year-old stunner as the crowd in attendance applauded and a television audience close to one billion looked on.
Dayana is the 57th winner of the annual pageant, which sees beautiful young women from all over the globe compete against each other in a swimwear round, an eveningwear round and a question-and-answer session with the judges. With each successive turn on stage, a few contestants are eliminated.
"I am excited. I cried a lot. I am really glad I made it," an excited Dayana told reporters shortly after her triumphant win. She will soon take off on a year-long tour of the globe as an ambassador for humanitarian issues.
As for the other four finalists who made it to the last round, they were ranked as follows:
First runner-up: Miss Columbia, Taliana Vargas
Second runner-up: Miss Dominican Republic, Marianne Cruz Gonzalez
Third runner-up: Miss Russia [Images], Vera Krasova
Fourth runner-up: Miss Mexico, Elsia Najera
The Best National Costume Award went to Miss Thailand, Gavintra Photijak and Miss El Salvador, Rebeca Moreno, was voted Miss Congeniality.
Photograph: Hoang Dinh Nam/AFP/Getty Images