Advertisement
July 08, 2008
"As I see it there is only one way to cope with increasing prices," says Sarfraz Nawaz with a touch of confidence in his voice, "do something to increase your monthly income."

"My finances would be in a mess," admits the 30-year-old, "if I don't take efforts to increase my income to cope with rising costs of everything from petrol, to groceries to costs of maintaining a comfortable lifestyle."

Read these features?
'Self-belief is essential to be a good photographer'
Speedy, simple tomato-basil pasta
Are you fighting fit or far from it?
An Indian summer for Armani
Why you should be cycling to work
Jatin Kampani's amazing pix!
Health woes? Nadi Shastra can help
Section 80C, tax planning and investments

Ever since he took a Rs 16 lakh home loan in 2005 to buy a 1,000 sq ft, two bedroom apartment in Belapur, New Mumbai -- a satellite township adjoining Mumbai -- interest rates have been on an upswing.

As banks find it difficult to cope with the ever-increasing demand for loan from consumers like Sarfraz and the Reserve Bank of India's [Get Quote] reluctance to encourage this trend, most banks increased their lending rates recently to discourage consumption and hence douse the inflationary fire.

Inflation, as measured by the wholesale price index indicator touched a 44-month high of 11.63 per cent for the week ending June 14. Add to that a hike in fuel prices, mounting grocery and credit card bills and you will understand why Sarfraz's solution to coping with rising prices would immediately find many takers.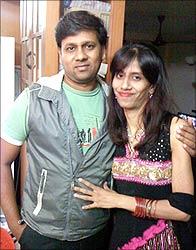 "It's only in the recent months that I am finding it difficult to cope with increasing EMIs," says Sarfraz. His EMI, which was Rs 13,000 in 2005, has now galloped to Rs 14,800 in 2008, an increase of 14 per cent in three years. His floating rate interest rate has moved up from 7.25 per cent then to 10.5 per cent today.
Sarfraz bought a Maruti [Get Quote] Swift in 2007 with a loan. He pays Rs 6,900 as fixed EMI on the Rs 3 lakh loan he took to buy the car. Although his wife too is working it is Sarfraz who makes the loan payments. This shaves off almost Rs 22,000 out of the Rs 35,000 that he earned until this June.
Till then, both Sarfraz and his wife Shaima would together earn Rs 70,000 per month. Their monthly expenses would add up to about Rs 45,000. This included the Rs 14,800 home loan EMI, a Rs 6,900 car loan EMI, Rs 7,000 to Rs 8,000 to pay off their credit card bills ("normal usage"), and the balance for dining out at least thrice a month and other miscellaneous expenses. This tally, however, does not include the money he spends on paying his insurance premia.
Sarfraz has three insurance polices: Two ULIPs that has a sum assured of Rs 6 lakh each and one money back policy that will get his dependants Rs 5 lakh in case of an unfortunate event. That is, Sarfraz is insured only for Rs 17 lakh while he owes Rs 19 lakh to his lenders.
Ask if he is cutting down on expenses to cope with rising prices and he answers in the negative. Says he, "Prices will keep rising. I would rather work hard and get a pay hike than cut my expenses."
Today, both he and Shaima earn a comfortable Rs 85,000 -- Sarfraz's salary increased to Rs 45,000 and his wife's to Rs 40,000 this June -- that takes care of their lifestyle.
"My lifestyle cost has suddenly gone up," rues Sarfraz. An increase in his home loan EMI, monthly grocery bills and credit card dues are making him edgy today.
"I was leading a comfortable lifestyle three years back, but now it is difficult," observes Sarfraz while speaking about his unease with an onslaught of rising inflation, rising fuel prices and ever-increasing grocer's and credit card bills.
Despite an increase in his salary he is still worried that if the price spiral continues with its upward journey one day he may find himself in trouble with his finances.
"Even if the situation is under control now, I am not sure how it will be three years from now if prices continue to rise at the current clip. I might face a bad day in the future."
---
How are you coping with rising prices? How has it impacted your lifestyle? Are you cutting down on your lifestyle consumption? Or are you trying to earn more so that you can spend more?
By how much have your monthly grocery bills increased? Are you using credit cards often now to take advantage of the 50-day credit period these cards offer if used judiciously? Are you postponing your plans to buy your dream house, the latest gizmos and gadgets? What's your plan to beat inflation?
We would like to hear from you -- do e-mail your experiences, advice and opinion to getahead@rediff.co.in with your name, photograph, profession, age and location.