Advertisement
July 02, 2008
Meet 29-year-old Karan Bajaj, IIM graduate, senior brand consultant, avid backpacker and debutant author of Keep off the Grass -- a novel about an American banker who decides to quit everything to embark on a psuedo-spiritual quest in India.

Karan has taken six months off between jobs to promote the book and travel the world gathering experiences for a second novel.

On the Mumbai-leg of his journey, Shifra Menezes and Prasanna D Zore, caught up with him to discuss the IIM experience, spirituality, the brand management space, making a start on a writing career and, of course, his book.

Tell us about Keep off the Grass.

I like to describe the book as one about a new-age hippie.

The story starts at an IIM and then life suddenly takes a nosedive as he gets sucked into some weird stuff in India. He gets sucked into drugs first and then some bizarre stuff happens in Banares and Dharamsala.

So it's part quirky travelogue, part campus fiction, part a 'search for his roots' story. It's a mish-mash of multiple genres, so to speak.

Other Get Ahead features
'India is important enough to get game launches on Day 1'
Video postcard: High in the Himalayan foothills
'Is an MBA from the UK recognised in India?'
Video recipes for Samosas, Chicken Biryani and more
Eight good reasons not to wear make-up

How has the book been received so far?

I'm very excited and overwhelmed with the response. So far it has been very good on every parameter. Reviews on the net have been positive on the whole. Sales have been just awesome.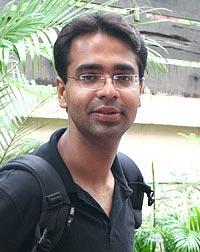 I was very nervous as can be imagined for any debut novel. I was worried people would slot it as, 'Oh, Chetan Bhagat ne likha hai, abhi ek aur IIM ka banda likh raha hai. (Chetan Bhagat wrote a book about IIT, and now a similar IIM book follows!). What's the point of reading it?'

Thankfully, people have given me a chance. They have read the book to make an informed judgment. We have also been contacted by two filmmakers in just a week.

They say that one's first book is often autobiographical. Would that be the case here?

The book borrows very heavily from my own experiences but it is not autobiographical to a very high degree. The protagonist is an Indian American who returns to India in search of his roots, while my personal story is not like that. I'm an Indian, I've grown up in India and left only six years ago on work. So I'm not really on any quest to find my roots or anything.

How difficult was it to get a book deal?

I was very lucky. I contacted an agent in India on the very day she started her company (Osians). So just by a quirky act of fortune, the day I finished my book, the person I decided to send it to was a literary agent Renuka Chatterjee who had just put up her Web site the same day.

Then I got a publishing deal in 15 days from all three houses we approached -- Penguin, Rupa and HarperCollins. So I was extraordinarily lucky I would say.

How did you go about deciding between the three?

I based my decision on two considerations. One, on a very small scale, was the advance. Not that the advance was a significant amount, but it was an indication of how much they would value the book once it was in the market. While Penguin offered to print 3,000 copies of the book from the first print run which was Rs 40,000. Harper's advance was Rs 1 lakh (Rs 100,000) and they were ready to print 10,000 copies. Now, with a lakh or Rs 40,000 it's not really as if you are going to make a lot of money. But the fact that they were bullish about the book was good.

The second consideration was the quality of editing. Harper and Penguin are as good, maybe Harper has an edge. So between the editing and the bullishness over the book we chose Harper.

What are the royalties you are looking at?

Typically, the royalties are something like 15 per cent on every book sold. So after the one lakh advance is over, any additional copies sold will earn me about 15 per cent or so.

There's a lot of talk about you being compared to Chetan Bhagat. What do you make of it?

I think it's a very natural thing to happen. I don't hold any grudges for people making that comparison. I do think that Chetan's success has inspired a new breed of writers like me. There is the good and the bad.

The good is that a lot of people are now starting to write and express their feelings or thoughts or experiences. But just the fact that you have studied at an IIM or IIT and so you pen your experiences and get a book deal, that trend is what I am cynical about and that was what I was worried about for my book -- whether or not people would give me a chance.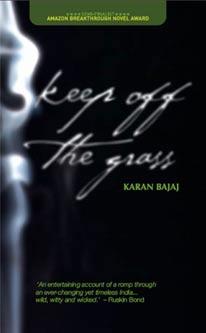 How long did it take to write the book? What did you draw inspiration from?

It took about six or seven months. It came about from this phase of my life that I am very passionate about. It was this whole pseudo-spiritual quest where I was trying to find meaning in life in my own way. So I spent some time in a monastery in Dharamsala, then I went to Varanasi. I was very passionate about that phase of my life. Now I look at it with a lot of humour and irony.

Tell us about your family background and current job.

I come from an army background, my father retired two years ago as a colonel. As a result we traveled around a lot and that has shaped a lot of my thinking. I have a sister who is also in the States.

I did my engineering from Ranchi, and then the MBA from IIM Bangalore. After that I was with P&G for about five to six years. I joined as assistant brand manager and went on to become a senior brand manager.

I took a six-month vacation between jobs. I quit Proctor & Gamble in April and will be joining Boston Consulting Group in October. So in this six-month period I'm traveling a lot, which I love to do. I just visited Bhutan and Korea. After India, I'll be going to Brazil [Images], Peru and Chile.

I will be joining BCG as a senior consultant in the branding -- consumer goods/retail space. I'm kind of easily bored and get restless very quickly, so as a consultant I get to work on a variety of different projects and hopefully in a variety of geographies.

What does being a brand manager entail?

It is a very interesting job profile. It combines the best of left brain thinking -- you do a lot of analysis with business, shares etc -- with right brain thinking, I had to create a advertising plan for brands, not physically but I had to go over storyboards and all the creative work. The best analogy is like the conductor of an orchestra. You have got this whole team which spans very creative people to very hard-core numbers people and you have got to make the whole team work.

You first earned a BE and then an MBA degree, something that many young people are doing today. What are the lessons you learned from this path?

The biggest value that engineering gave me was a very concrete sense of what I don't want in life.

After four years of engineering I knew what I was running away from. I was extremely clear that I did not want to pursue any career in that field. I was a mechanical engineer and was terrible at it. So I ran to the IIM not knowing what else I could do.

At that point, six years ago, the only thing was to do an MBA. It seems like we are still in the IIT and IIM rut, but people keep telling me that new India has changed.

There are two other things of value engineering gave me, in the professional sense. First, quantitative skills. You master the art of cracking exams. That is also sad in a way. I was always in the top 10 per cent of my batch in engineering, who never attended a workshop. So that is where the system kind of falls apart. I was good at numbers, but a good mechanical engineer is more than just about theory.

The second is the friends that you end up making in engineering college are incredible.

What was your IIM experience like?

First, it made me very confident. Second, it made me a bit desensitised (if that's the right word) to the world around. It was my first exposure to raw ambition, which changes your perspective a lot.

It also teaches you to carve your own space in the world. There will always be someone better than you. So I found my space at IIM and even now, I take six months off and travel the world, I'm not really completely geared towards finding the next rung on the corporate ladder.

Has India's youth changed at all over the last six years?

Definitely. Today's youth is much more energetic, people are taking more chances. When I graduated from IIM, I wanted to take a year off but people told me to forget about it, not to be "an American" etc.

But that isn't very unusual anymore. People are doing things they really want to do. Now people ask me how I managed six months off. So people now ask how versus the earlier why, which is a good sign.

Any advice for IIM aspirants?

Preparing for the CAT should be a long-term plan. For me, I used to read a lot as a kid, so my reading comprehension and verbal ability was very good. It's hard to cram all that in a short period of time by taking prep courses. Again, I'm speculating. The advice I can give is to read a lot -- it helps with everything, not just the CAT. It helps in the group discussions, in the personal interview, it just makes you a more well-rounded person.

I think at the GD and PI stage, so should have the conviction to be your own person and the IIMs respect that tremendously.

When you backpack, is it on a shoe-string budget?

Yes. I stay in youth hostels. The experience you get from a youth hostel in Rio will be very different from the one at the Marriot. It's like the whole world is sitting with you -- there's someone from Israel, from India, from everywhere.

Any advice for aspiring writers?

The only piece of advice I can give is to live an interesting life. For amateur writers like me -- untrained, unseasoned, without a background in literature -- that is the best surrogate you can use. My book is a series of interesting encounters and I think most good books are just that.

Your favourite author/book?

English August (by Upamanyu Chatterjee) would be my favourite book. Ruskin Bond is my favourite writer.

Karan Bajaj's photograph: Rajesh Karkera