If you are an investor it is always sensible to know where this 5.89 lakh crore is invested to get a good idea of where you should invest if you want to emulate the mutual fund industries.
However, there is no guarantee that you won't lose money if you do what mutual funds and their expert fund managers are buying.
Fund houses normally disclose where they have invested at the end of every month. Therefore all the data in the table below is as on the last day of May.
Other Get Ahead features
'How do I apply for a MS course in the US?'
Eating out: Pizza and Caesar Salad to die for!
Sensex, music and headphones
IT grad, now you can get industry-ready online
CV writing: Keep it honest, relevant, simple
The first question is: Out of Rs 5.89 lakh crore that the Indian mutual funds are managing, how much money has they invested in debt and how much into equity?
As of May 31, 2008 fund houses have invested Rs 1.57 lakh crore in equity and the rest of the money is invested in debt.
The top sectors that mutual funds hold -- all the data in the tables below is sourced from MutualFundsIndia.com -- as a percentage of their portfolios as of May 31st are:

They are oil and gas, banks and IT. Together the top five sectors have an allocation of Rs 62,497 crore; this is roughly 40 per cent of the entire funds that mutual fund industry has invested on the equity side.
This shows the level of confidence mutual funds have in these sectors. And is a pointer for you too
On the other hand, mutual funds have the lowest exposure in sectors like securities, hospitals and leather. This is probably due to the very limited number of large companies in these sectors.
The top five stocks that were bought by the mutual funds houses are between April and May 2008:

As seen in the above table, mutual funds have increased their holdings in companies like CBoP, Idea Cellular [Get Quote], NTPC, Reliance Infrastructure and Zee News [Get Quote] showing that the mutual funds were bought across the banking, telecom, power, infrastructure and media in the said period.
In the same period the stock market benchmark, the BSE 30 Sensex dropped by approximately 9.5 per cent from 17,600.12 points on May 2 to 16,063.18 as on May 31 2008. This is just an indication of the confidence that mutual funds may have in the sectors or individual stocks above.
However, there could have been other reason too. Like these individual stocks being available at attractive valuations. Interestingly, from May 31, 2008 the BSE Sensex further dropped to 13,461.6 points as of close on June 30, 2008.
This only shows that it is very difficult for even mutual funds to know when a particular stock has bottomed out (a company's stock price is said to have bottomed out when it doesn't fall below a particular price range).
 
In contrast, mutual funds have sold heavily in stocks like JaiPrakash Associates [Get Quote], Cairn India [Get Quote], Zee Entertainment Enterprises [Get Quote], IDFC [Get Quote] and Satyam [Get Quote] Computer representing sectors like infrastructure, oil exploration, entertainment/media and software services. The table below shows the strength of selling by mutual funds in the five stocks mentioned here.


The table below presents interesting data showing the popularity of certain blue chip stocks in the portfolio of a broad range of mutual funds.
Top on this list is obviously Reliance Industries [Get Quote] with 246 funds owning the stock at the end of May 2008.
Out of these 133 mutual funds had more than five per cent of their portfolio exposure to the stock and 26 funds had more than 10 per cent of their portfolio consisting of shares of Reliance Industries. This shows the confidence of a large number of mutual funds have in the business model, management and future profitability of that company.
The other favourites here are: Bharat Heavy Electricals [Get Quote], Bharti Airtel [Get Quote], ICICI Bank [Get Quote], Larsen & Toubro, Infosys [Get Quote], Tata Steel [Get Quote], Reliance Communication Ventures, SBI [Get Quote] and ITC.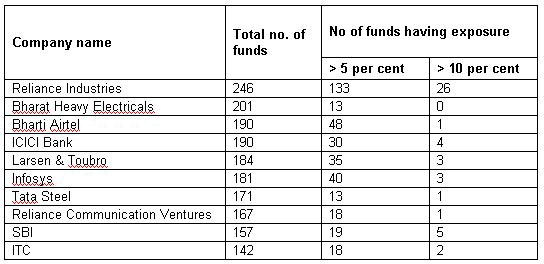 This information clearly indicates that most mutual funds had cut down their exposure to mid cap and small cap stocks and have bought more of large cap stocks that are a part of the BSE Sensex.