Advertisement
April 23, 2008


Twenty-two-year-old fraternal twins and internet entrepreneurs Anant and Anuj Garg are like any other youngster -- going to college, hanging out with friends and the rest. However, what sets these brothers apart is the fact that they set up their own company at the age of 16 and now, six years down line, the company claims to have clients in over 30 countries across the world.

Being a teenager is hard enough as it is without having to worry about project timelines and building business contacts, but the brothers don't seem worse for wear. In fact, they are confident, motivated and focused on making theirs a world-class company while pursuing their education.

Rediff.com's Shifra Menezes met Anant, who is in the last semester of computer engineering at KJ Somaiya College, and Anuj, who just finished his BCom from Poddar College, over a cup of coffee to talk about their work, college, being taken seriously, foosball and everything in between.

 

Tell us about Inscripts and how it came about.
Anant: Our uncle bought us our first PC when we were four, and since then we've been hooked.

First we started off small, we set up our alumni programme for school. It began out of sheer interest and necessity. We saw that the market was new and we began creating other programmes.

Incripts was set up in 2001, we were 16 at the time (Class X). We started of slow, just basic programming and website development.

Anuj: We started out of home. We created different programmes and products and just put them online, and then we thought, why not try to sell them. Once we started selling them, people actually started buying them and that was great encouragement.

Gradually, we got a few good breaks, got some good work and things just took off.

Today, we have seven full-time employees but then depending on the projects or the workload we do work with teams of freelancers. At this point we need people who believe in us. Not too many people want to work in a small company, they all want TCS [Get Quote], Infosys [Get Quote]. So they have to believe in us, believe in what we are doing.

What kind of clients do you have?
Anuj: We have a client in every continent (except Antarctica), a client in over 30 countries. It's a very diverse list, we have individuals and we have businesses. Our clients are generally small to medium scale businesses.

They need the solutions that the big companies provide, but they can't afford it, it's beyond their reach. They have a sizeable budget, but then for that budget, the quality is not yet out there. So that is what we are tapping into.

At this point their budgets are a lot of money for us, but not so much for them. So it works well for both.

Anant: There are a lot of players who are offering these products and services, but the quality is very poor. At the end of the day, even small and medium sized companies want to project a professional image, they want quality. They have the funds, but nowhere to go. That's where we come in.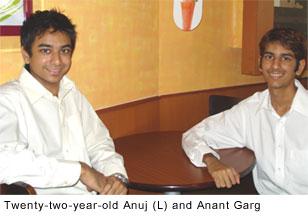 Has your age ever been an obstacle for you?
Anuj: Sure. Earlier, there were a few good projects we could have bagged, but lost out on just because of our age. One major oil company, some five years back, needed some work done. So we sent them a proposal and all that, they liked it and asked us to come down to their Delhi office.
When we met, the first thing they asked was 'How old are you?' We were 17 at the time. And that was it. Our age was the only reason we didn't get the job, they didn't want 'a couple of kids hanging around at the office'.
Sometimes, it still happens now, they see me enter and ask whether there's someone else with me, someone older. I try to skirt the issue, and try to get them to focus on my work, my capabilities instead of my age.
Right now there are a lot of young companies coming up though, and they appreciate it, we're on the same wavelength. It's easier to establish a rapport with them, and that's when the relationship takes off.
Creating products, websites etc would require some technical skill, have you done some sort of course?
Anant: I had joined a course some time back. It was such a bad experience, with the instructor actually just reading out of the book. That was really frustrating and so I just quit. That was my first and last experience with a training institute.
Anuj: Today, you really don't need to join a course. There are so many books available and the internet is such a learning resource! Anything you need to learn about, you have access to the best guides online.
To begin with though you have to have the aptitude, you have to know what your interests are. We were very interested in this field when we started out. But somewhere along the way, a split happened. Anant started getting more interested in the technical side of things and I decided to look at the business aspect. The roles are still interchangeable though.
Being an Indian company, how difficult/easy is it to bag foreign clients?
Anuj: A lot of foreign companies have not too great an impression of Indian providers. It's like that 'Oh, it's an Indian company, so it'll be cheap, and the quality won't be great'.
But there's no reason why it should be cheap. There no reason to price a product low, if you're giving them quality. So that is really what will differentiate one company for the rest of the bunch, I think.
What are the lessons you've learned along the way?
Anuj: When we started off, a couple of companies didn't pay us. A few acquaintances asked us to do some work for them, but we had a hard time conveying to them that we had to be paid for what we were doing. After all that was how we were earning a living. At the end of the day, we have our outgoings, and that has to be taken care of. We had to tell them that we would like to do it, but we can't do it for free.
So that took a while to get over. Then there was the age factor too. We would go for business meetings at 16, and they'd just look at me wondering what I was doing there. So that was difficult too.
But then I learned young, and now at 22, I know how to conduct a business meeting, how to negotiate, how to go about things. So the experience really helped.
How easy/difficult has it been balancing work and college?
Anuj: I pretty much haven't been to college for the last 3 years, I guess it's okay to admit it now, since I've graduated and all (he laughs).
I have focused on meeting people, setting up contacts. So now we are at the stage where we're on the cusp. Now, since we're graduating, we'll have a bit more time to spend on Inscripts. Anant has made quite a few sacrifices for the company. Like if college is from 9-5, he's home at 5.30 because he knows there's a lot of work to be done.
So we compensate for each other's lack of time that way.
Do you seek help from your parents?
Not really. We do consult our dad, or discuss things with him sometimes, but the actual working is all us.
What are your plans for the future?
Anuj: I intend to work for a couple of years handling Inscripts and then maybe do an MBA. In the mean time, Anant is planning on doing his MS.
Anant: What we are trying to do is that one of us handles the technical side while the other handles the management side. Anuj has his forte -- his people skills, his PR skills and basically getting us projects, whereas I am more technically inclined. So the plan is to strengthen our individual skills with education.
Anuj: That is the plan for now. At this time, work's going well, but you never know how long it'll last. We know we need to have a solid backing. We're not from a business family (dad's a CA and mum's a housewife), so we need to have that security. Right now, at 22 we can say we're studying, but 5 years from now, we need to have the right credentials, otherwise, no one will entertain you. The novelty factor will wear off. 
As far as the company is concerned the plan has always been to grow. Right now we are doing a lot of work for others. That will continue, it's a regular revenue stream. What we want to do is create our own products, our own solutions for mass consumption.
So instead of working for other companies, developing their products or their websites, we want to develop our own line of products.
What exactly does Inscripts do?
Anant: We have a steady set of products that we market, like our image gallery product or rating and reviewing programmes, so those are products that people can buy off the shelf. They come to our website, register with us and just buy the product.
We also do custom work, such as an e-card website we created. So if people need a customised product created or a new product created for them, they send us an inquiry online and we take it from there.
Anant: Right now there are a lot of companies out there who are offering web solutions, charging per page etc. They are cheap, but how good is the quality of their product? We also create websites, it's one of the things we do, but we're also doing a lot of obscure work, unusual projects.
We get quite a few inquiries for off-beat work, which is great. Sure, we are working for them, on their product, but it gives us a lot of new ideas. So, even if they have a smaller budget, we're more willing to work it out, just for the chance to work on such a project. That's the kind of thing we're looking for. Right now, experience gets priority over the financial aspect of things.
How do you'll spend the money you make? Do you'll go out and splurge or are you more cautious?
Anant: Since day one, our parents have ensured that whatever we earn goes into the bank, saying, 'Whatever you need, we'll buy it for you. Your money is to be saved for the future.' So basically everything we make is invested.
Anuj: Actually, the first payment we got was from this UK client. That was about Rs 40,000. We were 16 at the time and that was a huge amount of money for us. We couldn't even say, okay, let's withdraw it and blow it up. We had no idea how to spend that kind of money. So it stayed in the bank and that's how it's been since.
I'm pretty active in the stock markets, mutual funds and all that. So it is being invested. I keep a track of what's happening in the markets, do my research and then put in the funds.
What do you see as the way forward in the industry?
Anuj: I think people in the field should concentrate on developing their own products. Today, if the US has its Microsoft, it's because it has its world-class products. That is why everyone knows the name. If you look at Infosys however, you can't really say what their products are. Of course Infosys is Infosys, they are huge, but then there's no real recognition of what they create. Today, India is known for its low-cost, service providers. But why not use that cost-savings to develop our own products, create a name.
It's difficult, because you're then working for yourself with no pay and development could take a year or two, but then the gains could be well worth the effort.
Why not be a world-class company instead of providing services to a world-class company?
How did your freinds react when they found out about the company etc?
Anuj: For a very long time they didn't know about it. But when we did our first interview, everybody knew. It came as a surprise to most people and they had all these questions about what we do etc. We of course downplayed it, it was quite embarrassing.
What do you do in your free time? Do you have any hoobies?
Anuj: I play the guitar, I was in a band for a while. We also learned the tabla together, but that was a while ago. I enjoy playing music, a lot of fusion, a friend of mine plays tabla and I'm on the guitar. We also played at Malhar (St Xavier's college fest) a few years. I'm into photography too. 
Anant: I more into art, or I'd like to be. There's not too much free time, but if I can manage it I do try and paint when I can. College is full-time, and for the last 4 years I have hardly had any time. Work's been pretty hectic too. Most free time then is spend hanging out with friends, so hobbies really take a backseat.
Anuj: For the last few months, we've taken a real interest in foosball. We have these mini-competitions where the whole society plays. It gets pretty intense too -- we're cheering, there are scorecards, there are bets, we got tee-shirts printed -- the whole deal.
Honestly, most people would say foosball isn't a sport, it's a game, but really it's more than a sport to us. Now we're looking for rival teams to take it to the next level -- we're really serious about it.
Girlfriends?
Anant: No time.
Anuj: No comment (he smiles).