| | |
| --- | --- |
| Bhavin (left) and Divyank (right) Turakhia, the Chairman and President respectively of Directi. | |
| | |
| | |
| | |
| | |
| | |
| | |
| | |
Advertisement
October 25, 2007


It took them only Rs 25,000 and nine years to build a company worth $ 300 million.

Starting out as a fledgling unit with Rs 25,000 of borrowed money Divyank and Bhavin Turakhia founded Directi (pronounced Direct I) in 1998. Bhavin, the CEO and chairman was just 19 then. Younger brother Divyank, president and director, was only 16!

From there on the brothers from Mumbai built their online empire "byte by byte". "Everything the byte touches is our kingdom," is the fundamental principle that guides the two brothers at Directi.

The company amongst other things delves into traffic monetisation solutions, online advertising solutions, DNS management products, mail solutions, mail anti-spam, mail anti-virus, Linux and windows server management software.

Speaking to Prasanna D Zore over the phone (Divyank was in the US attending a tech conference that Directi had sponsored) the two Turakhia brothers spoke about their company's vision, future plans and a possible listing on the tech-heavy US stock exchange NASDAQ.

As for advice to budding entrepreneurs these two young entrepreneurs believe: You have to love what you are doing. If you are not passionate about what you are doing then the chances of reaching the top are minimal

How did it all begin for you? How did you star Directi?

Bhavin: Both Divyank and I were involved in computers since our school days. While in school we coded large numbers of complicated projects in programming languages far more complex than the general curriculum at that point in time.

Subsequently, during college days we started off with a small fledgling unit just as a side project for a couple of months. Both of us were freelancing, providing network consulting to organisations, hardware consultancies and various random things now and then.  

Sometime in late 1998 we decided to start off with a set of fundamental services that will be useful to setup web services. That's how Directi started; we borrowed Rs 25,000 from our father and bought our first server. It all started with a seed capital of Rs 25,000.

Divyank: After that there was no looking back. We then obtained ICANN accreditation, and started making business automation solutions for web service providers, traffic monetisation solutions, online advertising solutions, DNS management products, mail solutions, mail anti-spam, mail anti-virus, Linux and windows server management software, web hosting control panels and many other products.

Additionally several business units of Directi provide a range of services including web hosting, domain registration, dedicated servers, digital certificates, site builder services and various other similar web services to a large growing global clientele.

Directi today has a number of businesses and each of our businesses is in the top 10 businesses worldwide in their respective domains. Some of our businesses have been awarded the Deloitte's fastest 50 companies in Asia for the last two consecutive years.

We also feature amongst the top 20 technology companies in the country. From a fledgling operation in 1998 we now have grown to a company that employs 450 people with multiple offices in a couple of countries like UAE and China and selling large number of different technology products.

What are the challenges that you faced during this journey from 1998 to 2004-5 when you became a full-fledged company?

Bhavin: We've always had a large number of ideas. We always had the significant amount of potential with the kind of products that we were developing. Right from the beginning we pioneered successful marketing processes, which allowed us to develop all our products and services here in India and market them to global audience.

Divyank: Right now I am in the US attending a technology conference that we have sponsored. The primary challenge for us through all these years was to continuously find great talent to build a team par excellence. Apart from that the main challenge is to market our products, that are typically conceptualised, designed and executed in India, to our global clients.

And how successful have you been in finding great talent?

Bhavin: We have been adding to our headcount and more than doubling it every year. Last year we were only 200 people, this year we have more than doubled it to 450 people and the year before that we were close to 90 employees working for Directi. As a result of this our revenues have also increased in a proportionate fashion year on year.

Even if we had more than twice the number of people working for Directi currently we would happily occupy them.

What kind of qualities, skills would you be looking out for in the people you want to hire?

Divyank: We would want our employees to be extremely good in whatever they do, in the sense that we are looking out for people with extremely high aptitude and quick learners.

They don't have to know or have previous experience about the work they would be doing at Directi from the beginning. If they are go-getters and are willing to spend time learning and understanding the company and its businesses it would surely help.

Bhavin: The two qualities that Divyank mentioned are core qualities: that of indulging people to come up with creative and innovative solutions under difficult situations. Being smart and intelligent is not the only sufficient thing. One also needs to be a go-getter. Lot of people who may be smart or intelligent may not be as driven.

One of the critical dimensions of evaluation process here internally is every team lead, tech lead or any other employee needs to be driven, motivated, and have fire in their bellies to get things done.

Apart from that we look out for domain knowledge like somebody who we want to employ for our accounts department should have knowledge of accounting and so on. We hire across all platforms. We have got JAVA, C, C ++, Dot Net, Javascripts, Ajax and other different technology platforms wherein we hire people.

Do you have any immediate plans of hiring people?

Bhavin: We have an open contract with seven or eight good placement agencies. We also advertise in newspapers. However, if 500 good people were to walk into our office today we will hire all of them immediately.

We have never stopped recruiting and we will never stop recruiting.

What are Directi's fundamental guiding principles? And what is your future plans?

Divyank: We are into mass-market products and services that could be sold to millions of customers worldwide. Most of our products have a global focus. We focus on innovation and technology. We invest in creating high margin, growth-intensive businesses as opposed to low-margin and capital-intensive products.

About future plans we want to grow organically (internal growth) and inorganically (acquisitions). Until now, we have chosen the organic path wherein we are growing quite rapidly but in the future I'd say there would be some sort of potential acquisition. However, we have not yet short-listed any companies in the US or Europe for acquisitions.

Bhavin: Right now we have got sufficient potential in terms of customer backlog, client inquiries and other resources to continue to grow on our own steam. All our products also focus on the Internet like web applications or some component of the worldwide network involved in them.

Can you share your hobbies and interest with our readers?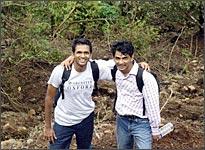 Divyank: Basically, as we grew up in Andheri (a north Mumbai suburb), both of us were interested in technology. We started programming at a very young age; instead of playing on the school grounds we spent most of our time in our school's computer lab after school hours because of which we got kicked out on a number of occasions from the computer room.
Bhavin: We both are avid readers; we pretty much read all kinds of books, fiction, non-fiction, books on time management and we have an extremely huge library at home.
Our hobbies include a lot of stuff around technology in general. Apart from that both of us love a lot of extreme sports like scuba diving, paragliding, hobby flying, sky diving, wing walking, skateboarding.
Who would be your competitors worldwide and how do you scale up to them?
Bhavin: Each business that we run has its own global competitors. Majority of our competitors are in the US followed by some of them in Europe. The core competency on which our group businesses have been formed is technology. Myself, Divyank and everybody else in this company, even the non-tech teams are fairly tech-savvy and are provided significant tech training because we are a technology company.
Divyank: It is this core competence that allowed us to, despite being in India, build products that are superior to most of our competitors abroad and grow at significant speed even though in many of the markets we have been late entrants as Internet as a phenomenon grew late in India.
Despite such environment we have continued to increase our market share in all the markets that we are in. So given the technology superiority of our products we find it fairly easy to compete head on with fairly entrenched players in the global markets.
Can you tell us about your roles and responsibilities at Directi?
Divyank: We both monitor the core day-to-day operations at Directi apart from envisioning the idea of Directi. We are involved in building a corporate structure on an ongoing basis. We both are involved with forging strategic partnerships with our customers, channel partners and our suppliers.
What kind of revenues did you generate last year and what's the projection for the current year?
Bhavin: As a matter of policy we don't disclose revenue and profit figures. However, our net worth today stands at $ 300 million. It is the enterprise value of all our businesses put together.
Divyank: What's more we are a debt-free and investment-free company as we generate enough revenues from our various business models to take care of our financial needs. We have always grown through internal accruals; we have always been very cash-flow positive company, very highly profitable. All our growth is funded out of internal reserves and hence we don't have to borrow nor sell equity to outside investors.
Is Directi fully owned by both of you?
Divyank: Yes we both are the 100 per cent owners of Directi.
This may or may not sound far-fetched but do you have any plans of listing Directi on NASDAQ?
Bhavin: We would potentially consider doing whatever is strategically best for each of the businesses of Directi. But right now the answer to that would be we do not have any specific (listing) path that we have set up.
At the moment there is still time before we contemplate any sort of liquidity infusion into Directi. Right now, our immediate goal is to continue to grow our businesses and tomorrow if it (the listing on a US stock exchange) seems like a strategic move for the organisation or the individuals within the organisation we might potentially think of going public.
Of course, the eventual goal would be to go public but how it will happen, when it will happen are the decisions that we are not contemplating right now. I don't think that we will ever go public to infuse cash into Directi but if we reach a particular size then it would become important for us to go public for enhancing the company's branding. That could perhaps be a driver to go public.
But it will definitely not be for the reason that we need large amount of investments to grow our business.
Divyank: Right now we have got 450 people working out of a facility in Malad (a north Mumbai suburb), and recently we have acquired a 1.25-lakh sq ft facility in Andheri. The point I am trying to make is all our funding requirements are taken care of through internal funding. This 2,000-people facility will become operational sometime in early 2008.
Would you like to give any advice to budding entrepreneurs?
Divyank: First and foremost, you have to love what you are doing. If you are not passionate about what you are doing then the chances of reaching the top are minimal. At first spend as much time as you need to find the thing that you love doing. In addition to that, once you get started, you have to build a team that will help you reach your goal. You alone will never be able to do that; you need to hire the best people in your line of business. 
The team that you will build around you will significantly impact the success of your business. An entrepreneur should always design processes that s/he would be able to scale without much difficulty.
Apart from that you should have the guts to have fun with failure. Out of the hundreds of decisions that you will make there will be several ones that will go wrong but it is important to keep making them on an ongoing basis.
Great entrepreneurs are ones who get a balance between great numbers of variables affecting their businesses.
Bhavin: Divyank has covered most of the generic issues of entrepreneurship. In the business that we are in automation is important. We abhor using lot of paper and hence we try and automate every single process here. Right from HR processes, to information sharing to product training we try to find the latest tools and technology to make these processes automated.
The automation, however, should be easily scaleable. If we could do a thing with 10 people on a process we should be able to use the same platform if we were to have 1,000 people on the same process.
All said and done, you should have a good vision of what you are doing and remain committed to that vision.