Advertisement
June 28, 2006


Have a query regarding your home loan? Maybe we can help.

Drop us a line and our expert, Harsh Roongta, will answer it.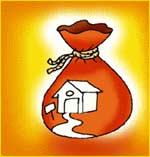 Can I get home loan without a home? Some banks have conditions such as construction of house should commence within six months.

If I take a home loan to buy a plot of land and construct on it (site + construction), will I get tax rebate on the total EMIs (EMI for site + construction, or EMI for construction only)?
- Edwin Roy
 If you are buying a plot and constructing your own house, then banks will always stipulate a time limit for commencing the construction of the house.
The reason is that the banks may not want to fund the buying of a bare plot.
Even if they were willing to provide a loan for a plot of land, it may come at a higher cost and not at the home loan cost which is considerably cheaper than a plot loan.
If your intention is to build your own home, you should not have a problem with the time limit.
If, however, you want to buy a plot with an indeterminate plan to build a home sometime in the future, then you should seek a plot loan rather than a home loan.
The tax breaks are available on the full loan amount (site + construction) from the year in which the construction of the property is completed.
To see the other queries answered by Harsh Roongta, read Problems with loan prepayment?
Got a question for Harsh Roongta? Please write to us!

Note: Questions may be edited for brevity. Due to the tremendous response, all queries will not be answered.
Disclaimer: While efforts have been made to ensure the accuracy of the information provided in the content, rediff.com or the author shall not be held responsible for any loss caused to any person whatsoever who accesses or uses or is supplied with the content (consisting of articles and information).