Advertisement
September 20, 2005


Part I: How to master Word Power

If you want to ace GRE/ GMAT, mastering Word Power is half the battle won.

But merely cramming 4,000 words at the rate of 50 words a day is not the answer. There are chances you will forget what you have learnt.

Instead, here is a simple technique to help you strengthen your vocabulary; this technique involves your mind and not just your memory.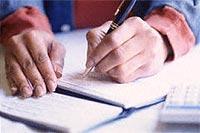 i. Experiment with synonyms
After you see the meaning of a word, look up its usage in the sentence that is usually present in the dictionary. Note down this sentence. Prepare a new sentence after understanding the meaning of the word.
Try to create sentences with the new words you are learning every day. You should write at least five different sentences with every new word over a period of time.
When you do this, your mind is forced to find the suitable usage of the word. This mental exercise ensures the meaning of the word is ingrained in your memory.
ii. Prepare sentences with antonyms
It does not end here; you need to make sure the meaning of the word is permanently stored in your mind. In order to do so, you will need the help of a thesaurus. Use it to find out the antonym (opposite) of the word.

After you find out the antonym, use it in a sentence in the same way you did with original word. If possible, create at least five different sentences with a word over a period of time.
iii. Compare synonyms and antonyms
Use both the synonym (a word having the same or nearly the same meaning as another word) and the antonym to construct sentences using the same context or situation. This procedure enables you to see a word from both sides.
If you can follow this strategy, it would definitely solve your problem of learning new words without forgetting their meaning. 
iv. Let's take an example
Take the word punctilious. Its synonyms are: careful, conscientious, exact, finicky, formal, fussy, meticulous, particular, proper and strict.
Make sentences with some of them as given below.
a) We really appreciated our punctilious host's warm welcome.
b) Our hosts were very careful to offer us a very warm welcome.
c) The hosts were meticulous in ensuring their guests' comfort. 
                    
Now, take the antonyms of punctilious. They are easygoing, informal and lax. Let's make sentences with these:
a) The hosts' easygoing attitude left the guests with a cold feeling.
b) The hosts were very informal in receiving their guests.
c) The hosts' lax attitude made the guests feel uncomfortable.
v. Important: Use the same context
You should always use the same background to write sentences using a new word, its synonyms and antonyms. If you use different circumstances, events or situations to get acquainted with the meaning and the usage of a word, there is a strong possibility that you may get confused.
It is the context that will always remind you of how the word is used, and will ensure you don't forget the meaning easily.
vi. Patience and will power
Even if you have to learn only 700 new words, the exercise is time-consuming and requires effort on your part.
Interestingly, if you ask novelists, writers, journalists and even professors of English the meanings of such words, they might fumble; they may even have heard of these words for the first time. So you need not feel terrified or disheartened about the mammoth task ahead of you.
Again, it would be nothing short of being naive on your part to think you can master Word Power like magic. However, patience and a strong will power will see you through. 
 
Part I: How to master Word Power
DON'T MISS!
Rituparna Roy Chowdhury specialises in helping aspiring students frame essays/ SOPs and edits thesis for PhD students, conveying their themes with better communication skills. He can be contacted at rituparnaroychowdhury@rediffmail.com.