Advertisement
September 19, 2005


Word Power is the biggest stumbling block for most GRE/ GMAT/ SAT aspirants.

Why is that?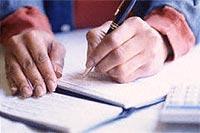 For one, many worry about having to cram the meanings/ usage of 4,000 words. Of these, many are never used in daily speech or in literary passages. Some of these words are even missing from normal English language dictionaries!
They also worry about how they are going to remember so many words. For example, if you learn 40 words today, you may forget 30 of these by tomorrow. The day after, you could forget another five... and so on. 
Not knowing how to overcome this despairing situation, you search for various 'word power gurus' who claim to teach you the entire list of words in 10 days.
But the human mind has its limit, and such tricks are unlikely to yield results.
Say goodbye to fear
i. Learning 700 words is enough
Break the psychological barrier by acknowledging you actually have to learn 700 words, and not 4,000.
ii. Why?
This is how it works. On an average, each word has, say, five synonyms. This means if you learn the meaning of one word, you complete the task of knowing six words.
iii. 2 months = 700 words
At the rate of 20 new words a day, you can easily learn over 700 words in a maximum of two months and have sufficient time for revision.
Blind cramming not the answer
The root cause of memory failure (in this case) is the tendency to blindly cram the meanings of words, without giving due consideration to its relationship with different words or sentences.
Moreover, the element of cramming works more like a mechanical machine which, in all probability, is bound to go out of order very frequently.
The logic of human memory
Ever considered why you can recall every single dialogue of your favourite movie, or the individual scores of a cricket match?
The reason is you are intensely involved with these situations that it remains ingrained in your memory for years. It also proves that the human memory operates using a certain logic.
Involve your mind
You can very well replicate this sharp memory while building your vocabulary as well.
All you need to do is involve your mind in your quest for acquiring proficiency in word power.
Next: How to involve your mind
DON'T MISS!
Rituparna Roy Chowdhury specialises in helping aspiring students frame essays/ SOPs and edits thesis for PhD students, conveying their themes with better communication skills. He can be contacted at rituparnaroychowdhury@rediffmail.com.