Advertisement
May 23, 2005

 or all your questions on studying abroad, our international education counselor Karan Gupta has the answers!
Here, he replies to some of our young readers' queries: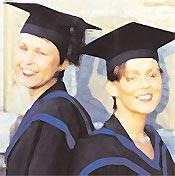 I hold a degree in International Hotel & Resource Management, and have three years of experience at 5-star hotels at the Front Desk and as an Income Auditor.
I now want to apply to Purdue University for their two-year MS Research Programme in Hotel & Tourism Management. I would like to know:
1. What is the status/ranking of Purdue University in HTM?
2. What are my short-term job prospects for working in the US in the HTM industry? 
- Captain Jehangir Taleyarkhan
Purdue University is recognised among the top universities in the US for most fields including Hotel & Tourism Management.
Getting jobs in the US in this field, even after a degree, may be very difficult.
But you are eligible to work in your field for one year under the Optional Practical Training option in the US.
My son has just appeared for his HSC examinations in Mumbai.
He wants to do his graduation from the US. One of his friends has good SAT marks and earned an admission at Princeton University, with financial aid.
Is it possible to get financial aid? I am told it is rare and difficult.
Also, how much would the cost of tuition and other living expenses for undergraduate studies in the US be?  What is the ranking of the university?
- Chandresh H Mehta
Princeton University is an Ivy League university and among the best universities in the US.
Princeton is also among the universities which give financial aid to international students and, in some cases, allow full tuition and living expenses.
Getting admission to Princeton University, though, is very difficult. Only students with extraordinary grades, talent and extracurricular activities can get admission.
There are other private liberal art universities in the US which give full tuition waivers to international students. Again, this aid would depend on the student's credentials.
The average cost of a state university in the US is about $15,000 for tuition and about $7,000 for living expenses.
I have admissions to three universities for MBA: Kent State University, University of Akron and Texas A&M - Commerce.
Which of these should I choose? Also, is it worth studying at these universities without any financial aid?
- Pankaj Khandelwal
Out of the three universities you have mentioned, Texas A&M at Commerce seems to be the best option.
The living costs as well as the tution fees at this university are significantly lower as compared to most other universities.
You can get a graduate assistantship at Texas A&M. But keep in mind that the MBA curriculum is very demanding.
Hence, most students prefer not to work for 20 hours per week.
I have admissions for a Master's in Architecture at the University College, London [Images], Bartlett faculty, and Australia. Which of these is a better option?
- Tanya
 
Since you have not mentioned the Australian university at which you have the admission, it is difficult for me to advise you.
But most students tend to prefer the UK compared to Australia because the job placement and university recognition is better.
The MA in Architecture at University College, London, is recognised, and University College, London, is among the top universities in the UK.
I am an IT professional.
I need some information on the online courses of US universities.
Please let me know how respected online Master's programmes are.
- Manish Potdar
The University of Phoenix is one of the best online education providing universities in the United States.
The degrees conferred by the University of Phoenix are recognised by most employers as well as other higher educational institutions.
Getting admission to this university is not very easy and you need to have 'proper' qualifications to get in.
For instance, for an admission to a Master's programme, you must have a US equivalent of a four-year Bachelor's degree.
Please visit www.phoenix.edu for more details.
DON'T MISS!
Got a question for Karan? Please write to us!