Advertisement
May 17, 2005

n MBA in Cyprus?
Why not?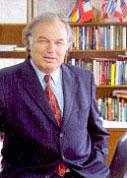 Cyprus, a beautiful island located below Greece, has a lot to offer in terms of quality education.
Theodore Panayotou, Director of the Cyprus International Institute of Management, talks about what his institute has to offer.
What is unique about the Cyprus International Institute of Management?
Our diversity, quality, creativity, flexibility and affordability is unique to our school. Our institution is global in nature -- students get diversity of perspectives in all areas of their curriculum.
They put into practice what they learn. We have no textbooks but make our students research and learn from real life examples.
We are probably the only business school in the world which has 45 percent women.
Most B-schools develop generals to fight the war of the past, we develop generals to fight the wars of the future.
What kind of students are you looking for?
We want open-minded and self-motivated students. Our students should have the following:
Curiosity, so they are innovative all the time.
Imagination to dream andmake everything possible.
They must be great listeners so they can hear and understand.
They must be team players, so they have group adjustability.  
What is the profile of the average CIIM student?
Our GMAT average is over 650.
The average work experience is six years.
The average age of the class is 28.
Do you have any advice for Indian applicants?
An education at CIIM is 50 percent about learning new ways and 50 percent unlearning what you have already learnt.
Our motto is a relentless pursuit of excellence. Excellence is a never ending journey and not a destination.
Leave your conventional ideas behind and be open-minded and curious.
Think forward and be prepared for a lot of hard work.
Does CIIM offer any scholarships?
Yes. If the student has excellent academics, work experience and competitive GMAT scores, we can offer scholarships which will cover full tuition costs.
Tuition cost
~ The MBA offered by CIIM is a one year programme that will cost you 8,500 Cyprus pounds (Rs 850,000 approximately).
~ Living and other expenses will amount to 3000 to 4000 Cyprus pounds (Rs 300,000 to Rs 400,000 approximately).
Address
Cyprus International Institute of Management
PO Box 20378
CY-2151
Nicosia
Cyprus
Phone: (00357) 22 462246
e-mail: ciim@ciim.ac.cy
Web site: www.ciim.ac.cy
DON'T MISS!