Advertisement
June 07, 2005


ere are eight reasons why we will never get real Chinese in India.
1. The first reason lies in the psyche of the Chinese. They seek to please.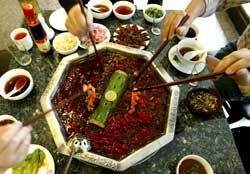 They will not give you what they themselves eat: if you don't like it, they will lose face.
It is safer for them to give you what you like. So what if it is not in the least bit familiar? You want Chicken Manchurian? They will cook it.
2. The diametrically opposite directions in which the two races approach food.
The Chinese eat everything. We, on the other hand, don't eat beef or pork.
Many of us don't touch chicken, fish or any other type of seafood. As for dried seafood, yuck!
And the vegetarians among us won't even consider ordering aubergines when we dine out.
The prime cooking medium in China is pork fat, and the chief braising stock is seafood stock in South China and Hong Kong. Yet, when chefs from these regions arrive in India, that is the first thing they're told not to use.
3. The ingredients and their availability.
Are Sichuan peppers easily available in India? No.
Have you ever seen wood ears and black fungus being sold in shops here? No.
Would we consider patronising a restaurant that serves shark's fin and bird's nest? Most assuredly not.
4. Delicacies in China are met with expressions of distaste here.
Care for frog's throats, pig's ears or oxtail?
In China, all these are highly prized because of their texture. Soft and crunchy (pig's ears), hard and rubbery (abalone), gelatinous and crunchy (duck's feet) -- when a guy can't cook the delicacies of his cuisine, he is reduced to catering to the lowest common denominator.
5. If you have been to a yum cha place in Hong Kong or the mainland, you have probably wondered why dimsums made in India aren't even remotely similar.
Any restaurateur who wants to serve Hong Kong-quality dimsums has to import everything from the flours to the fillings. It's only the rice, potato and wheat flours from South China that can turn out perfect dimsums.
6. We have never learned how to eat Chinese food.
We need lashings of rice, preferably fried, and/ or noodles, also fried.
The Chinese get their starch fix at home: when they dine out, they seldom or never ask for rice. Noodles form a separate meal in itself, as in noodle soup.
7. Our love of gravy.
Not surprising, because we have loads of it in our own cuisine. We love curry so much that we need it even
when we are over at our neighbourhood Chinese joint.
We need to see it or, at the very least, a bowl or three of hot garlic sauce to moisten our rice with.
8. Dessert. We come from gulab jamun land, and expect to meet the same level of sweetness in a Chinese restaurant.
Cold soups with white fungus, taro balls with sweet bean paste and barely sweet gelatinous water chestnut morsels don't count as dessert.
No wonder date pancakes with chocolate ice cream have been invented for us.
Powered by