Advertisement
January 27, 2005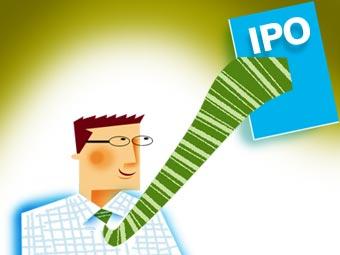 f you have not already been asked these questions by now, here goes: Do you plan to invest in IPOs?
Which IPO are you going to invest in?
Maybe even, What is an IPO?
If that is your question too, read on.
~ Clear the jargon first!
If a brand new company or a company already in existence, but with no shares listed on the stock exchange, decides to invite the public to buy shares, it is called an Initial Public Offering (IPO).
It is the first time that it is approaching the public for money. That is why the company is also referred to as 'going public'.
If a company that is already listed (has its shares for buying and selling on the stock exchange) is coming out with a fresh tranche of shares, it is called the new issue (like the current Dena Bank issue).
Then, there are the disinvestments -- where the government sells its stakes in public sector companies in the market. Although these are not technically new issues, they too create a buzz in the market.
~ Every company needs money
A company needs money to grow and expand -- to purchase new machinery, land or even repay its loans.
To do that, one of the options it has is to ask the public for money.
It comes out with a public or new issue. The company offers shares and the public buys those shares. These shares are listed on the Stock Exchange.
People who invest in the company get rewarded (as dividends) by the company, or sell the shares as the share price rises.
To understand how to make money by investing in shares, read What's in a share? Money! and Make money with shares.
~ How can I buy these shares?
There are two ways:
If you want the shares of a company that is already listed, you can buy them from the Stock Exchange through brokers. This is called buying from the secondary market.
Buying from the primary market means that you buy them directly from companies when they make new issues of shares or come out with IPOs. You can also get rights issues and bonus shares, but more on that later.
Why would you pick up shares through IPOs, rather than buy them from the market?
Because, often, companies issue their shares cheaply and, later, when these shares are listed on the Stock Exchange, they list at a premium (higher than the price at which they were issued).
So you could make a lot of money if you sell those shares.
What if you don't want to sell the shares soon?
Sure. It also happens that companies who are going public or listing their shares for the first time also usually offer their shares cheap, and could go on to become very successful.
IPOs thus offer investors the chance to participate in their prosperity cheaply.
These listing gains are the chief attractions of buying in the primary market.
~ So what's the catch?
The trouble is, there are usually plenty of applicants for good IPOs.
And they are heavily oversubscribed (the demand for the number of shares is more than the number being offered for sale).
And although 25% of the issue has to be reserved mandatorily for the retail investor (those who apply for shares of a value less than Rs 50,000), even the retail portion is oversubscribed several times for good issues.
In this scenario, lots are drawn and only a few individuals are allotted shares.
Hence, you may not get the number of shares you asked for. There is also a chance that you may also not get an allotment at all, in which case your money will be returned to you.

If you don't get any shares, your money will be returned to you within 21 days. This is true even if you get partial allotment (you get only some of the shares you applied for), and the extra money you have paid is returned.
If you do get an allotment, your demat account will be credited with the shares. Once the shares are listed, you can sell them in the market and pocket the gains.
Of course, you can also hold your shares for the long term if you want, but most people opt out if the price on listing is well above the price at which you were allotted the stocks.
Remember, you need to have a demat account before applying for IPOs. Else your form will be rejected.
~ How does one go about it?

It's very simple, really.
1. Keep your eyes and ears open.
IPOs are normally heavily advertised in the media. Not only because it is statutorily required but because companies want maximum publicity to ensure that their issues are a success.
Before applying, be sure to read the prospectus for the issue. This is a document inviting the public to subscribe to the shares of the company and contains plenty of information on the company's financials, its track record, and what the management plans to do with the money that it is raising.
It's free and available on the company's web site or on the SEBI web site.
2. Get an application form.
You can pick up the application forms at any broker's office -- they are even available on some street kiosks in your city's financial area.
Do you have any agents who sell you mutual fund application forms or fixed deposit forms of companies? They too are a good source.
Ask your family, friends or colleagues for their agents.
The forms are all free.
3. Fill it up.
Fill up the form -- the directions are given in the form -- and write a cheque for the amount you want to apply for.
Every issue has a minimum number of shares that you must apply for, which is specified in the application form.
Submit both within the time frame specified.
4. Submit the form.
You will have to submit it to the collecting bankers (a list is given in the form), or to the collecting agents for the merchant bankers (financial players managing the entire issue for the company) to the issue.
~ You can buy online too
If you have trading accounts with online brokerages (sharekhan, Kotak Securities, ICICI [Get Quote] Direct, 5 paise to name a few), you can apply online.
The process is simple, and detailed instructions are available on these brokers' web sites about how to proceed at every step.
Typically, you have to go the site and click on Open IPO, where you will get the list of IPOs open for application. Once you select an issue, you will be directed to the Applications page, where the form can be filled in and submitted online.
~ On a cautious note
Please note that there are plenty of not-so-good companies who come out with IPOs.
Make sure that you know enough about the company and are confident about its management and its growth prospects before investing.
Next week: How to get a demat account
 
DON'T MISS!
� Sensex? What's that?
� How the stock exchange protects your money
� What's hot about pharma stocks!
� Growth stocks can make you rich
� Why you shouldn't flirt with the Sensex
� Greed = Loss at the stock market
Illustration: Dominic Xavier