Advertisement
December 27, 2005


You are out scouting for a perfect pair of shoes. If you had a choice between comfort and style, what would it be?

The majority would go for style over comfort. Well, style divas take note (this goes for men too), the main criteria for buying shoes is that they must allow your feet to breathe.

Comfort should score over style any day.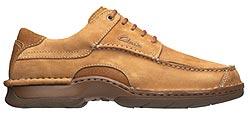 Here are a few tips to keep in mind for your next shoe-shopping expedition:

i. Think about the time of day when you are buying shoes. Feet usually swell a little around late afternoon. Slip-on shoes bought early in the day may feel too tight as the day progresses

ii. Buy shoes with leather uppers; they allow your feet to breathe. Leather uppers also have the advantage of moulding around the foot a little to match its shape, thereby improving the fit. Uppers made from synthetic material rarely have this characteristic.


iii. When trying on new shoes, make sure you can wiggle your toes in them. If you cannot, you are likely to experience problems later on.

iv. Always try on both shoes and walk a few steps in the shop to see if the shoes pinch or rub against your skin.

v. Ensure there is at least six millimetres of space in front of your large toe; if the toe constantly bangs against the end of shoe it can cause damage to your skin, nails and joints.

vi. Wear high heels sparingly, just when the occasion demands. High heels throw the body weight forward, putting pressure on the toes. It can lead to muscle, joint and back problems.

Wear shoes with different heel heights on different days to maintain the flexibility of your leg muscles.
vii. With new shoes, begin by wearing them around the house for short periods.
There are several reasons for this.
Firstly, although good shoes do not need 'breaking in', it is a good idea to break down the 'newness' and get your feet familiar with them. Also, if you do decide to return them within 28 days, refunds will only be offered for shoes that have not been worn outside the house.
Get a pedicure at home
Even with well-chosen new shoes, you need to take care of your feet to make sure they are comfortable. If you haven't got the time or the money for a pedicure at the salon, here are some easy-to-follow tips to help ensure that your feet feel good all day.

~ Soak your feet in warm soapy water for a few minutes. This is long enough to soften nails and hard skin without removing the skin's natural oils. Dry your feet thoroughly using a soft towel, making sure to dry well between the toes.
~ Always trim your nails straight across using toenail clippers or scissors. Clean nails but take care not to damage the softened skin around them.
~ Remove hard, rough or calloused skin by using a pumice stone, a foot file or a rough skin removing cream.
~ Use moisturising cream regularly to prevent the skin on your feet from drying.  
~ Finish off your daily foot care routine by using a medicated foot powder. Dermatologist Dr Parul Kolhe, who practises at Nanavati Hospital, Mumbai, recommends Abzorb (available for Rs 40-60 at the your local chemist). Just dust it on your feet before putting on your socks. It is odourless and does not cause allergies. This will help your feet to feel fresh longer.
DON'T MISS!
Photographs: Clarks Shoes