Advertisement
December 26, 2005


If confidence is the mark of an investment banker, Ashutosh Ghanekar sure fits the bill.

A rather exuberant personality, he is a far cry from Tom Wolfe's 'farcically arrogant investment banker' in The Bonfire Of The Vanities.

While other investment bankers crib about the long hours and the incessant travel, Ashutosh insists that, given a choice, he would never opt for any other profession.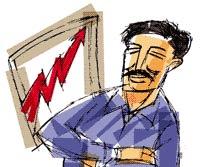 Ask him what he loves about investment banking and his prompt answer: the kick of clinching a deal.
"And, of course," he candidly adds, "the fact that a closed deal rakes in big bucks doesn't hurt."
A chartered accountant by qualification, Ashutosh has worked in Price Waterhouse, Arthur Anderson and Ambit Corporate Finance before moving out on his own.
Late 2002, he tied up with two friends, Vikram Bihani (IIM-Bangalore) and Vinay Shah (MBA, University of Pittsburg), who were also chartered accountants by profession, and set up Mosaic Capital, an investment banking firm.
With a decade of investment banking experience behind him, he gives some advice to MBAs looking for a break in investment banking.
1. Have conviction
An investment banker is a financial advisor to a company. The services he offers include raising money and structuring mergers and acquisitions.
An investment banker will raise money for the company if its promoter approaches him to do so. The company then becomes his client. The investment banker will get a 'success fee', which is a percentage of the money raised. Typically, this fee could vary from 1% to 5%.
Such corporate events, that trigger the hiring of an investment banker, are crucial to the company's evolution and growth. Hence, firms will scout for investment bankers who are passionate about helping them succeed.
If you lack conviction about a company, you certainly can't go out and convince investors to put money in it. 
"Be convinced about the deals you are working on," he insists. Else, you will never be able to convince anybody else.
2. Be committed to your job
Investment banking is a high-risk, high-reward profession. It also means a lot of hard work.
It's all about doing a sales pitch, sourcing clients, getting documentation in place, travelling, making presentations, replying to hundreds of e-mails, negotiating and so on and so forth.
Often you will have to pitch for, say, 10 clients before you close one deal.
The process is tedious. But then, it's part of the job.
When Ashutosh and his friends set up the firm, business did not start pouring in immediately. In fact, they did not close any deals in the first two years.
But they just dug in their heels and refused to quit.
They closed their first deal in December 2004 and have, since then, completed several others.
3. Network! Network! Network!
You need to constantly be networking with other professionals, ex-colleagues and business college alumni.
Touch base with them. Keep in touch. This does not mean you have to wine and dine constantly; just let them know you are around. Work at building relationships.
In all transactions, trust is of paramount importance. Your client must trust you implicitly. You are his banker and he will have to open up all his books to you. He can never do this if there is no trust between you.
And trust will not enter the scene if you don't build a relationship.
Interpersonal and relationship building skills are imperative and must be constantly honed. A lot will depend on your ability to communicate with clients and get deals done.
4. Work hard
The hours are undoubtedly tedious. Ashutosh has it much more easier since he runs his own firm and determines his own work hours and travel schedule.
But if you are not that fortunate, be prepared to be constantly on the go. People in sales and such professions too have periods of endless traveling. But, with an investment banker, there is no season. It is an all-around-the-year phenomenon.
On a lighter note, Ashutosh says one has to be prepared to do 'face time' -- an amusing term given to describe the period when you have to hang around the office just because your boss is still there. 
"If your boss does not have a life, you too won't have one," he says. "If he is a late sitter, then you have to do face time."
When asked if he does not get sick of "doing face time," the late hours and the ceaseless travel, his answer: "That's why I am out on my own. The solution does not lie in quitting investment banking. The key is not to have a boss."
And the silver lining...
Let's face it.
Nobody goes into investment banking to save the world. The lure of investment banking lies in the money made.
A fresh MBA, with absolutely no job experience, could earn between Rs 3,00,000 to Rs 6,0,000 per annum (the latter if you are from any top-notch business school like an IIM).
This, of course, does not include the bonus that will be solely dependent on the business you bring in; your bonus would be around two to three times your annual salary.
And, of course, when you get to be a seasoned player, you could just keep adding zeroes to the above figures.
DON'T MISS!
My life as an investment banker