Advertisement
December 13, 2005


Picture this: you get admission to the university of your choice in the UK.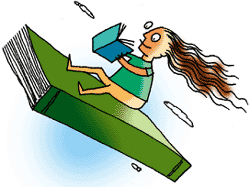 Your mum, all misty-eyed and sentimental, immediately starts packing your bags. Farewell parties are thrown.
You are dreaming of a sunny welcome to life in the UK... and then you go and mess up your visa application.
To avoid such an eventuality, here's a rundown of what you need to know before applying for your student visa.
Quick check
Before applying for a visa, you must be able to show you have been accepted for study at an educational establishment that is on the UK's Department for Education and Skills (DfES) Register of Education and Training Providers.
Verify this at the DfES web site.

Visa application form
~ This is available at the visa office or at www.ukinindia.com.
~ Make sure to fill out your form carefully and precisely. Do not forget to sign it. The visa officer will, in many cases, make a decision based solely on your application form and supporting documents.
Officers repeatedly stress that an incomplete or incorrect application may result in an unfavourable outcome.
~ Remember to include your contact details on the form, especially an e-mail address if you have one (if you don't, we suggest you create one to facilitate e-mail communication).
Supporting documents
~ Start putting your supporting documents together in advance. Do not submit your application until you have collected all the documents required.
~ Make sure your documents are originals or attested copies.

~ There is no fixed checklist for the documents needed, as each student's circumstances are different. The common factor is that students need to show as much credible evidence as they can of their individual circumstances. Your supporting documents must relate to your education, your family's financial situation, any assets you own and your sponsor.
Documents checklist
Here is a broad checklist. Once again, every student's case is different, so remember to include any other documents that seem relevant to your case as well.
i. Letter of acceptance from the university
~ You must include a letter from the university, college or school confirming that you have been accepted for a course of study in the UK.
~ Include a statement of charges for the course and receipts for any payments that may have already been made.
ii. Evidence of your sponsor's financial status
~ Officers stress that anyone can sponsor your education. In the case of sponsors who are not close family, it is up to you to present a credible picture as to why this person is willing to sponsor you.
~ Include a letter from your sponsor stating that they will sponsor your education, with evidence that they can afford to do so.
~ Documents related to sponsor's financial status:
A letter of support from their company/ business/ self 
Tax returns for the last three financial years 
A bank letter confirming the balance in their account is sufficient to cover costs of study
Original bank statements and passbooks for the last six months 
Fixed deposit receipts 
Demat accounts papers
If you have a UK sponsor, include:
A photocopy of his passport or other evidence of immigration status
A letter of sponsorship
Evidence of your sponsor's income
~ If you are taking a bank loan for your studies, bring along a letter of sanction from the bank certifying the amount that has been sanctioned and stating the repayment arrangements.
iii. Evidence of past studies
~ This includes original school and college examination certificates.

~ You will need to include evidence of your proficiency in English. This could be in the form of an up-to-date International English Language Proficiency Test (IELTS) certificate. You may be asked to take the test at the British Council.
iv. Student questionnaire
~ This provides an opportunity to present a good picture of yourself and is available along with the application form. Fill it out carefully.
v. Passport
~ You must have a valid passport, with enough space for a visa.
vi. Photograph
 
It is crucial to include a photograph that meets the following requirements:
It should be a recent, passport-sized (45 mm x 35 mm), colour photograph of yourself taken against a light coloured background. 
It must be clear and of good quality and printed on normal photographic paper. 
It must display your full face, without sunglasses, hat or any other head-covering, unless you wear it for cultural or religious reasons. 
It must be glued to the application form. Do not staple the photo onto the form.
vii. Visa fee
~ Make sure you take the correct amount of money with you before you go. Currently, the student visa fee is Rs 6,800 but please confirm this before applying. The fee is non-refundable.
Guidelines
~ Unlike US student visas, a formal interview is not the norm for UK student visas. However, you could be called for one in case of discrepancies in your application. Make sure all your papers are in order for a smoother application process.
~ Apply two to six weeks before you intend to travel. The period from September to January is especially busy for the visa office, so make sure you apply well in advance.
~ Mention your intended dates of travel on your application form.
~ Make sure your financial documents are in order and you have a credible explanation for any perceived discrepancies. For example, if there is a bank statement with recent large deposits, make sure you are able to sufficiently explain that deposit to the visa officer.
~ The visa officers need to see that your course for further education is consistent with your education so far. So, if there is any change in your educational direction, make sure you can explain this decision clearly.
~ To apply for a visa contact an Application Centre, operated by Visa Facilitation Services. These are located in New Delhi, Jalandhar, Chandigarh, Mumbai, Ahmedabad, Pune, Chennai, Hyderabad, Bangalore, Cochin and Kolkata. Get details from your local British Council Office.
Web sites
You can e-mail visa queries to:
DON'T MISS!
Illustration: Dominic Xavier