Advertisement
August 25, 2005


Canada is known to have one of the world's strongest education systems.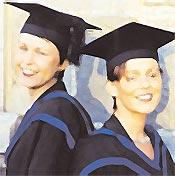 Let's look at study options in Canada [Images].
i. Indian universities offer programmes leading to a Bachelor's, Master's or Doctoral degree.

Colleges in Canada, on the other hand, usually only offer Bachelor's degree programmes to students.
ii. Canada has its share of 'top universities' like McGill University, University of Toronto, University of British Columbia and University of Waterloo.
iii. Canada also has community colleges and technical institutions that offer professional programmes of between one and three years duration including a work term.
iv. Some community colleges offer university transfer programmes that allow students to take courses similar to those offered in the first two years of a four-year university programme.
On completing the two years at a community college, the students have to apply to the university for admission (to complete the last two years of the programme there).
Tuition and fees
Tuition and living costs of studying in Canada are usually cheaper than the US or the UK.

An average undergraduate degree cost would be about CDN$ 20,000 (approximately Rs 6,99,790) per year whereas an average MBA degree cost would be about CDN$ 25,000 (approximately Rs 8,74,738) per year.
The application process
It is quite similar to that in the US.
~ To apply to universities in Ontario for an undergraduate or professional degree you can make an application through the Ontario Universities Common Application Centre or the OUAC.
~ For universities in British Columbia one can apply through the Post-Secondary Application Service of the British Columbia or PAS*BC.
~ For the rest, you have to apply directly online or by downloading the application from the respective university web site.
~ Postgraduate applications are generally sent online through the individual university web sites.
Can I work while studying?
~ You are allowed to work for 20 hours per week on campus while studying and can earn enough money to cover your personal expenses.
Canada's new rules may soon allow you to work off campus as well, for 20 hours per week while studying. Don't, however, expect to pay for your tuition or living expenses through on or off campus employment.
~ Canada is also popular for its 'Co-op' or work-study programmes.
The cooperative education model formally integrates academic studies with relevant work experience.
Co-op students alternate terms of school and work in appropriate fields (business, industry, government, social services, etc).

The work term is usually of four months duration.

On completion of the degree, one has the same number of academic terms as a regular student, plus up to two years of work experience.
Standardised tests
~ The SAT may be required by some undergraduate universities in Canada.
~ Similarly, the GRE may be required for students applying for a Master's degree in any field other than management (not all universities in Canada ask for a GRE score).
~ All applicants applying for a Master's in management or business administration should submit the results of the GMAT.
~ All students, whose native language is not English, are required to take one of the following tests: Test of English as a Foreign Language or the International English language Testing System.
A checklist for your admission documents 
You need to send the following documents to obtain admission in a Canadian school.
i. The application form
Most universities have their application form online or you can even download the application form.
ii. Essay or writing sample
 The admission committee wants to see your style of writing and wants to know you better through your essays.
iii. Statement of purpose
This is your opportunity to talk directly to the admission committee and share your thoughts and feelings and what's important to you.
iv. Resume
Never confuse a resume with a bio-data or curriculum vitae.

A resume is a one page document which states your education, work experience, extracurricular activities, and volunteer work in a concise and clear manner.
v. SAT/GRE/GMAT/TOEFL score sheets
You must send your official score reports directly from ETS to the university.
vi. Bank letter
Indicating that funds are available for the first year of study. The bank letter must be on the bank's letterhead and must have the original bank seal or stamp.
vii. Affidavit of financial support
This is a signed letter from your sponsor or parent indicating financial support. This statement is usually signed by the person whose name appears on the bank letter.

This statement should be notarised.
viii. Recommendation letters
Commonly known as 'references', these are letters from people who know you and are willing to recommend you for admission to the university.
Usually these letters are written by professors or previous employers.
ix. Transcripts and mark sheets

Issued by your school and college, a transcript explains your grading system.
x. Extracurricular activity certificates

It is always a good idea to show the universities your extracurricular activities.
DON'T MISS!
Karan Gupta is the founder of Mrijay International Education Consultants, which coaches students to study abroad. He studied at Ithaca College and the University of Texas at Austin. He worked at the Office of Admissions, Financial Aid office and the International Office, which gave him firsthand experience in the workings of the admissions process for American Universities. Karan is now the honorary study abroad college counsellor at Jai Hind College, Mumbai. He has written several articles on education abroad, loans, scholarships, visas and admissions.

Disclaimer: While efforts have been made to ensure the accuracy of the information provided in the content, rediff.com or the author shall not be held responsible for any loss caused to any person whatsoever who accesses or uses or is supplied with the content (consisting of articles and information).