Advertisement
September 06, 2004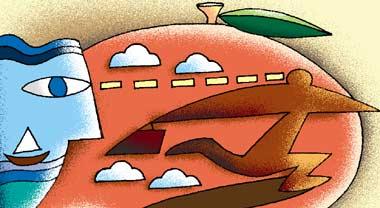 o what's new in the field of human resources? Like every field of management, HR theory and practices too evolve and adapt to changing business environments and workforce dynamics.
What I am going to list below are just yesterday's theories translated into practice today.
Earlier, they were thought too impractical to be followed. Today, though, progressive organisations have adopted and actively pursue these practices. Let me list some of them:
Experiential training

Learning has moved out of the confines of the classroom into the outdoors. Experiential training is an excellent teambuilding tool as it thrives on team dynamics. Besides, it is a much-desired break from routine and helps participants focus in a creative manner on strategies that will fulfil corporate goals and objectives.
Cafeteria approach to compensation
Nowadays, companies have moved from the earlier fixed salary components approach to the CTC (cost to the company) concept as far as compensation is concerned. This leaves the employee with the freedom to structure his pay packet, depending on what stage of his career he or she is at. It also helps employees meet financial aspirations. A win-win situation for both the employee and the employer!
Work-life balance initiatives

Attraction and retention are the two main focus areas of any corporate concern today. This is so because, today, we have the concept of the knowledge worker who works to live; he does not live to work. Hence companies today focus extensively on an informal interaction among employees. Bonding with the company and among the employees themselves is of paramount importance.
Flexi-time
This concept is very misunderstood, but here is what it means. Flexi-time refers to adjusting work timings to meet the

employee's personal requirements without compromising on the work at hand.
Multi-tasking
Gone are the days of specialists, more so when it comes to the lower rungs of the corporate hierarchy. You need to be involved with other functions and interact on a regular basis in areas other than your area of competence. Remember, though, that while there is the need to be a jack of all trades, you also must be a master of at least one.
Telecommuting
Are you among those who are much more productive and effective when you work from home? You have to thank technology for giving you that option. This set-up is ideal for jobs not involving direct customer interaction. It also makes financial sense for organisations, given the ever-rising cost of office lease rentals. It is also an excellent way to retain new mothers.
Outsourcing
Outsourcing is a very happening concept in HR, with most non-core and non-confidential processes being outsourced. This not only helps save costs, it also improves employee efficiency. HR professionals are now left with more time to work on strategy than routine.
Contracting
The days of permanent, lifetime employment are numbered. The keyword today is employability. Today, core activities are retained with company personnel. The rest of the activities are left to professionals who are masters in specific areas.
Temp staffing
Organisations are now keener than ever to ensure the right person for the right job. Hence, instead of offering full-time employment from Day One, they prefer temp staffing to try out the individual before signing him / her on. This is also done for seasonal and incidental jobs because it proves cost-effective.
Competency mapping

This is an HR tool that basically involves rating the employee on a set of functional and behavioural parameters. It was earlier used for identifying the skill gaps identified in the parameters and comparing the ideal rating with an actual one. Now, it is more widely used for identifying training needs, performance measurement, helping the employee identify his career path and other areas in HR.
Vishal Chhiber is the head of human resources at Discovery Channel, India.
What do you think of this article? Do you have any HR mantra of your own? Write to us! Let us know!