Advertisement
October 06, 2004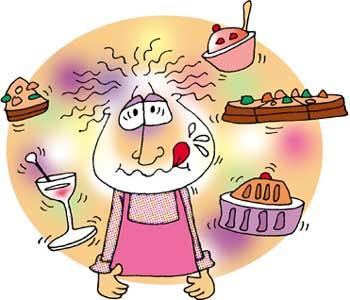 uscious desserts. Mouth-watering pizzas. Tempting cocktails. 
Noooooo!
My partner is on a diet and I have to stay away from all that!
Does this describe your lifestyle?
Have you made lifestyle changes because your partner is on a diet? Let us know!
Are you in distress because your wife/girlfriend/husband/boyfriend is on a diet and you are not?
What changes do you go through in such a situation?
"It is actually up to the woman to change the eating pattern at home in a very subtle manner, instead of making drastic overnight changes. That is definitely not going to happen. Even if your spouse or kids are not overweight, you can still inculcate good [eating] habits," says Shobha Rajgopal, dietician, Gold's Gym, Mumbai.
Perhaps it is an opportune time to start eating healthy.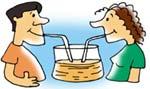 Sushma Mittal, 26, fashion designer, says her in-laws and husband are always supportive of her diet.
"They know I want them all to be fit. It is easier to stick to a diet when everyone at home is doing it together. So we go on one-week salad diets or two-day juice diets. I make sure we don't starve or diet for long. One week is the maximum. Then it is back to normal."
Cook individual dishes so your family is not deprived of the food they enjoy.
Nandini Kalyari, 30, a housewife, says, "Since I am on a diet, I cook separately for my husband and four-year-old daughter. I try to make the main dishes fat-free so I don't feel deprived about not eating regular food.
"When we sit down to eat, I make it a point to serve at least one common dish. My husband doesn't mind because the food I make is tasty, even though it is cooked in very little oil. I cook food in olive oil or have it marinated and grilled."
Pallavi Shah, 30, who is also housewife, says, "My husband is very understanding because he knows I have to lose my post-pregnancy weight. Because my diet is extremely strict, I have to make separate dishes for both of us. But as long as we sit together for a meal, what does it matter who eats what?
"Even when we go out, he is free to order what he likes."
Your partner is not obliged to go low calorie.

Sushma's husband, Rajesh, 25, textile exporter, says, "I like to support Sushma, but I was tired of the salad diet after one day! I was dying for real food. She does not know, but I did have a bit of the 'banned' food when I went out with friends.
"If I crave anything, I will eat it -- when she is not there!"
Pallavi's husband, Gaurav, 31, a stock analyst, concurs, "I've never felt I'm not eating good food. Pallavi doesn't stop me from eating anything nor does she tell me what I should eat. She has amazing willpower. She won't even take a bite from me. If it were me, I would have crumbled. I love food!"
Says Pallavi: "Gaurav's aunt once brought over some mithai after returning from Hyderabad. She insisted on feeding me without letting me put in a word of protest!
"So I kept it in my mouth till I could go to the kitchen and spit it out. I just couldn't have fatty mithai, not when I was working so hard at losing some weight!
"Unfortunately, my mother-in-law saw me doing this. Now she persists in watching me like a hawk when I eat, though I keep telling her I won't spit out our normal food!"
It is a matter of adjustment and being understanding.

"A woman on a diet will definitely cut down on fried stuff, sweets, aerated drinks, etc, and replace them with healthy options at home," says Shobha Rajgopal. "It is much better to have fresh fruit juices and more water. You will find your husband and children will fall into line after some time."
Harmeet Singh, a college student, says he and his girlfriend Anisha Mehra have radically different food preferences. "I grew up in a Punjabi environment, where we eat well. She grew up among health freaks. She was after me initially to cut down on heavy food. I told her to eat more. We got on each other's nerves! But now she has adjusted more than I have. At least she takes a bite when I offer it to her."
Says Anisha, "It really did bug me to see what he [Harmeet] would put in his mouth without even bothering to think about what it was! I think my nagging did make him feel bad. We go for walks together now so that he can at least be in shape."
Quick! Entertain at home to diet!

"I do get caught up making sure my guests are looked after [when we entertain at home], so I don't get the time to eat. I'm not very hungry when I have guests but I am always famished by the time they leave," admits Sushma.
Says Nandini, "When I recently threw a party, I found I was so busy serving everyone that I didn't have the time to eat. On the other hand, if I go to a party, I am really tempted by the snacks and all. But since I was the host, I was too tired to think about food. Though I had cooked a low-fat stew for myself, I landed up having a glass of juice.
"Maybe throwing more parties is the way to lose weight!" she grins.
Rules can be relaxed!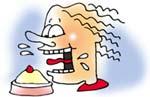 "When I go out, I normally have a chicken or vegetable stew or tandoori dish," says Nandini. "I am not rigid. My husband has dessert but he avoids eating it in front of me most of the time. If he does have it when I am around, I have a spoon or two so that I feel satisfied."
Nandini's husband, Kapil, 31, says, "Sometimes when we go out, we share dessert, and I don't mind eating most of it! But I do try to support her. I don't feel I am missing anything if I cut out eating fatty foods."
The last word

Shobha Rajgopal says sometimes women take dieting too far.
"Eat sensibly, work out moderately and you will be fit and fine. Women keep starving themselves. The result is, after some time, they will start eating with a vengeance. It is better that you introduce these changes [in your food habit] gradually. It's better to just start eating nutritious food and keep away from junk food."
Are you in a soup because your partner on a diet and you are not? Share your story with us.
Illustrations: Uttam Ghosh