Advertisement
December 02, 2004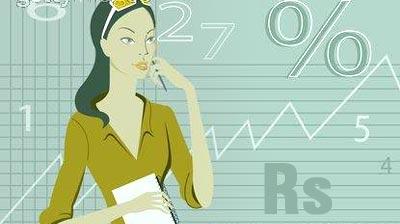 imes are certainly unpredictable for an investor.
Everyone is worrying about just one question: What should I do with my money?
The stock market? Are you crazy!
For starters, if you are a novice at the stock market, it is better to steer clear of it right now. The Sensex (an indicator of how the stock market is performing) is skyrocketing. When this happens, it is best to lie low if you are a buyer.
Market gurus are offering different predictions on how the Sensex will behave.
I was confidently told it would fall after Diwali. You can see how phenomenally the Sensex has performed instead -- this morning it touched its all time high of 6,300 (higher the Sensex, higher the price of the stocks - most of them at least).
Now I am told this rise in the Sensex will show signs of abating around December 15 (the buzz is that a "correction" is around the corner). Time will tell how true this prediction turns out.
While market gurus may not agree on how the stock market will perform, they do unanimously agree a bull run (when the Sensex is riding high) is not the best time for an investor to buy shares. The best time to buy is when share prices are falling (bearish market). This is the time for you to sell, book a hefty profit and sit tight. So if you are thinking of investing in shares at the moment, forget it.
You know the old maxim: Buy low, sell high. If you decide to buy shares now, you will be doing the reverse.
Who knows how long the current bull run will last or when the next one will make an appearance? If you buy a Hindalco or Bajaj Auto share for Rs 1000 or more now, who knows how long you will have to wait to sell at a higher rate.
Sure, the Sensex may zoom to even higher levels and you may make a killing in no time. "It may even go up to 7,000, who can tell?" is what I last heard. But this proclaimer of good tidings forgot to add it could drop dramatically too.
By the way, the same logic holds true for equity funds. If they are showing fabulous NAVs right now, it is because they are reflecting the stock market. If you buy mutual fund units now, you will still be entering in the bull run. When the share market drops, so will the NAV.
DON'T MISS!
Fixed deposits! Don't they suck?
Where you could park your funds now is in fixed deposits. Sure, they may not be as sexy as shares, but at least you won't see your investment plummeting to abysmal depths.
All banks have begun to raise their interest rates on fixed deposits -- Bank of India, State Bank of India, Vijaya Bank, Syndicate Bank, ICICI Bank and Jammu and Kashmir Bank to name a few.
Yet, the rates are nothing to write home about and are in the 3-6.5 percent range. It all depends on the bank and the tenure (the number of days) of the deposit.
If all this is too much of a bother, then just keep your money in a post office saving scheme where you will get 6.25 to 8 percent interest and take a nap while everyone else runs around in a frenzy.
DON'T MISS!
What about my home loan?
The good news is that interest rates on fixed deposits have increased (slightly). The bad news is that the interest rate on home loans has also increased.
Cheer up, the increase in the rate of interest is not phenomenal.
The lowest interest rate you can get for a home loan will be 7.25 percent (this is for a floating rate loan, but it could increase in the future and touch 7.50 or 7.75 percent).
Fixed rate loans are starting at around 8.25 percent.
If you do take a floating rate loan now, chances are the rate of interest can increase. As will your EMI. What you can do is lock it in at a fixed rate for now. So, even if interest rates fluctuate in the future, your interest rate is fixed.
I know your next question. Will interest rates rise or fall? That is like guessing the direction the Sensex will take. Nobody really knows. They are increasing right now and will probably see downs and ups.
If you are willing to take a chance and have sufficient funds to provide for an increased EMI, then you could try a flexible loan. That way, you will not be under too much of a burden if interest rates rise and you benefit if they fall. If you hate surprises, though, opt for a fixed loan.
DON'T MISS!