Home > India > Movies > Hollywood News


Discuss |
Email |
Print | Get latest news on your desktop

Allah Made Me Funny: Next cult hit?

Arthur J Pais | October 03, 2008 14:25 IST


| | |
| --- | --- |
| A still from Allah Made Me Funny | |
| | |
| | |
| | |
| | |
| | |
| | |
Comedian Azhar Usman recalls a story of a tour guide in Spain telling him that Christians, Jews and Muslims lived there together in peace for centuries. The guide also says that it is difficult to imagine such a thing today.
Usman had asked the guide if he had been to Brooklyn. 'They're getting along there just fine. You can find a halal hot dog on a kosher bun, if you look hard enough!' Usman had told him.
Usman, a lawyer-turned-comic actor and community activist based in Chicago, has toured across America for over seven years performing in comedy clubs. He has also performed in Canada [Images], the United Kingdom and Egypt [Images].
On Friday, along with his friends Bryant 'Preacher' Moss and Mohammed 'Mo' Amer, he will be seen in more than a dozen theatres in a new film, Allah Made Me Funny. The film being released by a small distributor could add more cities and theatres if the word of mouth is strong and the first week's collections hold promise.
'This landmark concert film follows three acclaimed comedians on stage and off as they lift the veil to reveal the humorous truth of what it's really like to be Muslim in America,' announces the website for the film.
Though early reviews in such influential publications such as Variety do not expect the film, which offers material from the trio's many concerts, to be a breakthrough hit, there are expectations for the movie to become a cult hit once it hits the DVD stores.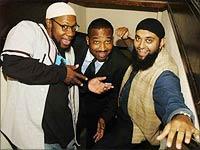 'This amusing rather than laugh-out-loud funny project is best suited to small screen exposure, Variety wrote. 'Theatrical playoff will provide a quick prelude to ancillary.'
The film reportedly was made for the tiny amount of $250,000, and could be profitable in a year, thanks to sale of television rights and DVD revenue.
Usman grew up in suburban Chicago watching along with his parents from India Hindi films starring the comedians Johnny Walker and Johnny Lever. This is his first film.
'For many years, there has been a great tradition of humour in the Indian subcontinent,' he told a Canadian interviewer during a concert tour. 'I grew up listening to comedy albums recorded in the 1960s and 1970s by Indian and Pakistani comedians, among them Moin Akhtar and Umar Sharif and a guy, who went by the name Johnny Lever,' he said. 'Their style of comedy would not be unfamiliar to the viewers of Seinfeld [Images], with bits about the differences between men and women, jabs at politicians, lots of material about daily life, situational stuff.'
Usman says comedians, including Jerry Seinfeld, with long track records did not resort to guttural humour, profanity and below-the-belt jokes.
'Playing to a drunken audience at midnight in a small club, it's a lot easier to make them laugh by telling dirty jokes and swearing a lot,' he mused. It takes a far greater comedian to make the same crowd laugh without using any of that lowest-common-denominator material.'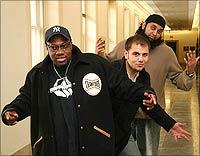 Unlike many concert films especially the one featuring Eddie Murphy, Allah Made Me Funny is not raunchy and the jokes are not sensational, some reviewers have pointed out. But given the film's title and that it features three American Muslim stand-up comedians, there is surely some curiosity about it.
In his comedy acts and in the film, Usman says the jokes have to be halal. There is a strict code of conduct for him and fellow comedians, he says. And that includes no insulting of the Prophet, no backbiting humour, no profanity and certainly no sex.
'There have to be some boundaries and I work very hard to maintaining those diaries,' Usman has said in interviews. 'The butt of the joke cannot be God or the prophet or the religion itself. I'm very careful about sacrilegious humour. I'm not a shock comic, who's going to do something that will inflame Muslims.'
The comedian, who has come under heavy attack by conservative bloggers for not criticising radical Muslims or the fundamentalists who want books they deem objectionable be banned, says his purpose is to question the attitude of Americans towards Muslims in general. 'Everywhere I go, people look at me as if I am responsible for 9/11,' he jokes at his concerts. 'I had nothing to do with 9/11. 7-11, maybe,' he says.
Usman says he took to comedy and community work, to make Americans aware of peace loving nature of Islam, and wears a skullcap and a flourishing beard. He says in his comic acts that when he flies in America, Canada and Europe, fellow passengers are nice to him 'after the plane has landed.'
'The black man is always complaining that he can't get a fair trial in America,' he jokes. 'The Muslim says, "Man, we can't even get a trial."'
There are occasional jokes at some Islamic practices. Having four wives would be three too many, is one of them.
'The comics -- one African American (Preacher moss), one Arab American (Mo Amer) and one South Asian American -- show the great diversity of Islam in America,' Michael Wolfe, co-executive producer of the film said in a press release. 'They also show that Muslims have a sense of humour and can laugh at themselves, standing on the shoulders of great comedians like Eddie Murphy and Jerry Seinfeld, who opened up worlds of American life to brand new audiences. These comedians take us on a journey in America: from growing up Muslim to marrying Muslim and living as a Muslim in after 9/11.'
Moss, who was converted to Islam over a decade ago, says the concert comedy and the film is a project that 'involves the courage to step out of the shadows of silence and fear and reach out and build bridges.'
'We are building these bridges through humour and understanding to make that journey a little easier for all of us,' he added.
Email |
Print | Get latest news on your desktop